2018 PBA Parkside Lanes Open
Passed At The Draft, Andrew Anderson's Proving He Belongs On The PBA Tour
Passed At The Draft, Andrew Anderson's Proving He Belongs On The PBA Tour
When second-year pro Andrew Anderson, 23, didn't get selected in the PBA League Draft in February, it left him with a chip on his shoulder.
Jun 20, 2018
by Lucas Wiseman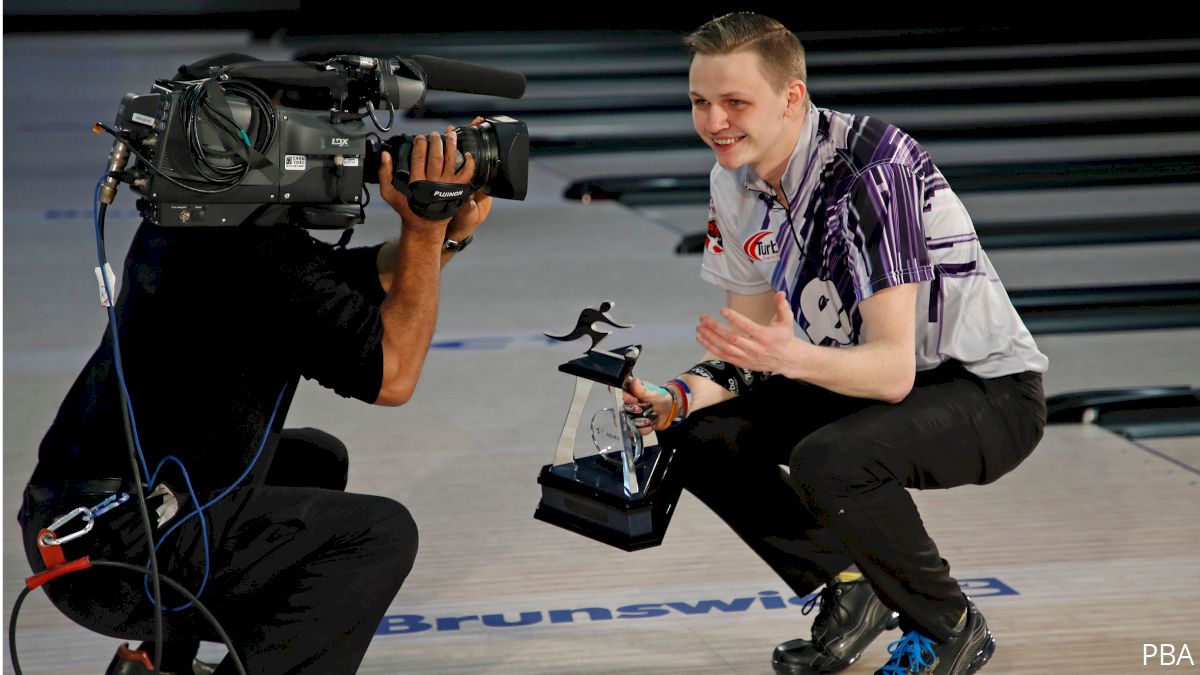 When second-year pro Andrew Anderson, 23, didn't get selected in the PBA League Draft in February, it left him with a chip on his shoulder. Fast forward a couple months, and Anderson is now in the running for PBA Player of the Year.
Perhaps the managers of the teams were looking backward at Anderson's stats instead of forward to his potential. And who could blame them? In his rookie season, Anderson competed in 16 events and only cashed in four of them while averaging just 213.27 per game.
This season has been a complete turnaround, however. In 10 events so far, Anderson of Holly, Michigan, has cashed in eight of them and has won two titles, including a major.
Watch Andrew Anderson at the 2018 PBA Parkside Lanes Open LIVE on FloBowling starting June 30!
Before the draft was held, he finished third at the PBA Tournament of Champions to kick off the season, but it wasn't enough to convince team managers to draft him.
"I took (not getting drafted) as I've got to do better, and I've got to show them that I'm better than that," Anderson said. "I definitely used it as a chip on my shoulder. I think everyone knows that I was not very happy about not getting drafted. It really pushed me in the right direction saying 'don't draft me, that's OK. I'll just kind of go out and do my own thing and whatever happens, happens.'"
On April 15, less than two months after being snubbed at the PBA League Draft, Anderson won his first career title. And it wasn't just any title, it was the coveted United States Bowling Congress Masters.
Anderson topped the field of 360 of the best bowlers in the world and went undefeated in six match-play bracket matches to earn the top seed for the stepladder finals. In the championship match, Anderson defeated Alex Hoskins of Brigham City, Utah, 213-199, to claim his first title – a major – and a $30,000 payday.
"Going into the Masters, my mindset couldn't have been better," said Anderson, who just a year before finished 150th at the USBC Masters. "I gave myself the mindset that I wasn't going to bowl bad regardless. It's funny how the mind works and how easy it is to slip into being disappointed or slip into bad execution or a bad mindset."
Anderson said managing his mental game has been the biggest change he's made from his rookie season to this season, work that clearly paid off at the USBC Masters.
"My first year the tour was a scary place," Anderson said. "The guys are so much better than you are accustomed to bowling against. If you go in and lack a little bit of confidence and lack a little bit of shot making, those guys will destroy you. This year, I've gone in with a lot more clarity and a better mindset."
The refreshed mindset continues to pay dividends for Anderson as the season has moved along. In early June, Anderson won his second career title to exceed even his own expectations.
At the PBA Xtra Frame Greater Jonesboro Open, Anderson defeated Tom Daugherty of Riverview, Florida, 264-224, in the championship match.
The success has not only help take Anderson's confidence to new heights, it also has people talking about how he is an early contender for the Chris Schenkel PBA Player of the Year Award, which is voted on at the end of the season by PBA members and selected media.
After 10 events, Anderson leads the tour in points with 15,746, topping Australian superstar Jason Belmonte, who is second with 12,043.5 points. Anderson, who ranks in the Top 10 in average (221.72 for 215 games), is also the only two-time winner on tour this season.
"I'm not surprised I've had success, I'm more surprised at how much success," Anderson said. "To do as well as I'm doing at this level so soon is somewhat surprising."
While Anderson is surprised at his level of success this season, it certainly would be no surprise if he is picked among the top players at next year's PBA League Draft. And, for Anderson, that would be yet another big accomplishment in his young career.