2018 PBA50 Cup, presented by DV8
Rolando Sebelen Dominates PBA50 Cup First Round Qualifying
Rolando Sebelen Dominates PBA50 Cup First Round Qualifying
Rolando Sebelen of the Dominican Republic, a multi-medalist in international competition, averaged 232 to dominate the first round.
Aug 12, 2018
by FloSports Staff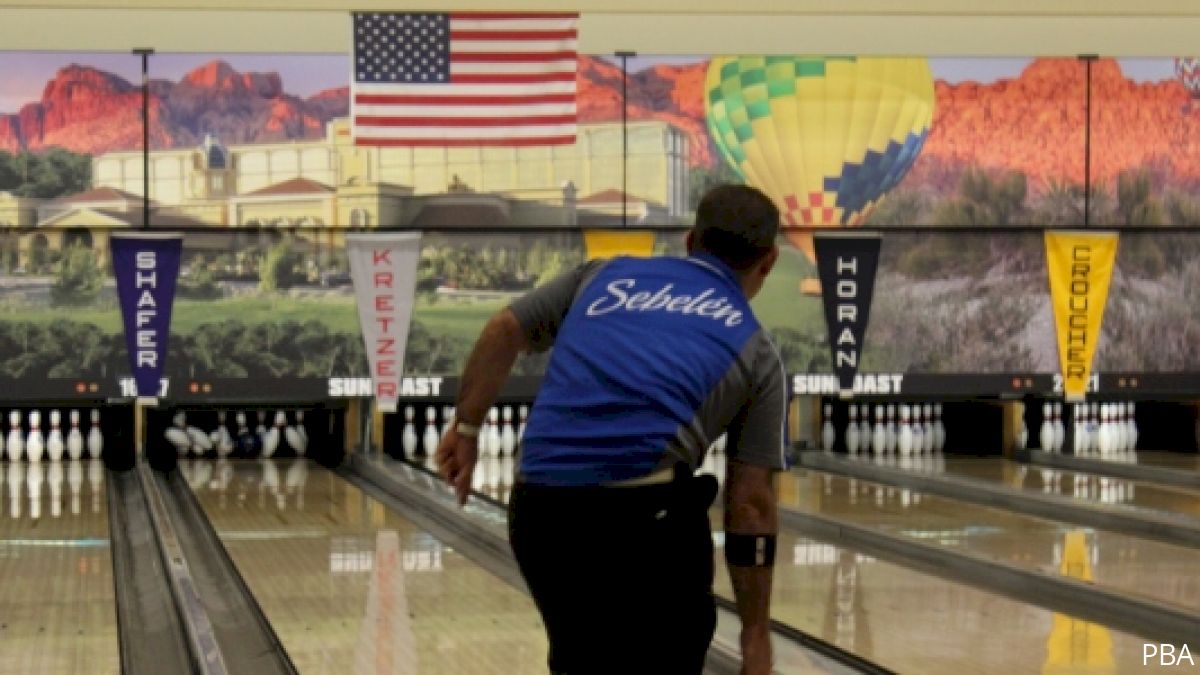 WYOMING, Mich. – Rolando Sebelen of the Dominican Republic, a multi-medalist in international competition, averaged 232 to dominate the first round of qualifying in the PBA50 Cup presented by DV8 Friday at Spectrum Lanes.
The PBA50 Tour rookie bowled a 1,857 eight-game pinfall total with games of 248, 248, 264, 214, 191, 227, 231 and 234 to a hold 77-pin lead over Brian Kretzer of Dayton, Ohio, in second with a 1,780.
Rolando head shot"I'm feeling great and my physical game is very good," Sebelen said. "I didn't want to change my ball so I just kept moving left on the lane so my ball would have a good angle to the pocket and carry the 10 pins. In the 190 game I bowled good but left a lot of 10 pins. I moved a little more left and didn't leave so many 10 pins."
The 50-year-old Sebelen has been a member of the Dominican Republic national bowling team for more than 30 years and among his most notable finishes in international competition were a doubles bronze medal in the 2007 Pan Am Games and a team gold medal in the 1989 World Bowling Championships.
Sebelen's best finishes this season have come in two other PBA50 Tour majors, an eighth-place finish in the PBA50 National Championship and 10th in the Suncoast PBA Senior U.S. Open.
"I've bowled many tournaments internationally so I have a lot of experience bowling on many different lane conditions," Sebelen added. "With every PBA50 tournament I bowl I get more comfortable and I feel that I can win."
Still trying for his first PBA50 Tour win, Kretzer has three top-three finishes this season which include a runner-up finish in the Suncoast PBA Senior U.S. Open and third-place finishes in the River City Extreme Open and Security Federal Savings Bank Championship.
Kretzer had games of 237, 220, 193, 230, 247, 190, 227 and 236 in the first round.
"I'm trying hard to win one of these things," said Kretzer, who owns one PBA Tour title. "I had a good shot and got a solid start right from the get-go so I was able to keep that momentum going for the rest of the round. I made a few mistakes but I learned from them and made the adjustments I needed to make."
Rounding out the top five after the first round were PBA Hall of Famer Brian Voss, Centennial, Colo., 1,779; seven-time PBA Tour winner Steve Jaros, Yorkville, Ill., 1,744 and three-time PBA50 Tour winner Harry Sullins, Chesterfield Twp., Mich., 1,734.
The entire field returns Saturday for another eight-game qualifying round beginning at 10 a.m. ET after which the top 30 players will advance to two modified round-robin match play rounds beginning Sunday morning at 9 a.m. After match play, the top five players will be determined for the stepladder finals at 7 p.m.
The PBA50 Cup is streamed live on PBA's online bowling channel PBA Xtra Frame on FloBowling. Subscription information is available by visiting www.flobowling.com.
PBA50 CUP
Presented by DV8
Spectrum Lanes, Wyoming, Mich., Friday
FIRST ROUND RESULTS (after eight games)
1, Rolando Sebelen, Dominican Republic, 1,857.
2, Brian Kretzer, Dayton, Ohio, 1,780.
3, ss-Brian Voss, Centennial, Colo., 1,779.
4, Steve Jaros, Yorkville, Ill., 1,744.
5, ss-Harry Sullins, Chesterfield Twp., Mich., 1,734.
6, Parker Bohn III, Jackson, N.J., 1,730.
7, Amleto Monacelli, Venezuela, 1,722.
8, Keith Lesko, Prosper, Texas, 1,705.
9, n-Micahel Kereluk, Warren, Mich., 1,678.
10, Peter Knopp, Germany, 1,675.
11, ss-Ted Staikoff, Black Hawk, S.D., 1,672.
12, Greg Thomas, Irmo, S.C., 1,665.
13, Larry Verble, Mason, Mich., 1,664.
14, Scott Greiner, Sunrise Beach, Mo., 1,660.
15, Bob Learn Jr., Erie, Pa., 1,658.
16, Tony Johnson, Canton, Ohio, 1,648.
17, ss-Tom Baker, King, N.C., 1,646.
18, Jeff Johnson, Freeport, Ill., 1,644.
19, ss-Mark Williams, Beaumont, Texas, 1,638.
20, (tie) Bo Goergen, Sanford, Mich., and ss-Ron Mohr, Las Vegas, 1,636.
22, Walter Ray Williams Jr., Oxford, Fla., 1,624.
23, Mark Sullivan, Indianapolis, 1,622.
24, ss-Charlie Tapp, Kalamazoo, Mich., 1,617.
25, Pete Weber, St. Ann, Mo., 1,616.
26, ss-John Dudak, Orland Park, Ill., 1,614.
27, Eugene McCune, Munster, Ind., 1,610.
28, Tony Rodriguez Jr., Rancho Cucamonga, Calif., 1,607.
29, Ryan Shafer, Horseheads, N.Y., 1,606.
30, Bryan Goebel, Shawnee, Kan., 1,601.
31, John Burkett, Southlake, Texas, 1,600.
32, Brian LeClair, Albany, N.Y., 1,589.
33, Lennie Boresch Jr., Kenosha, Wis., 1,586.
34, (tie) Paul LeMond, Jasper, Ind., and Michael Haugen Jr., Phoenix, 1,576.
36, ss-Michael Lucente, Warren, Mich., 1,573.
37, Larry Salvati, Canada, 1,572.
38, Eddie Graham, Kettering, Ohio, 1,566.
39, ss-Dave Bernhardt, Romeo, Mich., 1,565.
40, ss-David Axon, Bellevue, Neb., 1,564.
41, ss-John Petraglia, Jackson, N.J., 1,563.
42, Steve Kenyon, Grosse Ile., Mich., 1,558.
43, Gary Alstott, Washington, Ill., 1,556.
44, Doug Kent, Newark, N.Y., 1,550.
45, Steven DiMartino, Upper Saddle River,N.J., 1,549.
46, Terry Metzner, Kentwood, Mich., 1,543.
47, Todd Kjell, Roscoe, Ill., 1,541.
48, John Marsala, St. Louis, Mo., 1,537.
49, John Kidwell, Indianapolis, Ind., 1,534.
50, ss-Christopher Keane, Cape Coral, Fla., 1,533.
51, ss-Gary Kammes, Winfield, Ill., 1,518.
52, ss-Marc Lineberry, Camanche, Iowa, 1,514.
53, (tie) ss-Kevin Foley, Reno, Nev., ss-Lee Brosius, Ashburn, Va., and n, ss-George Phillips, Centreville, Mich., 1,511.
56, Rick Zakrajsek, Lorain, Ohio, 1,510.
57, ss-Edward Silva, Manteca, Calif., 1,509.
58, Glenn Smith, New York, 1,504.
59, (tie) Dave Han, Birmingham, Ala., 1,498.
59, ss-Sammy Ventura, Syracuse, N.Y., 1,498.
61, Gary Schluchter, Femont, Ohio, 1,496.
62, ss-n-Peter Minaudo, Chesterfield, Mich., 1,494.
63, ss-Gary Reh, Fort Mohave, Ariz., 1,480.
64, ss-Brendan Bierch, Grafton, Mass., 1,479.
65, ss-Tom Carter, Columbus, Ohio, 1,469.
66, n-Curtis Matlock, Cloquet, Minn., 1,466.
67, David Scardaville, Houston, Texas, 1,462.
68, Danny Clark, New Palestine, Ind., 1,459.
69, ss-Bruce Hall, Westborough, Mass., 1,456.
70, John Conroy, Mahopac, N.Y., 1,446.
71, ss-Paul Mielens, Menomonie, Wis., 1,433.
72, ss-James Storts, Westfield, Ind., 1,419.
73, ss-Don Blatchford, Santa Monica, Calif., 1,412.
74, Al Danz Jr., Escanaba, Mich., 1,405.
75, ss-Warren Nelson, Hemet, Calif., 1,400.
76, Timothy Rice, Kaukauna, Wis., 1,381.
77, ss-Mark Nance Sr., Grove City, Ohio, 1,380.
78, ss-Phillip Moros, Lombard, Ill., 1,379.
79, ss-Ross McDonald, Las Vegas, Nev., 1,374.
80, (tie) ss-Dale Reh, Appleton, Wis., and Dennis Briggs, New Galilee, Pa., 1,366.
82, Ernie Segura Jr., Taylor, Mich., 1,349.
83, ss-Galen Keas, Alda, Neb., 1,321.
84, Glenn Morgan, Carson City, Nev., 1,319.
85, ss-Robert Davis, Annapolis, Md., 1,220.
n-non-member
ss-PBA60 players ages 60 and over