2018 PBA Gene Carter's Pro Shop Classic
Anthony Simonsen Gets Creative To Win Fourth PBA Title
Anthony Simonsen Gets Creative To Win Fourth PBA Title
Simonsen, who normally plays from the right side, resorted to a reverse hook, bowling like a left-hander and targeting the 1-2 pocket to win.
Aug 20, 2018
by FloSports Staff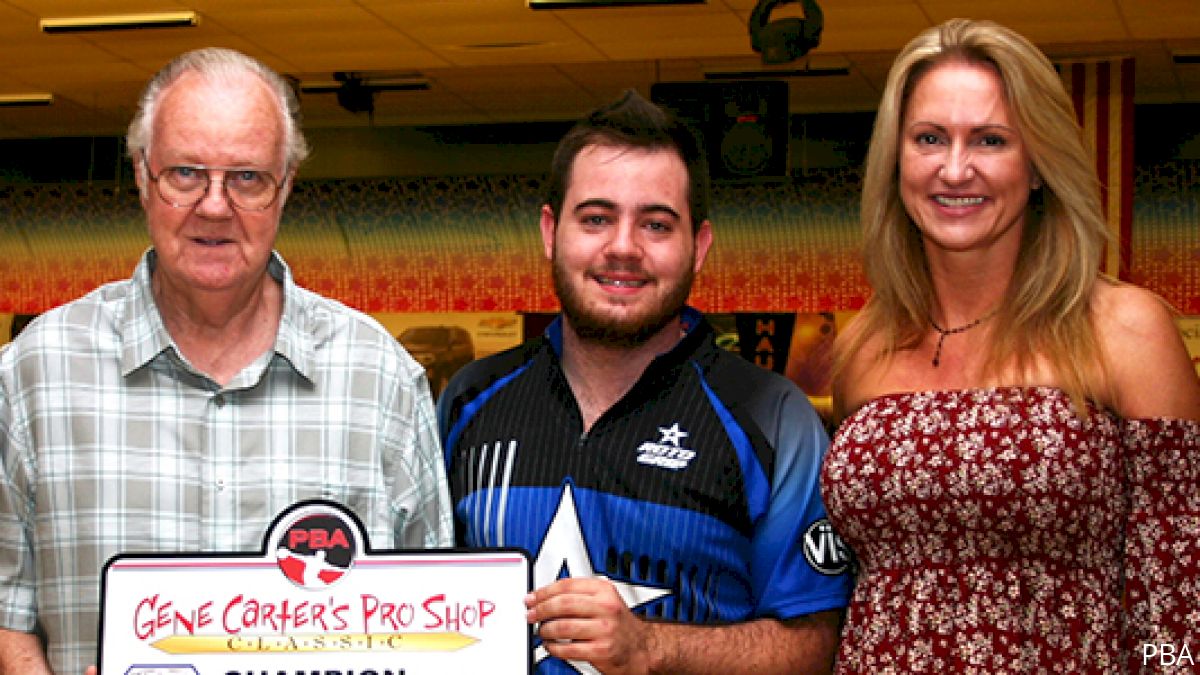 WILMINGTON, Del. – Anthony Simonsen, a 21-year-old two-handed bowler from Austin, Texas, got creative to win his fourth career PBA Tour title in the 10th anniversary PBA Xtra Frame Gene Carter's Pro Shop Classic at Mid-County Bowling and Entertainment Center Sunday.
Simonsen – who normally plays the lanes from the right side – resorted to a reverse hook, bowling like a left-hander and targeting the 1-2 pocket, to defeat left-hander Matt Sanders of Indianapolis, 216-194, for the title.
Simonsen made a dramatic change after scoring conditions proved more than a little difficult, forcing many of the right-handed players to move to a deep inside angle that was unmanageable for most.
"To be honest with you, I'm a bit speechless," he said. "These guys are the best bowlers in the world, and to beat them, sometimes you've got to be creative. I didn't have any (kind of consistent shot) on the right, so I had to try something different."
Simonsen said he had tried the so-called "backup ball" technique in a couple of recent PBA Regional tournaments, with limited success, "but I did it enough to think it might work if I practiced a little. I actually practiced three times last week, which is three times more than I usually practice, and I decided to try it in game 10 of match play, and it worked."
Simonsen became the second-youngest player ever to win a PBA Tour title when he won the 2016 Mark Roth-Marshall Holman PBA Doubles Championship with partner Connor Pickford as an 18-year-old, and shortly thereafter won the 2016 USBC Masters at age 19. He won his third PBA Tour title in the 2017 Xtra Frame Wilmington Open, but several other opportunities have escaped him.
"It's been frustrating, but if you keep knocking, they're eventually going to let you in," he said. "You never know if (the reverse hook) will have to come out again, but I'm going to practice and see if I can get better at it."
In the opening match, Sanders, PBA's 2017 Rookie of the Year, had a string of six strikes in an otherwise error-free game, eliminating Kyle Troup of Taylorsville, N.C., who failed to convert a 2-4-8-10 split in the third frame and a 2-10 split in the eighth, 256-210.
In the semifinal match of the four-man stepladder finals, Sanders converted a 2 pin in the first frame and threw four strikes in a row, threatening to blow open his match against 20-year-old PBA Rookie of the Year contender Kamron Doyle of Brentwood, Tenn. But Sanders missed a 7 pin in the sixth frame, giving Doyle an opening and Doyle took advantage, throwing his own string of four strikes to take the lead. After converting a 6 pin in the eighth frame, Sanders finished with four strikes to put the pressure on Doyle, who needed to throw a fifth straight strike to remain in contention for his first PBA Tour title. Doyle left a 10 pin on his first shot, and Sanders moved on to the title match with a 237-223 decision.
The 2018 Go Bowling! PBA Tour continues with the PBA Xtra Frame Kenn-Feld Group Classic from Pla-Mor Lanes in Coldwater, Ohio, next Saturday and Sunday, where EJ Tackett of Huntington, Ind., and Andrew Anderson of Holly, Mich., will again try for a third 2018 title. Tackett led the Delaware event until the final two games when his inability to overcome the deteriorating lane conditions led to a 4-8 match play record and ultimately a fifth-place finish. Anderson came into Sunday's competition in a tie for 30th place, made a big move to sneak into match play as the 16th qualifier and eventually he finished 14th.
PBA Xtra Frame on FloBowling will cover all rounds using its new "FloZone" coverage system which gives viewers the opportunity to follow all of the action simultaneously on all eight pairs of lanes at Pla-Mor. For FloBowling subscription and schedule information, visit FloBowling.com.
10TH ANNIVERSARY PBA XTRA FRAME GENE CARTER'S PRO SHOP CLASSIC
(A 2018 Go Bowling! PBA Tour event)
Mid-County Bowling and Entertainment Center, Middletown, Del., Sunday
Final Standings:
1, Anthony Simonsen, Austin, Texas, $15,000.
2, Matt Sanders, Indianapolis, $7,800.
3, Kamron Doyle, Brentwood, Tenn., $4,000.
4, Kyle Troup, Taylorsville, N.C., $2,500.
Stepladder Results:
Match One – Sanders def. Troup, 256-210.
Semifinal Match – Sanders def. Doyle, 237-223.
Championship – Simonsen def. Sanders, 216-194.
Final Match Play Standings (after 23 games, including match play bonus pins):
1, Simonsen, 7-5, 5,380.
2, Doyle, 10-2, 5,342.
3, Sanders, 5-7, 5,329.
4, Troup, 9-3, 5,318.
5, EJ Tackett, Huntington, Ind., 4-8, 5,281, $1,600.
6, Tim Foy Jr., Seaford, Del., 6-6, 5,219, $1,400.
7, Tom Daugherty, Riverview, Fla., 7-5, 5,171, $1,200.
8, Shawn Maldonado, Houston, 6-6, 5,168, $1,100.
9, Jason Sterner, Atlanta, 6-6, 5,140, $1,080.
10, Kurt Pilon, Warren, Mich., 7-5, 5,132, $1,060.
11, Brett Spangler, Niles, Ohio, 6-6, 5,118, $1,050.
12, Dick Allen, Lexington, S.C., 5-7, 5,107, $1,040.
13, Parker Bohn III, Jackson, N.J., 5-7, 5,056, $1,030.
14, Andrew Anderson, Holly, Mich., 5-7, 5,013, $1,020.
15, Connor Pickford, Charlotte, N.C., 6-6, 4,985, $1,010.
16, Michael Markis, Scranton, Pa., 2-10, 4,801, $1,000.
Cashers Round Cashers (did not advance, after 11 games):
17, Ryan Ciminelli, Clarence, N.Y., 2,422, $700.
18, Brad Angelo, Lockport, N.Y., 2,415, $700.
19, BJ Moore, Greensburg, Pa., 2,411, $700.
20, Matt O'Grady, Rahway, N.J., 2,410, $700.
21, Rick Graham, Lancaster, Pa., 2,408, $700.
22, Sean Rash, Montgomery, Ill., 2,405, $700.
23, Anthony Pepe, Elmhurst, N.Y., 2,401, $700.
24, David Knight Jr., Glassboro, N.J., 2,398, $700.
25, Sam Cooley, Australia, 2,393, $650.
26, Graham Fach, Canada, 2,387, $650.
27, David Stouffer, Lehigh Acres, Fla., 2,380, $650.
28, Joe Paluszek, Bensalem, Pa., 2,368, $650.
29, Josh Schmehl, Millsboro, Del., 2,364, $650.
30, Tim Pfeifer, Oakdale, Pa., 2,354, $650.
31, Daniel Mitchell, Elkton, Md., 2,348, $650.
32 (tie), Victor Florie Jr., Richmond, Va., and Brian Elder, Newark, Del., 2,329, $625.
34 (tie), Zeke Bayt, Westerville, Ohio, and Chris Via, Springfield, Ohio, 2,325, $600.
36, Walter Ray Williams Jr., Oxford, Fla., 2,322, $600.
37, Jason Couch, Clermont, Fla., 2,321, $600.
38, Jason Cornog, Cherry Hill, N.J., 2,319, $600.
39, Gary Faulkner, Norfolk, Va., 2,316, $600.
40, Richie Teece, England, 2,315, $600.
41, Bryan Paul, Brooklyn, N.Y., 2,305, $600.
42, Greg Ostrander, Freehold, N.J., 2,290, $600.
43, Ryan Shafer, Horseheads, N.Y., 2,286, $600.
44, Bobby Hall II, Landover, Md., 2,282, $600.
45, Michael Haugen Jr., Phoenix, 2,280, $600.
46, Stephen Pavlinko Jr., Sewell, N.J., 2,235, $600.
47, Keith Laing, Oakdale, Conn., 2,232, $600.
48, Robert Mockenhaupt, Rutherford, N.J., 2,206, $600.
49, AJ Johnson, Oswego, Ill., 2,202, $600.
50, Todd Sigeti, Lititz, Pa., 2,190, $600.
---
Release provided courtesy of PBA Media Relations