2018 World Bowling Men's Championships
KOR, INA, SWE, USA Make Trios Medal Round At Worlds
KOR, INA, SWE, USA Make Trios Medal Round At Worlds
Korea jumped from fifth at the halfway point Thursday to first after Friday's final round of trios qualifying.
Nov 30, 2018
by Lucas Wiseman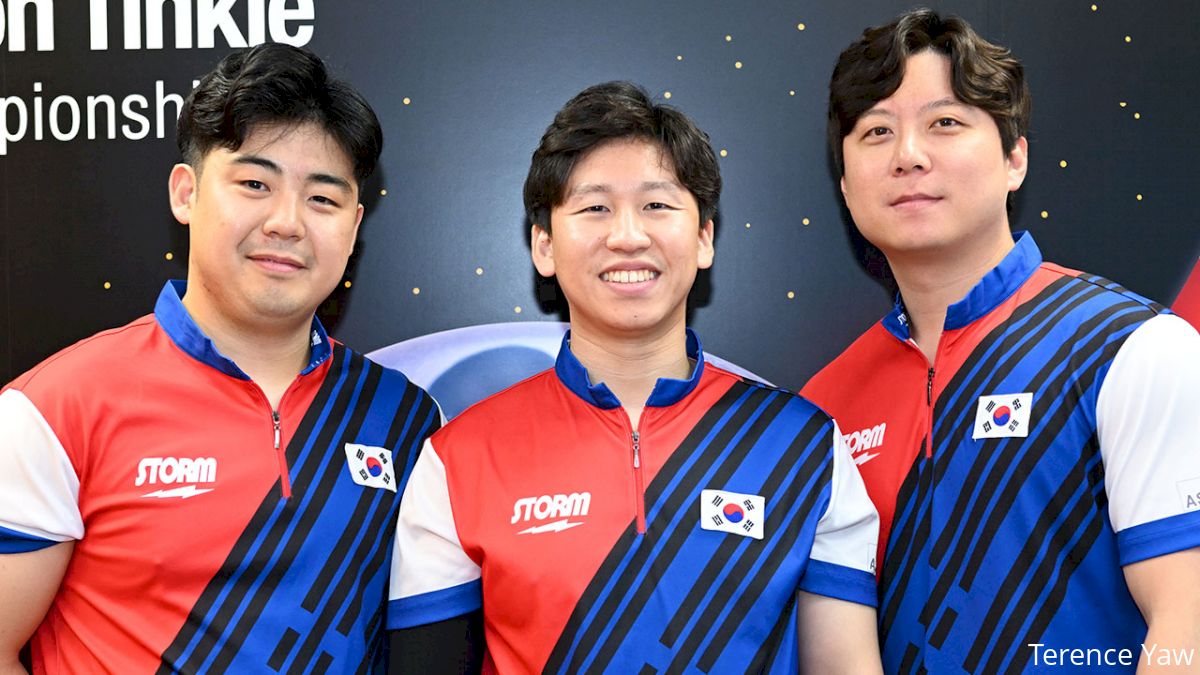 Korea jumped from fifth at the halfway point Thursday to first after Friday's final round of trios qualifying at the 2018 World Bowling Men's Championships.
The Koreans totaled 3,960, a 220 average, to lead the field of four into the Monday's medal round, which will be broadcast at 5 a.m. Eastern live on FloBowling for audiences in North America.
Koo Seonghoi shot a six-game total of 1,434 to lead Korea and was joined by Kim Kyungmin with 1,270 and Park Jongwoo with 1,256 at the South China Athletic Association Bowling Centre in Hong Kong.
After shooting games of 679, 658 and 634 during Thursday's first round of qualifying, Korea opened with a 553 game on Friday putting them in a big hole to overcome to make the medal round.
Not only did they overcome the slow start, they turned it into a top-seed performance after closing with games of 725 and 711. Team games over 700 were rare in trios qualifying.
Results: World Championships Trios Qualifying
Indonesia held onto the No. 2 spot with 3,918 as Billy Islam led the way with a 1,376 set. Hardy Rachmadian had 1,309, while Ryan Lalisang shot 1,233.
Earning the No. 3 seed was Sweden's Mattias Wetterberg (1,352), Martin Larsen (1,281) and Jesper Svensson (1,250) with 3,883.
The U.S. trio of EJ Tackett (1,324), Kyle Troup (1,322) and Andrew Anderson (1,235) finished with 3,881 to take the final spot in the medal round.
Team USA finished just two pins behind Sweden, ground they probably wished they had made up to make it to the No. 3 seed. By taking the fourth seed, Team USA must face Korea, the top team in all of Asia, in the opening match of the medal round. Indonesia will battle Sweden.
In a bit of a shakeup in the all-events standings after 18 of 24 games, Canada's Dan MacLelland moved into the top spot with 4,051, an average of 225.06.
Team USA's Anderson dropped down to second with 4,043, while Troup is third with 4,036. Tackett sits in fourth with 4,006.
The competition now moves to the coveted five-player team event, which begins with the first three games of qualifying Saturday.
The medal round in the singles event will also take place Saturday featuring Anderson, Troup, Rafiq Ismail of Malaysia and MacLelland. That event will be broadcast live on FloBowling at 6:30 a.m. Eastern for audiences in North America.
To see the full FloBowling broadcast schedule, click here.