2019 PBA Hall of Fame Classic
Ball Change Helps O'Neill Win PBA HOF Classic
Ball Change Helps O'Neill Win PBA HOF Classic
Bill O'Neill won his first singles PBA Tour title in more than three and a half years Sunday at the PBA Hall of Fame Classic.
Jan 6, 2019
by Lucas Wiseman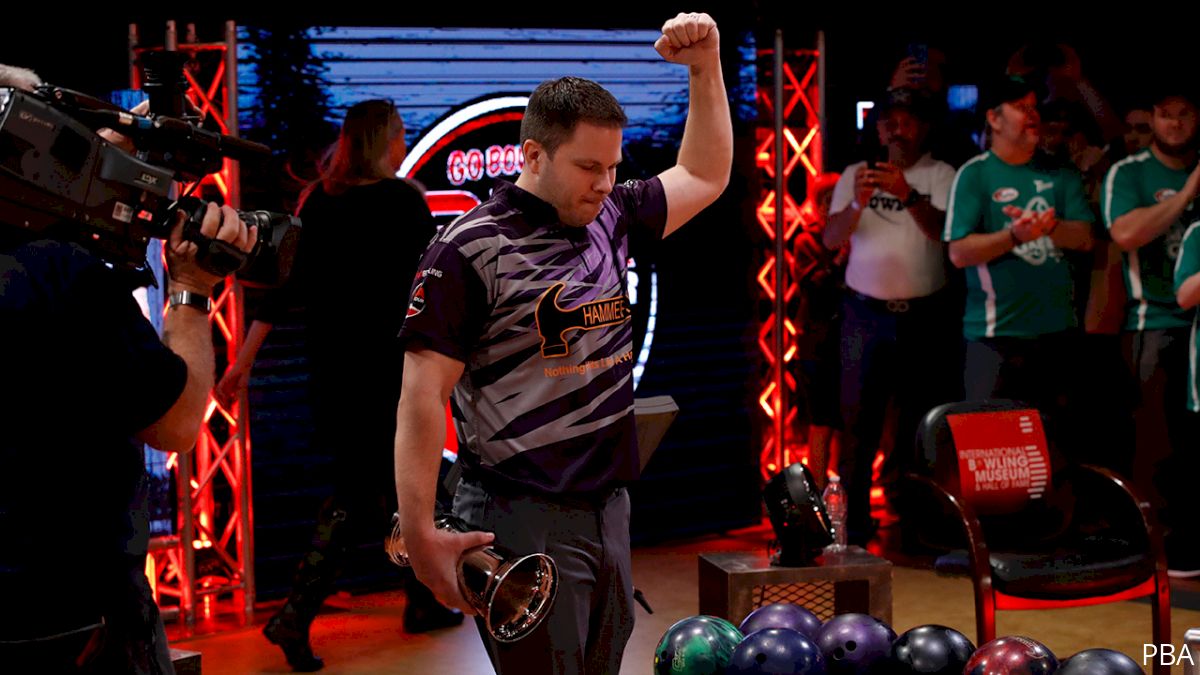 ARLINGTON, Texas – Bill O'Neill won his first singles PBA Tour title in more than three and a half years Sunday as he defeated top seed Jakob Butturff to claim the PBA Hall of Fame Classic.
In a back-and-forth title match, O'Neill secured the title with a mark in the final frame to defeat Butturff, 199-194, at the International Training and Research Center.
O'Neill, who became eligible for the PBA Hall of Fame with his 10th tour victory, entered the championship round as the No. 3 seed and rolled through two matches heading into the title bout. He started his day by striking on 17 of his first 20 shots, but in the championship match, he got off to a shaky start.
After leaving two splits and missing the head pin twice in the first four frames against Butturff, O'Neill made a ball change and threw four strikes in a row. The change allowed O'Neill to flip the match from a 13-pin deficit to a seven-pin lead heading into the final two frames.
"I believed in myself, I believed in my bowling balls and I had a game plan I was executing perfectly," said O'Neill, who won PBA titles in doubles events in 2015, 2016 and 2018. "My experience in TV finals in the past is that you have to have a game plan because everything happens so fast. It worked and I made a good ball change in the middle and here we are."
Butturff, meanwhile, started with urethane, as expected, and was lined up on the right lane early in the match, striking on his first four shots. He couldn't manage to carry on his first three shots on the left lane, however. Also among his misses was a shocking whiffed seven pin in the second frame.
For the first time all week, Butturff switched to a reactive ball in the eighth frame which got him his first strike on that lane. However, when Butturff stepped up in the ninth frame using urethane, he pulled it high and left a 4-7, which he missed leaving the four pin standing.
In the final frame, Butturff, using reactive, struck out to at least force O'Neill to mark. O'Neill left a 10 pin and converted it easily for the victory.
In the semifinal, O'Neill built a 52-pin lead after seven frames against Australia's Jason Belmonte and cruised to an easy 268-188 victory over the four-time PBA Player of the Year.
Right from the start, Belmonte looked uncomfortable in the match, leaving and barely making a four pin to start. In the second frame, Belmonte threw the ball flat off his hand and left a two pin, which he made.
In the fourth frame, Belmonte left the 1-2-5 on a shot pitched way outside and said to himself "you better wake up, buddy." He never did and lost the match big.
There was also little drama in O'Neill's 258-219 victory over Sweden's Jesper Svensson in the second match of the stepladder finals.
O'Neill started the match by striking on eight of his first nine shots to pull away and lead by 40 pins going into the 10th frame allowing him to coast to the victory.
In the opening match, Svensson had a shaky finish but held on to defeat Rhino Page, 201-198, to advance. Svensson had a chance to shut Page out in the 10th frame with a double and six but pitched the ball wide and left the 1-3-7-9 washout.
Facing a difficult conversion, Svensson got the job done and got nine on the fill to force Page to double for the win or strike/spare for a tie. Page stepped up and got the ball a touch inside and paid a brutal price, leaving an eight pin to lose.
"For me it was as pure as I could throw it; I'm not ashamed at all of it," Page said. "I was joking with my ball reps last night that I don't have enough rev rate to stone an 8 pin. So, what did I do? I stoned an 8."
The PBA Tour now head to Shawnee, Oklahoma, for the PBA Oklahoma Open and Mark Roth-Marshall Holman PBA Doubles Championships. Coverage begins live on FloBowling on Tuesday.