2019 PBA Oklahoma Open/PBA Doubles Championship
Huge Block Puts Svensson On Top In Oklahoma
Huge Block Puts Svensson On Top In Oklahoma
Seven-time PBA Tour winner Jesper Svensson of Sweden averaged 259 for seven games to lead after the first round of the PBA Oklahoma Open.
Jan 9, 2019
by FloBowling Staff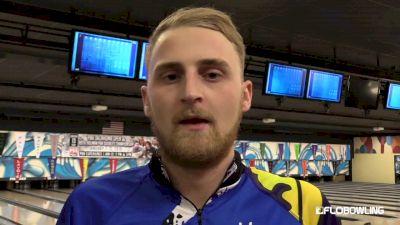 SHAWNEE, Okla. – Seven-time Go Bowling! Professional Bowlers Association Tour winner Jesper Svensson of Sweden averaged 259 for seven games to lead after the first round of the PBA Oklahoma Open Tuesday at the FireLake Bowling Center.
The two-handed left-hander bowled an 1,814 pinfall total with games of 237, 275, 299, 268, 228, 257 and 250 to hold a 70-pin lead over four-time tour winner Jakob Butturff of Tempe, Ariz., who finished the round in second with a 1,740 pinfall.
Results: PBA Oklahoma Open Round 1 Qualifying
"That was crazy," said the 23-year-old Svensson, who won the 2016 PBA Tournament of Champions in Shawnee. "I didn't have a bad game and I really only had a few bad shots. Everything was working the way I wanted it to."
Svensson won twice in 2017 but failed to win in 2018 with best tour finishes of second in the PBA Tournament of Champions and third in the PBA Tour Finals. He finished fourth in the PBA Hall of Fame Classic 2019 season opener last Sunday in Arlington, Texas.
"Since the second half of last year I've been struggling with my mental game," Svensson added. "I've worked with a coach to help improve my focus and I feel like I'm in a good place with that now. The goal is to recognize when you're in a good flow or rhythm and stay in that moment."
Butturff, who finished second in the Hall of Fame Classic, had games of 216, 227, 258, 266, 256, 239 and 278 in the first round.
Qualifying continues Wednesday with the second seven-game qualifying round after which the field will be cut to the top 24 players for a casher's round Thursday morning. The top 16 players after the cashers round will advance to the first match play round Thursday afternoon and the second match play round Friday morning that will determine the top five for the stepladder finals which will air live on FS1 Sunday at 11 a.m. ET (10 a.m. CT).
The qualifying rounds of the Oklahoma Open also determine the standings for the Mark Roth-Marshall Holman PBA Doubles Championship. After Wednesday's qualifying round, the top 12 doubles team will advance to two Baker format match play rounds on Friday and Saturday that will determine the top five doubles teams for the taped FS1 telecast at 1:30 p.m. ET (12:30 p.m. CT) on Sunday. The Doubles Championship will air on FS1 Jan. 20 at 1 p.m. ET (noon CT).
Results: PBA Doubles Championship Round 1 Qualifying
Svensson and three-time tour winner Kyle Troup of Taylorsville, N.C., who teamed up to win the 2017 Roth-Holman Doubles Championship, lead after the first round with a 3,471 combined seven-game pinfall total holding a 117-pin lead over Sean Rash of Montgomery, Ill. and Matt Ogle of Louisville, Ky., who finished with 3,354.
All preliminary rounds of the Oklahoma Open and Roth-Holman Doubles Championship are live-streamed on FloBowling.com.
---
Release courtesy of Jerry Schneider, PBA Media Relations