2019 PBA World Series of Bowling X
WSOB Wrap-Up: Is Belmo Now The GOAT?
WSOB Wrap-Up: Is Belmo Now The GOAT?
The discussion of whether or not Jason Belmonte is the Greatest Of All Time (GOAT) is a difficult one.
Mar 22, 2019
by Lucas Wiseman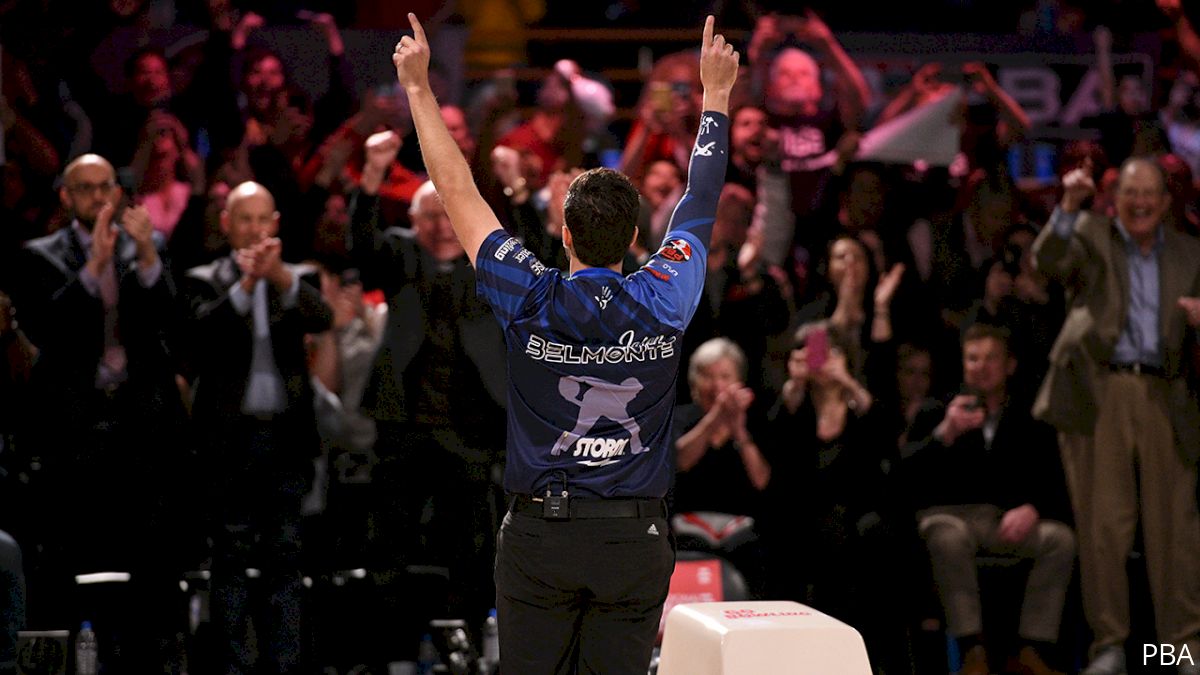 Unlock this article, live events, and more with a subscription!
Get Started
Already a subscriber? Log In
The PBA World Series of Bowling X wrapped up last night in dramatic fashion with Jason Belmonte winning his 11th career PBA Tour major title.
Although the WSOB doesn't officially conclude until after tonight's airing of the USA vs. The World special match, which was taped Thursday, here are a few thoughts to close out an incredible two weeks of competition:
Is Belmonte Now The Greatest Of All Time?
Trying to compare sports figures against players of another era is an impossible task in every sport. Bowling is no different.
That's why the discussion of whether or not Belmonte is the Greatest Of All Time (GOAT) is so difficult.
One thing we can say for sure, however, is that Belmonte is clearly the greatest bowler of his generation. Is he better than Walter Ray Williams Jr., Earl Anthony or Pete Weber, though? We will have to wait quite a while to settle that debate.
We can only truly judge Belmonte's GOAT status at the end of his career, which is nowhere in sight yet. At age 35, Belmonte is still in his prime and has an unknown number of years ahead of him on the PBA Tour. At his current pace, could he add another 10 or 20 titles to his resume? Absolutely.
When asked about whether or not he's the GOAT after winning his record 11th career major title Thursday night, Belmonte was humble about the label of GOAT being thrown around.
"I don't believe in all-time (greatest)," Belmonte told FloBowling shortly after winning the PBA World Championship. "I believe in generations. I think Earl was the greatest in his generation. I think Walter was the best in his generation. And I would like to think when I'm all said and done that I'm certainly in the conversation as this generation's all-time best."
So while the GOAT discussion is still one to be debated, one thing that may not be up for debate is 2019 PBA Player of the Year.
Belmonte is now the only player to win three titles this season, including two majors. He also has a second-place finish in the major he didn't win.
It's tough to see a scenario where Belmonte does not win his fifth Player of the Year award, but there's still a lot of bowling to be done. One thing is for sure, it would take an absolute herculean effort to surpass Belmonte's accomplishments so far this season.
For example, Anthony Simonsen, the only other player to win a major this season, would likely need to win either the USBC Masters next week or the U.S. Open later this year to even get in the conversation.
If the same player were to win both the Masters and the U.S. Open along with a standard title or two, they could get in the conversation.
The problem? Belmonte has shown he is the best major-event bowler in the history of the PBA Tour. He won't be easy to beat at those last two majors of the season.
Round Robin Vs. Best-Of-Five Formats
For most of the season leading up to the PBA World Series of Bowling, event formats were pretty standard – qualifying followed by round robin match play.
For the animal pattern events, the Cheetah, Chameleon and Scorpion, fans were treated with a different format following qualifying – best-of-five matches.
This format has been used many times in the past on the PBA Tour, but one thing is clear – it's more compelling for fans than round robin match play.
The PBA should look at introducing the best-of-five format at other standard events throughout the season. That format makes absolutely every game matter, is shorter than an eight-game round robin block and creates compelling drama at every step of the way.
Which @PBATour format do you prefer to watch?

— Lucas Wiseman (@Lucas_Wiseman) March 19, 2019
There's nothing wrong with the round robin format and it should absolutely be used at the major events so the cream rises to the top over the course of a longer number of games, but that format has negatives as well.
In round robin, there are often players who are out of the hunt to make the next cut halfway through match play. This creates matches that have little interest and little drama. The payoff with round robin, however, is the position round game. But it's just one game.
If you're a fan of head-to-head matches, you'll be in luck next week as well as the USBC Masters features the unique 64-player bracket with three-game total-pins matches to determine winners. That event starts Wednesday live on FloBowling.
Tom Clark Calls WSOB X The Greatest Yet
At the conclusion of Thursday night's PBA World Championship, PBA Commissioner and CEO Tom Clark told the crowd that WSOB X was the "greatest World Series of Bowling ever."
The WSOB first launched 10 years ago in Detroit and made its return for its 10th anniversary. Detroit is known as being one of the best bowling towns in the country and its fans didn't miss the opportunity to see the best in the world.
Say what you want about @JBelmo but he stays and signs every autograph and takes every picture every time. He's a great ambassador for the sport. pic.twitter.com/9zCnNRyoS5

— Lucas Wiseman (@Lucas_Wiseman) March 22, 2019
Thunderbowl Lanes was packed day after day, round after round as fans came out to watch qualifying and match play rounds.
The fans really shined during the televised finals each night, creating an environment that made it feel like the major sporting event it is.
Detroit bowling fans are among the most knowledgeable and bowling savvy in the entire country, so last night as they watched Belmonte win his 11th career title, you could tell the moment was not lost on them.
When Belmonte's match started, the fans' excitement went up even a notch higher because they realized they were witnessing history in the making.
And they were rewarded at the end of the night when Belmonte stayed late to sign every autograph and take every picture with any fan who wanted one, as Belmonte does after every event.
Fans in Las Vegas, you have some big shoes to fill when the best in the world bowl in the USBC Masters next week. Detroit will be tough to top.