2019 USBC Masters
Eight Unbeaten As Masters Field Narrows
Eight Unbeaten As Masters Field Narrows
Eight bowlers remain undefeated and are two wins away from securing a spot in the stepladder finals at the 2019 USBC Masters.
Mar 31, 2019
by Lucas Wiseman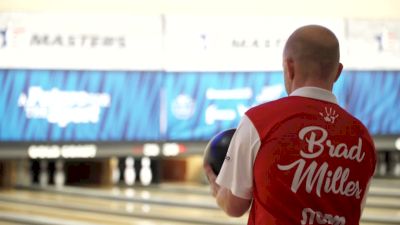 Unlock this video, live events, and more with a subscription!
Get Started
Already a subscriber? Log In
LAS VEGAS – Heading into the final day of match play, eight bowlers remain undefeated and are two wins away from securing a spot in the stepladder finals at the 2019 United States Bowling Congress Masters.
Third seed Jakob Butturff is the highest remaining seed in the winners bracket and is one of three lefthanders who went undefeated in three consecutive matches to open bracket play Saturday at the Gold Coast Hotel and Casino.
Butturff will take on fellow lefty Rhino Page, the sixth seed, to kick off the second day of match play Sunday at 1 p.m. Eastern live on FloBowling.
Other winners bracket matches include Jake Peters against Jonathan Van Hees, Brad Miller taking on Christopher Sloan and Mykel Holliman battling Marshall Kent.
The winners of those matches will advance to the final four of the winners bracket and with one more victory be assured either the No. 1 or No. 2 seed for Monday's stepladder finals.
The path to remaining unbeaten Saturday wasn't an easy one for Butturff, who escaped with a tough 652-646 victory over Patrick Girard in the three games, total pins match. Butturff needed a double to advance.
In his next match, Butturff defeated fellow lefty Michael Martell, 704-683, and then used a mark in the final frame to take down Cortez Schenck, 606-602.
Page, meanwhile, put up three big sets in his matches Saturday, winning with series of 687, 696 and 748 in blowout victories.
In the elimination bracket, eight players remain in contention to make the Masters show but have a tough patch to make it to the finals. They must win four matches Sunday to earn a shot at the title.
Among the players still fighting in the elimination bracket are Mitch Hupe, Anthony Simonsen, Dom Barrett, David Stouffer, Kenny Ryan, PJ Haggerty, Kyle Sherman and Martell.
One player who didn't make it far in match play was top seed Solomon Salama. The 16-year-old two-handed lefty, who is believed to be the youngest player to ever earn the top seed for the Masters bracket, was knocked out early.
Solomon lost his opening match against No. 64 seed and defending champion Andrew Anderson, 720-663. He followed that up with a 719-648 win over Dean Richards in the elimination bracket but then lost to Andres Gomez, 611-597, to be knocked out.
After beating Solomon, Anderson went on to lose to Duke, 609-601, and was eventually eliminated from the tournament with a 717-562 loss to Sherman.