2019 PBA Playoffs
Hand Injury Healed, Belmonte Rolls On At PBA Playoffs
Hand Injury Healed, Belmonte Rolls On At PBA Playoffs
Top seed Jason Belmonte showed in his PBA Playoffs debut that his injured ring finger on his bowling hand had completely healed.
Apr 23, 2019
by Lucas Wiseman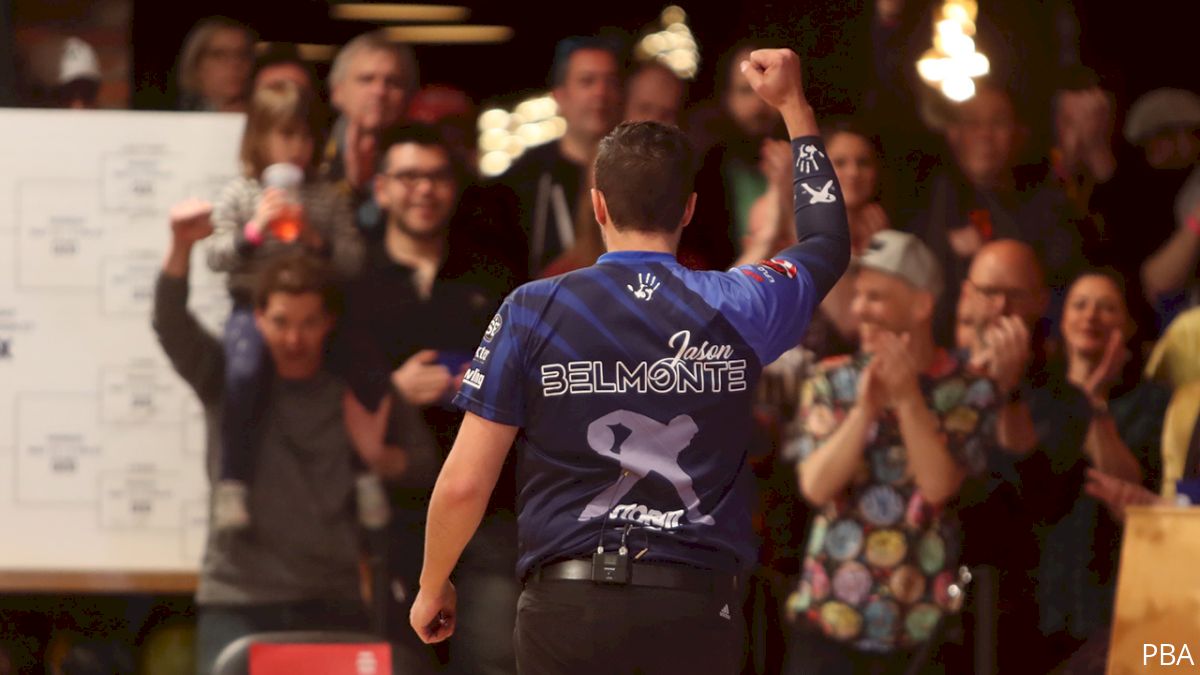 PORTLAND, Maine – Top seed Jason Belmonte showed in his PBA Playoffs debut that his injured ring finger on his bowling hand had completely healed.
The frontrunner for PBA Player of the Year defeated Kyle Troup to move into the Round of 8, while Kris Prather knocked off Tom Daugherty in matches that were broadcast Monday night.
Belmonte had his worst performance of the season at the United States Bowling Congress Masters after slamming his finger into a bowling ball just days before the event. He said after his victory over Troup the injury was no longer a factor in his bowling.
Here's a recap of both matches:
No. 1 Jason Belmonte 2, No. 17 Kyle Troup 1
In the opening match of the Round of 16, Belmonte dominated most of the match but was still taken to a tiebreaker by Troup in a 2-1 victory. Starting with the Round of 16, matches in the PBA Playoffs are best-of-three with the tiebreaker being a ninth and 10th frame roll-off.
Belmonte got out of the gates with five consecutive strikes in the opening game before leaving a 2-10 split but still rolled to a 245-186 win.
Troup, meanwhile, struggled throughout the game, especially with the right lane, going high on three of his first four shots on that lane.
The second game looked like it would be more of the same after Troup opened in two of the first three frames yet he rallied to take a 223-217 victory to force the tiebreaker.
After opening in the first and third frames, Troup struck on his next six shots. In the 10th frame, however, Troup went high and left the 4-7, giving Belmonte a chance to win. Belmonte need a strike and eight pins on a lane he had only thrown strikes on the entire match. He went high and left a six pin to lose.
In the ninth and 10th frame tiebreaker, Troup started first with a strike. Belmonte then went strike, strike, 10 pin, spare to shoot 49. Needing a double in the 10th to win the match, Troup left a blowout nine pin on his first shot and lost 49-40.
No. 9 Kris Prather 2, No. 8 Tom Daugherty 0
Daugherty became the first of the top eight seeds to be eliminated from the tournament in a blowout loss to Prather in consecutive games.
The tone was set early for Daugherty, who left back-to-back washouts for opens in the first two frames to start the match as he lost in a massive blowout, 222-137.
Prather started the first game with a pair of four pin spare conversions before rattling off three consecutive strikes and building a 55-pin lead heading into the commercial break.
The second game was closer but Daugherty never led in the game in a 228-222 loss. Daugherty only struck on one of his first five shots and didn't get his first double of the match until the seventh frame.
Prather continued his momentum into the second game, striking on five of his first six shots to build up another big lead and coast to victory.
Prather will take on Belmonte in the Round of 8 in a show that airs May 20.
What's Next
Next Monday the PBA Playoffs continues with the second of four Round of 16 shows on FS1 for U.S. audiences and on FloBowling for international fans. The broadcast time is 9 p.m. Eastern.
Anthony Simonsen takes on Rhino Page, while EJ Tackett battles Andres Gomez in the bottom left corner of the bracket.