2019 Teen Masters
Salinas, Diem Hoist Teen Masters Trophies
Salinas, Diem Hoist Teen Masters Trophies
Julian Michael Salinas and Hannah Diem survived matches that came down to the final frame Friday to win the 2019 Teen Masters.
Jul 5, 2019
by Lucas Wiseman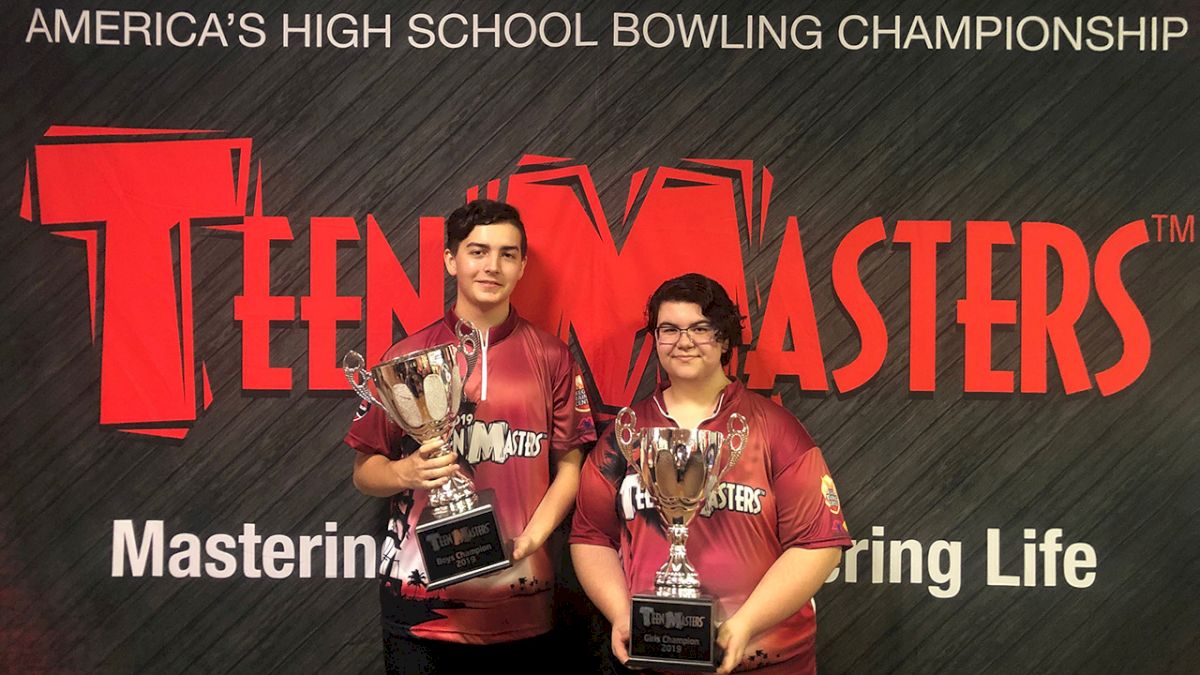 Julian Michael Salinas of Richmond, Texas, and Hannah Diem of Seminole, Florida, survived matches that came down to the final frame Friday to win the 2019 Teen Masters.
Salinas won the boys varsity title with a 42-game total of 9,197 after posting a 9-9 match-play record, while Diem went a blistering 16-2 in matches and won the girls varsity title with 8,653 at Sawgrass Lanes in Tamarac, Florida.
In the final position round game, both divisions came down to the final frame. Salinas needed any mark and five pins on the fill to secure the win. He went high on his first shot in the 10th frame and left a six pin, which he easily converted, and then got nine pins on the fill to win.
Diem had a chance to shutout Caroline Thesier with a double in the final frame. She got the first one but left a 10 pin on her second shot. That meant Thesier could win with a double and six pins on the fill, but she came up light on her first shot and left a two pin.
The Teen Masters only allowed bowlers to use a urethane non-flare bowling ball named the PBA Skills 3.02. The patterns were also much different than those used in today's bowling with the long pattern (42 feet) and short pattern (32 feet) both having just under seven milliliters of oil. By comparison, PBA patterns have between 25 and 35 mL of oil.
The road to the title for Salinas and Diem included 24 games of qualifying followed by 18 games of round robin match play. The champions were determined based on total pinfall plus 30 bonus pins for each victory in matches.
Those bonus pins proved to be the difference for Diem as she easily had the best match-play record in either division. Diem averaged 194.60 for the tournament, which was more than two pins per game less than Thesier, but the 480 bonus pins loomed large for Diem.
On the boys side, Salinas was in second place at the start of the day behind Andrew Guba, who led every round of the event heading into the third round of match play. Guba had a rough final block and finished the event in sixth place.
Champions were also determined in the junior varsity division with Kara Beissel and Eric Jones hoisting those trophies. Beissel made the cut to match play and finished in 15th place, while Jones finished in 34th place and was the highest JV player on the boys side.
To view the final scores for the girls, click here. For the boys, click here.