The hometown fans stormed the lanes Thursday night as the Portland Lumberjacks brought Portland, Maine, its first PBA League championship.
Bayside Bowl in Portland has hosted the PBA League five consecutive years and the Lumberjacks rewarded the fans with a league title by defeating L.A. X, 2-0, to hoist the Elias Cup.
The Lumberjacks defeated the L.A. X in consecutive best-of-three matches, 2-0 and 2-0. Each match consisted of two Baker games and had a tiebreaker been necessary, it would have gone to one-ball sudden death. But there were no tiebreakers needed as Portland dominated the championship round.
"It's an amazing moment, and I can't be more proud of my guys," Portland manager Tim Mack told FS1 sideline reporter Kimberly Pressler. "It's just a surreal moment we are experiencing right now. Charlie Mitchell, Bayside Bowl, everybody here in Portland has been so fantastic. We finally were able to bring home the championship to Portland that they so much desire."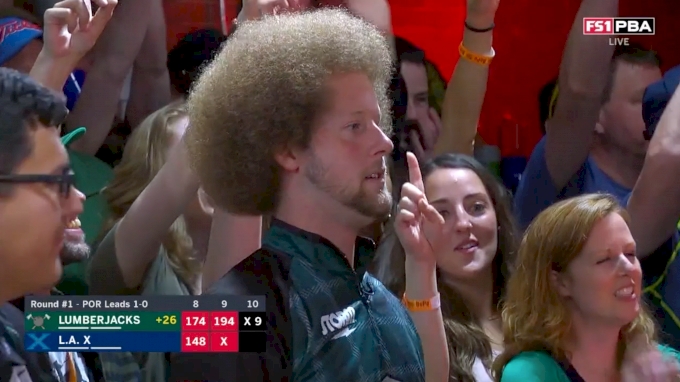 Unlock this video, live events, and more with a subscription!
Get Started
Already a subscriber? Log In
In the opening match, L.A. X anchor Dick Allen had a chance to put pressure on the Lumberjacks in the final frame of the first game.
Had he struck out, he would have forced Portland to double in the 10th frame. Instead, Allen left a 10 pin and missed it to hand a 228-206 victory to the Lumberjacks. That was just one of 18 10 pins the L.A. X would leave on the night.
Portland got off to the worst start possible to the second game when Kyle Troup left the 4-9 split for an open and Mitch Hupe left a 2-10 split for an open, but it ended up not costing them.
L.A. X was unable to string any strikes together to take advantage. They didn't throw a double the entire game, while the Lumberjacks rebounded and struck in the fourth, fifth, sixth, seventh and eighth frames to pull away and win 214-188.
In the first game of Match 2, Jason Belmonte could have struck out to force Portland to strike on its first shot in the final frame. Belmonte got the first one but left a 10 pin on his second shot.
That meant Wes Malott needed just a mark and eight pins to secure the win for his side, and he buried a strike to give the Lumberjacks a 221-197 victory.
In the title-clinching game, Portland started with five consecutive strikes and never trailed as they won in a runaway, 248-208.
Not even needing a mark in the final frame, Malott, who was named the event's MVP, clinched the title for the hometown fans with a perfect strike to allow the Lumberjacks to hoist the Elias Cup and begin the celebration.