2019 Barbasol PBA Tour Finals pres by Red Rock Casino Resort Spa
Emotional Tackett Claims PBA Tour Finals Title
Emotional Tackett Claims PBA Tour Finals Title
After his title-winning shot, EJ Tackett dedicated his 13th career PBA Tour title to his grandfather Alex Smart, who passed away July 14 at age 90.
Jul 22, 2019
by Lucas Wiseman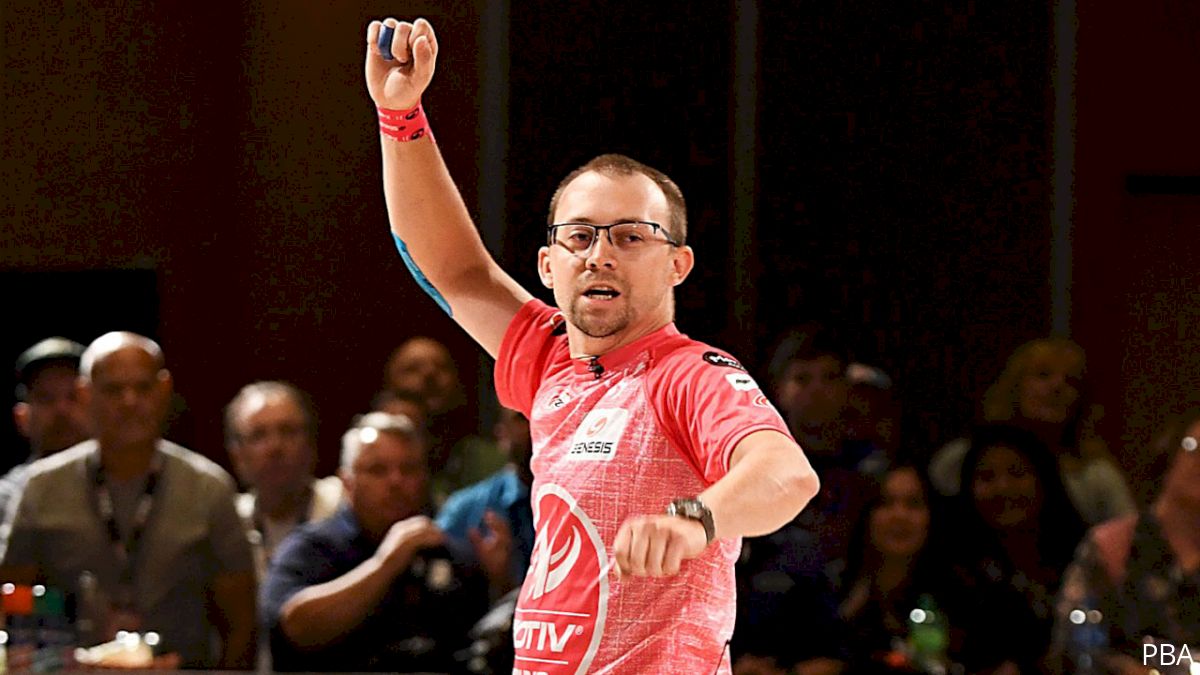 EJ Tackett kept his composure throughout the 2019 Barbasol PBA Tour Finals, but when he threw the shot to clinch the title, he couldn't hold back the emotions any longer.
After his title-winning shot against Jakob Butturff, Tackett dedicated his 13th career PBA Tour title to his grandfather Alex Smart, who passed away July 14 at age 90.
"Grandpa Alex, I love you," Tackett said as he pointed to the sky. As he hugged Butturff, a teary-eyed Tackett said, "This is for my grandpa. I lost him a week ago, buddy."
Tackett defeated Butturff, 2-1, in the best-of-three championship match at Red Rock Lanes in Las Vegas. Despite losing the first game, 247-225, Tackett rebounded and won the second game, 238-220, and the ninth and 10th frame tiebreaker, 45-26.
"I loved my grandpa to death," Tackett said in an interview after the match. "He made it to ripe age of 90. He lived a great life. And I hope I can follow in his footsteps and be such a great man as he was."
Tackett's shot that secured the title was one of his best of the night. He only needed nine pins on two shots, but he absolutely shredded the rack and sent a messenger to take out the 10 pin for a strike.
Butturff eliminated most of the pressure on Tackett when he made a critical error in his final frame of the tiebreaker. The left-hander yanked the ball high and left a devastating 4-6-10 split for an open frame.
In the opening game of the championship match, Butturff looked like he would be tough to beat as he rolled to a 22-pin victory. After Tackett missed a 10 pin in the second frame, Butturff led the entire way and shut Tackett out with a pair of strikes in the final frame.
The second game was the total opposite, however, as Butturff was the one who made the early error, leaving the Big Four split in the third frame to fall behind by 18 pins. Tackett took full advantage by striking on six of his first seven shots to pull away for an 18-pin win.
Tackett and Butturff made it to the championship match by surviving respective group stepladders earlier in the day.
Tackett, who was the second seed in his stepladder, defeated Kris Prather, 237-224, in the semifinal and then knocked off top seed Bill O'Neill, 2-0, in the best-of-three final. Tackett swept O'Neill, 265-237 and 210-198.
Butturff was the top seed in his stepladder and defeated Anthony Simonsen, 2-1, to advance. After Butturff won the first game 249-157 and lost the second game 259-234, he narrowly escaped with a win in the tiebreaker.
After posting a score of 39, Simonsen could tie with three strikes in the final frame. He got the first two but then left a 10 pin on his final shot to lose by one.
The PBA Tour returns on from July 26-28 with the PBA/PWBA Striking Against Breast Cancer Mixed Doubles, which will be broadcast live exclusively on FloBowling.