2019 PBA Bowlerstore Classic presented by Moxy Xtra Pair
Sherman Maintains Summer Tour Points Lead After Five Events
Sherman Maintains Summer Tour Points Lead After Five Events
After a 12th-place finish at the PBA Gene Carter's Pro Shop Classic, Kyle Sherman has maintained his lead in the FloBowling PBA Summer Tour points list.
Aug 19, 2019
by Lucas Wiseman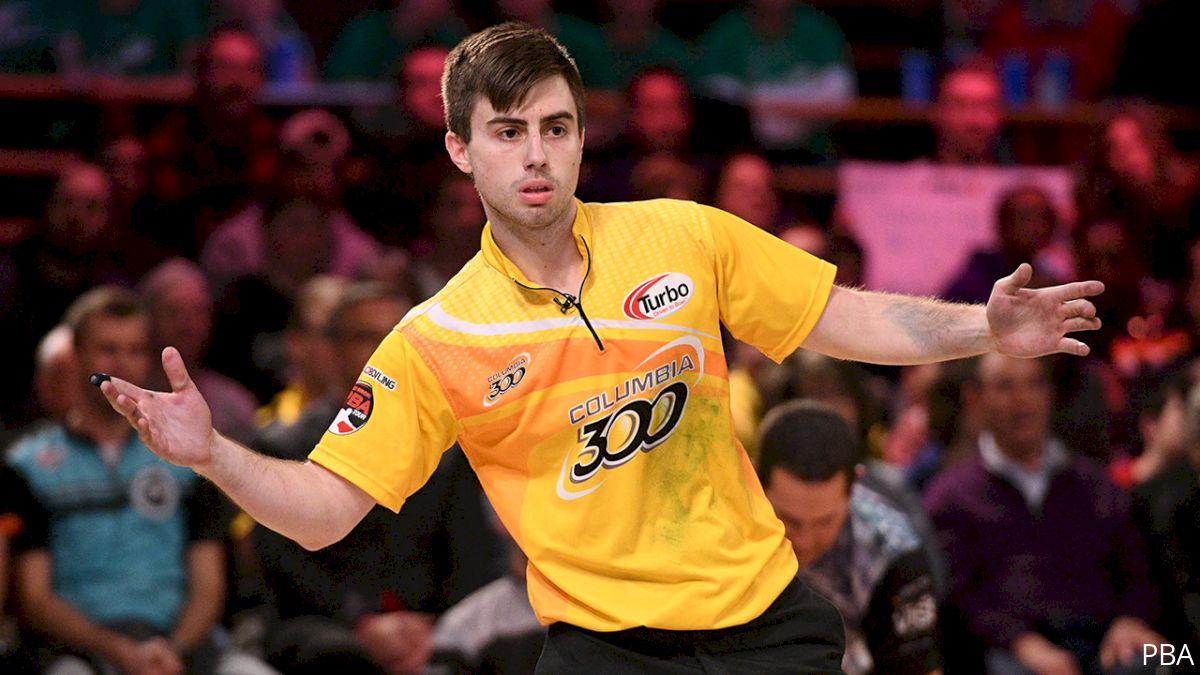 Kyle Sherman was able to hold onto his lead in the FloBowling Summer Tour points list but despite a 12th-place finish over the weekend, his lead on second place shrunk a little bit.
Sherman sits atop the list with 4,380 points, while AJ Johnson used an eighth-place finish at the PBA Gene Carter's Pro Shop Classic on Sunday to move into second place with 4,180.
Entering the event, Sherman had a 295-point lead on the field and that's now shrunk to 200 points. Bill O'Neill, who was second entering the weekend, drops to third with 3,965 points after missing the cut to match play in Middletown, Delaware.
EJ Tackett bounces from sixth place up to fourth with 3,540, while BJ Moore moves up from seventh to fifth with 3,355 points. Moore, however, is not on the roster for the remaining events.
Jakob Butturff, who skipped the event in Middletown, drops from fourth place to sixth place with 3,180 points. Tom Daugherty (2,985 points) and Andrew Anderson (2,875 points) are seventh and eighth, respectively.
The top eight players in points will earn spots in the FloBowling ATX Invite, a special event to be held in Austin, Texas, on Sept. 21. Those eight will also earn spots in the PBA China Tiger Cup, an event that will be held in November. The top five will cash in the special USBC Cup prize list.
This week's PBA Bowlerstore Classic will offer yet another opportunity for players to pick up the 2,500 points on the line for a victory. That event gets underway Thursday live on FloBowling.
Here are the top 50 in summer points after five of nine events:
| Name | Hometown | Events | Total Points |
| --- | --- | --- | --- |
| 1. Kyle Sherman | O'Fallon, Mo. | 4 | 4380 |
| 2. AJ Johnson | Oswego, Ill. | 5 | 4180 |
| 3. Bill O'Neill | Langhorne, Pa. | 4 | 3965 |
| 4. EJ Tackett | Bluffton, Ind. | 5 | 3540 |
| 5. BJ Moore | Greensburg, Pa. | 3 | 3355 |
| 6. Jakob Butturff | Tempe, Ariz. | 3 | 3180 |
| 7. Tom Daugherty | Riverview, Fla. | 5 | 2985 |
| 8. Andrew Anderson | Holly, Mich. | 5 | 2875 |
| 9. AJ Chapman | Manchester, Iowa | 5 | 2825 |
| 10. Sean Rash | Montgomery, Ill. | 5 | 2700 |
| 11. Stuart Williams | England | 5 | 2550 |
| 12. Ryan Ciminelli | Cheektowaga, N.Y. | 1 | 2500 |
| 13. Kristopher Prather | Plainfield, Ill. | 4 | 2375 |
| 14. Marshall Kent | Yakima, Wash. | 5 | 2355 |
| 15. Dom Barrett | England | 4 | 2210 |
| 16. Kyle Troup | Taylorsville, N.C. | 5 | 2085 |
| 17. Brad Miller | Lees Summit, Mo. | 5 | 2025 |
| 18. Anthony Lavery-Spahr | Pasadena, Texas | 5 | 2000 |
| 19. Zeke Bayt | Westerville, Ohio | 5 | 1865 |
| 20. Josh Blanchard | Mesa, Ariz. | 4 | 1780 |
| 21. Zacharay Wilkins | Canada | 3 | 1758 |
| 22. Chris Barnes | Double Oak, Texas | 4 | 1730 |
| 23. Tom Smallwood | Saginaw, Mich. | 4 | 1710 |
| 24. DJ Archer | Friendswood, Texas | 5 | 1705 |
| 25. Darren Tang | Las Vegas | 5 | 1685 |
| 26. Tommy Jones | Simpsonville, S.C. | 5 | 1610 |
| 27. Greg Young | Viera, Fla. | 5 | 1515 |
| 28. Wes Malott | Pflugerville, Texas | 4 | 1465 |
| 29. Anthony Simonsen | Little Elm, Texas | 4 | 1425 |
| 30. Shawn Maldonado | Houston | 4 | 1265 |
| 31. Tim Pfeifer | Oakdale, Pa. | 3 | 1115 |
| 32. Michael Davidson | Versailles, Ohio | 4 | 1113 |
| 33. Matt Kuba | Chicago Ridge, IL | 4 | 1055 |
| 34. Kamron Doyle | Brentwood, Tenn. | 5 | 1015 |
| 35. Jesper Svensson | Sweden | 3 | 910 |
| 36. Thomas Larsen | Denmark | 3 | 858 |
| 37. Andres Gomez | Colombia | 3 | 825 |
| 38. Andrew Cain | Phoenix | 5 | 823 |
| 39. Devin Bidwell | Wichita, Kan. | 4 | 790 |
| 40. Francois Lavoie | Canada | 1 | 775 |
| 40. PJ Haggerty | Roseville, Calif. | 1 | 775 |
| 42. Richard Teece | England | 4 | 745 |
| 43. Dylan Burns | Garden City, Kan. | 1 | 715 |
| 44. Joe Paluszek | Bensalem, Pa. | 2 | 700 |
| 45. Sean Lavery-Spahr | Pasadena, Texas | 2 | 695 |
| 46. Nick Kruml | Downers Grove, Ill. | 4 | 680 |
| 47. Nicholas Pate | Inver Grove Heights, Minn. | 4 | 660 |
| 48. Patrick Hanrahan | Wichita, Kan. | 5 | 655 |
| 48. Jason Belmonte | Australia | 1 | 655 |
| 48. Brad Angelo | Lockport, N.Y. | 1 | 655 |