2019 FloBowling PBA ATX Invite
Field Set For FloBowling ATX Invite
Field Set For FloBowling ATX Invite
With the conclusion of the PBA Summer Tour on Saturday, the field for the upcoming FloBowling ATX Invite has been determined.
Sep 1, 2019
by Lucas Wiseman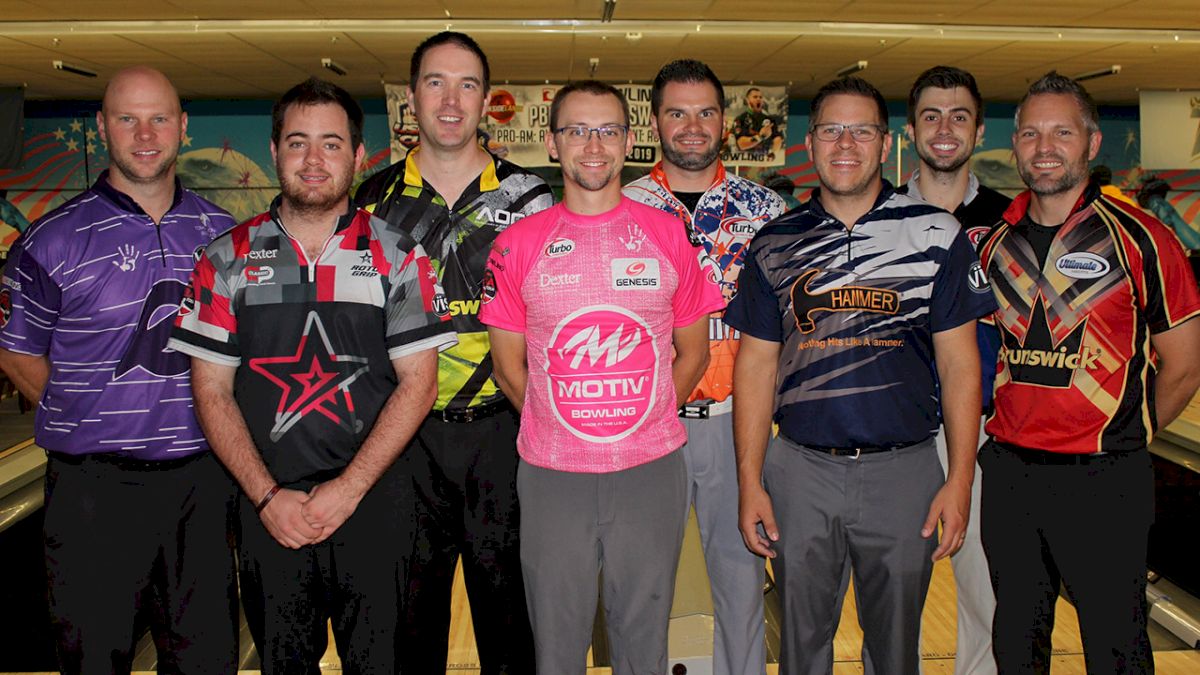 AURORA, Ill. - After a grueling stretch of nine events, the eight players with the highest points totals on the FloBowling PBA Summer Tour have earned spots in the FloBowling ATX Invite.
The special event will take place Sept. 21 at 2 p.m. Eastern live on FloBowling from Austin, Texas, the home of FloSports. The bracket competition will award $25,000 for first place.
Sean Rash earned the No. 1 seed in the bracket with 9,135 points, while EJ Tackett was second with 8,670 points. Anthony Simonsen was third with 7,660.
Jason Sterner won the final event of the Summer Tour, the PBA Illinois Open, to jump from way outside the number to inside with 7,140 points. The victory Saturday in Aurora, Illinois, gave Sterner 5,000 points.
AJ Johnson qualified fifth with 6,930 points, Bill O'Neill was sixth with 6,670, Kyle Sherman finished seventh with 6,648 and Tommy Jones got the last spot with 5,790.
Sterner's victory at the Illinois Open allowed him to jump inside the number while knocking Kyle Troup out. Troup missed out on an invitation to the event by just 30 points, finishing ninth with 5,760 points.
The top eight also earned invitations to the PBA China Tiger Cup in November.
Here are the final points standings for the top 50 on the PBA Summer Tour:
| Name | Hometown | Events | Total Points |
| --- | --- | --- | --- |
| 1. Sean Rash | Montgomery, Ill. | 9 | 9135 |
| 2. EJ Tackett | Bluffton, Ind. | 9 | 8670 |
| 3. Anthony Simonsen | Little Elm, Texas | 8 | 7660 |
| 4. Jason Sterner | Rochester, N.Y. | 8 | 7140 |
| 5. AJ Johnson | Oswego, Ill. | 9 | 6930 |
| 6. Bill O'Neill | Langhorne, Pa. | 8 | 6670 |
| 7. Kyle Sherman | O'Fallon, Mo. | 8 | 6648 |
| 8. Tommy Jones | Simpsonville, S.C. | 9 | 5790 |
| 9. Kyle Troup | Taylorsville, N.C. | 9 | 5760 |
| 10. Jakob Butturff | Tempe, Ariz. | 7 | 5480 |
| 11. Tom Daugherty | Riverview, Fla. | 9 | 4690 |
| 12. Marshall Kent | Yakima, Wash. | 9 | 4660 |
| 13. Jason Belmonte | Australia | 4 | 4440 |
| 14. BJ Moore | Greensburg, Pa. | 6 | 4170 |
| 15. Wes Malott | Pflugerville, Texas | 8 | 4168 |
| 16. Dom Barrett | England | 8 | 4020 |
| 17. Chris Barnes | Double Oak, Texas | 8 | 3910 |
| 18. Brad Miller | Lees Summit, Mo. | 9 | 3890 |
| 19. Kristopher Prather | Plainfield, Ill. | 8 | 3815 |
| 19. Dick Allen | Lexington, S.C. | 8 | 3815 |
| 21. Andrew Anderson | Holly, Mich. | 9 | 3790 |
| 22. Francois Lavoie | Canada | 5 | 3680 |
| 23. AJ Chapman | Manchester, Iowa | 9 | 3600 |
| 24. Josh Blanchard | Mesa, Ariz. | 8 | 3470 |
| 25. Jake Peters | Henderson, Nev. | 5 | 3395 |
| 26. Stuart Williams | England | 9 | 3315 |
| 27. Ryan Ciminelli | Lancaster, S.C. | 5 | 3200 |
| 28. Norm Duke | Clermont, Fla. | 6 | 3080 |
| 29. Sam Cooley | Australia | 8 | 2960 |
| 30. Greg Young | Viera, Fla. | 9 | 2900 |
| 31. Zacharay Wilkins | Canada | 7 | 2728 |
| 32. Kamron Doyle | Brentwood, Tenn. | 9 | 2670 |
| 33. Darren Tang | Las Vegas | 9 | 2618 |
| 34. Anthony Lavery-Spahr | Pasadena, Texas | 9 | 2605 |
| 35. Zeke Bayt | Westerville, Ohio | 9 | 2350 |
| 36. Jesper Svensson | Sweden | 7 | 2055 |
| 37. Nicholas Pate | Inver Grove Heights, Minn. | 8 | 2045 |
| 38. DJ Archer | Friendswood, Texas | 9 | 2000 |
| 39. Greg Ostrander | Brick, N.J. | 7 | 1958 |
| 40. Nick Kruml | Downers Grove, Ill. | 8 | 1943 |
| 41. Shawn Maldonado | Houston | 8 | 1935 |
| 42. Michael Davidson | Versailles, Ohio | 8 | 1833 |
| 43. Tom Smallwood | Saginaw, Mich. | 5 | 1785 |
| 44. Brad Angelo | Lockport, N.Y. | 5 | 1645 |
| 45. Thomas Larsen | Denmark | 4 | 1633 |
| 46. Patrick Hanrahan | Wichita, Kan. | 9 | 1598 |
| 47. Kenneth Ryan | Farmingdale, NJ | 7 | 1510 |
| 48. Devin Bidwell | Wichita, Kan. | 8 | 1488 |
| 49. Tim Pfeifer | Oakdale, Pa. | 4 | 1480 |
| 50. William Svensson | Sweden | 7 | 1460 |