PBA
AJ Gets Biggest Win Of Career In Korea
AJ Gets Biggest Win Of Career In Korea
AJ Johnson defeated Chris Barnes in an epic final match 245-244 to win the SamHo Korea Cup for 50 million Korean won.
Oct 4, 2019
by Lucas Wiseman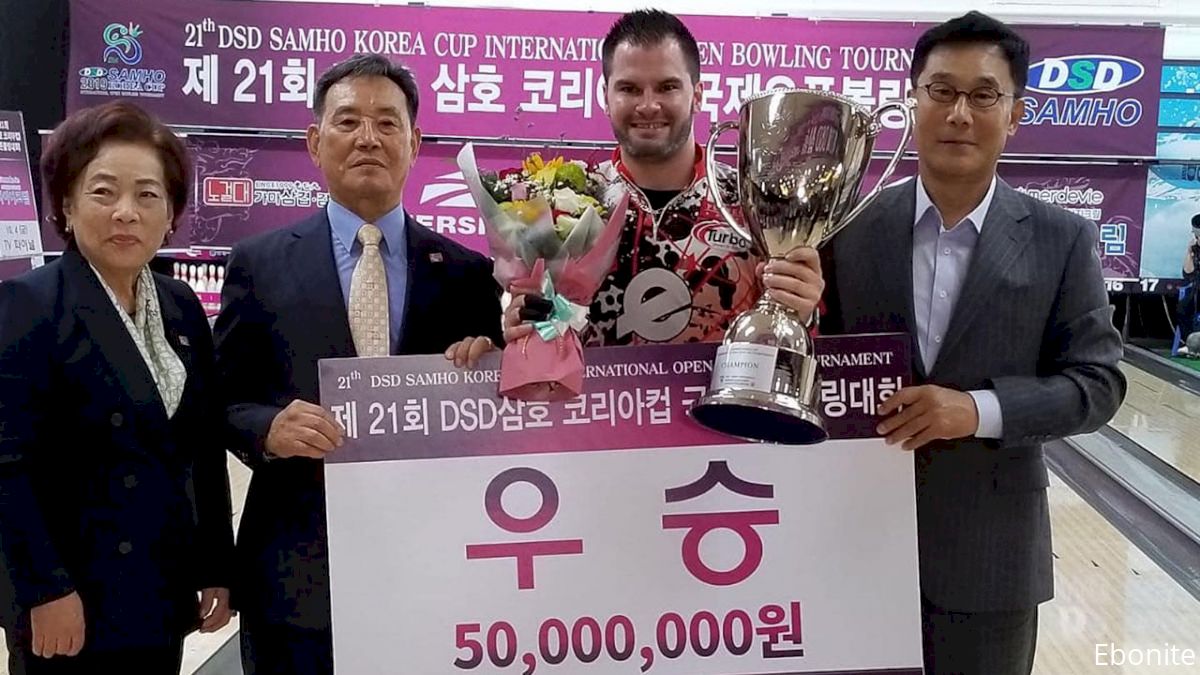 Unlock this article, live events, and more with a subscription!
Get Started
Already a subscriber? Log In
It's been obvious, especially in the past couple months, that AJ Johnson was on the cusp of breaking through. His big moment happened Friday more than 6,000 miles from home in South Korea.
Johnson defeated Chris Barnes in an epic final match 245-244 to win the SamHo Korea Cup for 50 million Korean won, the equivalent of approximately $41,815.
The SamHo Cup is the most prestigious event of the season for the Korea Professional Bowlers Association. However, the Korea PBA event is not affiliated with the PBA Tour in the United States, so Johnson is not credited with a PBA Tour title for his win.
Regardless, the victory is the biggest of Johnson's young career and comes after more than four years without a win on the PBA Tour as a full-time player.
"I still don't know what happened," Johnson said on the Korean broadcast after the win. "Everything happened so fast. This is amazing, a dream come true. I've finished second so many times and for this to finally come true, this is amazing. Simply amazing."
In a thrilling final match, Johnson was leading by 23 pins after he struck in the seventh frame for the front seven. The wheels came off for Johnson in the eighth and ninth frames, however.
Johnson got a tough break when left a 4-10 split on a shot that was a little high in the eighth frame and he narrowly missed the spare. In the ninth frame, he left and missed a seven pin.
Johnson managed to strike out in the final frame to put maximum pressure on Barnes. And needing just nine, spare, strike, Barnes collapsed under the pressure.
Barnes went high on his first shot in the 10th frame and left a 6-9-10 combination to lose. Even though he converted the spare and struck on the fill, the count left him one pin short.
Johnson was visibly stunned by the development and could be seen walking around with his hand on his face and tears flowing.
Johnson is widely regarded as one of the best players on the PBA Tour who has yet to win a title. He had one of the most consistent seasons of anyone on the recently concluded PBA Summer Tour, finishing in the top 12 in seven of the nine events.
He nearly won his first career PBA Tour title at the PBA/PWBA Striking Against Breast Cancer Mixed Doubles in July. On the cusp of victory, Johnson and partner Erin McCarthy both threw splits for opens in the final frame to let the win slip out of their hands.
To watch a replay of the SamHo Cup final match, click below (commentary is in Korean):