Imagine your sliding knee enduring a force of more than seven times your body weight each time you release your bowling ball.
Back in 2014, 14-time PBA Tour winner Sean Rash discovered that is exactly what he was doing to his left knee every time he slid. That equates to putting more than 1,600 pounds of pressure on his knee joint, something he learned while filming an episode of ESPN's Sports Science.
At the time of that filming, Rash had been pretty much injury free, but in 2015 at the U.S. Open in Texas things changed. He would always tuck his pinky finger when bowling, and then at that event he heard something pop in his hand.
"I remember it vividly," said Rash, who made news Tuesday when he signed with 900 Global. "It was the fifth frame of match play against DJ Archer. I was having a pretty good week. I left a two pin, shot the spare and it hurt. The pain went all the way up into my shoulder, and I remember grabbing my ball rep and kind of panicking. He asked me if I could untuck my pinky, so I said, 'I can try but I hadn't done it in years.'"
Watch the PBA Hall of Fame Classic Live On FloBowling
Rash bowled eight games with his pinky untucked and he fell in the standings. He knew Ryan Ciminelli was leading the tournament by a mile but still felt he had a chance to make it to the stepladder finals. He got a massage that night and two more the following day but ultimately finished in 13th place.
"I took a lot of time off and it took a while," Rash said. "I went from no grips to grips. I don't tuck my pinky anymore. It's really changed my game. My rev rate's lower. My axis tilt is different."
According to ESPN's Sports Science, Rash's rev rate in 2014 was 550 revolutions per minute, while the average bowler on tour is between 300 and 350 revs. Now, Rash is at about 450 revs.
Over a decade ago, Rash started wearing a brace to keep his knee cap in place. And in January 2018 while practicing, he aggravated the sciatic nerve in his lower back after he pulled his piriformis muscle, which is a muscle located in the buttocks. Once again, Rash remembered exactly when that injury happened.
"I stuck one shot and pulled everything," he said. "At some point my knee is going to go. Hopefully 15 to 20 years from now. But something is going to happen to it; it's part of sports."
To deal with his injuries, he reached out to friends in other professional sports, as well as PBA Hall of Famer Jason Couch. He began doing core exercises. This included jumping jacks, sit-ups and push-ups, walking on a treadmill or elliptical.
Rash admits he is not a big fan of too much quantity. He prefers quality. That translates into short workout and practice sessions. He got chiropractic massages, stretched and used foam rollers. You name it, he tried it. These were some of the little things that he never really thought about in his 20s, but had to in his 30s.
With a busy PBA Tour season, Rash didn't stop to let his body heal. He travels anywhere between 200 and 250 days a year staying in hotels and between 150 and 200 of those days are away from his wife, Sara, and daughters, Kaylee and Olivia. The effects began to impact his game and his health.
"I started to gain a little bit of weight," Rash said. "I was getting older and spending time with my family when I could, instead of working out. It caught up to me. That is why I had my worst tour season of my career (in 2018)."
Since he wasn't seeing the results he was used to on the lanes he forced himself to find a way to figure it out. Over the past year and a half, he has been working out more.
He was motivated by the success he had in 2016 when he was exercising almost every day. That year, he defeated Wes Malott at the PBA Badger Open and then beat Jason Belmonte at the PBA Detroit Open during the PBA Fall Swing in Michigan to win back-to-back titles.
"I had a decent year in 2016 and 2017, but not in 2018," Rash said. "Being injured you don't get to work out and practice. You lose focus a little bit and I did."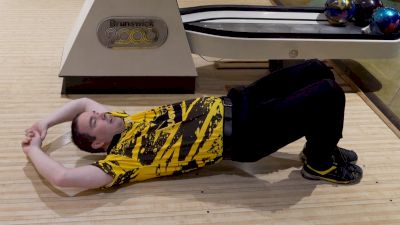 Unlock this video, live events, and more with a subscription!
Get Started
Already a subscriber? Log In
In 2018, he recorded his second lowest average since his first year on Tour in 2005 and the least amount of money he had earned since that first year, too. Coming into 2019, the hand, knee and back injuries were behind him yet he said 2019 was a year of distractions.
He has heard it all. He's washed up. He's older and his rev rate is low. He can't play left. Well, all Rash did in 2019 was win the PBA Wolf Open and the Mark Roth-Marshall Holman PBA Doubles Championship with Matt Ogle.
He made seven championship-round appearances with five second-place finishes. And he finished in fifth on the 2019 PBA Tour earnings list and third in points. The year of distractions turned into one of his most successful years on tour.
"I've separated myself from some negativity, focused on more on what I could and can control," the 37-year-old said. "The rumors have been distracting this year but I know where I want my future to go and where I want to be."
Rash credits his family and friends for being a great support group.
"That has been one of the biggest reasons why I've been able to turn it around," he said. "I am enjoying the moment and know I am one of the better players on tour and that comes with confidence. I don't know any great individual sport athlete that doesn't have success without being confident."