Unlock this article, live events, and more with a subscription!
Get Started
Already a subscriber? Log In
SHAWNEE, Okla. – Ryan Ciminelli advanced to his first singles television appearance in more than two years Friday as he earned the top seed for the 2020 PBA Oklahoma Open.
The powerful left-hander finished match play with a 9-7 record and 28-game total of 6,645, a 227.68 average, at FireLake Bowling Center. He will be joined on the show by No. 2 seed Brad Miller, No. 3 Jesper Svensson, No. 4 Packy Hanrahan and No. 5 Sean Rash on Sunday at 2 p.m. Eastern on FS1 (United States) and FloBowling (international).
Ciminelli, an eight-time PBA Tour champion who won a non-televised event on FloBowling last year, last appeared on national television when he finished third at the 2017 PBA World Championship.
RESULTS: PBA Oklahoma Open Match Play Round 2
At one point Friday, Ciminelli led the field by over 240 pins with a monstrous 279, 289 start to the second round of match play. He cooled off down the stretch, though, as the field tried unsuccessfully to chase him down.
"I don't think I ever limped across the finish line like that," Ciminelli said. "My anxiety was a little high. I almost felt helpless toward the end. I wasn't sure if I was able to hang on but I'm grateful I am."
Ciminelli ended up hanging onto the top seed by just 36 pins as Miller was second with 6,609 and a 12-4 record, although he's not convinced being the top seed is ideal.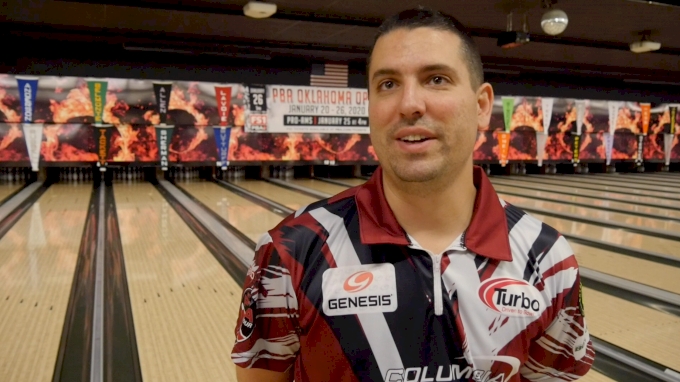 Unlock this video, live events, and more with a subscription!
Get Started
Already a subscriber? Log In
"You always want to be the first seed," said Ciminelli, who ran the ladder to win the 2019 PBA Gene Carter's Pro Shop Classic last summer. "It's definitely envied. But it's not always the best position to be in. We are going to try and make the best of it."
Miller advanced to his second career show after finishing second last year with Kyle Sherman at the Mark Roth-Marshall Holman PBA Doubles Championship, which also took place in Shawnee.
"The more I can get on these shows, the more comfortable I'll be in my game and the more experience I can get," Miller said of making his debut on TV in a singles event. "It's a great feeling."
Svensson, meanwhile, earned the third seed with a 13-3 record and 6,597 total after closing with a 276 game in the position round to jump ahead of Hanrahan. Svensson, who won the PBA-World Bowling Tour Thailand event last year for his seventh career title, was the runner-up to Jakob Butturff last year at the PBA Oklahoma Open.
"I have no idea why I do well here, but I have made a show here four times now," Svensson said. "Fingers crossed, hopefully, I can get back on top on Sunday."
Hanrahan, a two-handed lefty who was a rookie last season, will make his first TV appearance after he used back-to-back 279 games in the final round of match play to bolt up the leaderboard. Hanrahan finished fourth with a 9-7 record and 6,542 total.
"I won the first of my seven matches," Hanrahan said. "It was just that type of day. It hasn't really sunk in yet but when I call my mom in 15 minutes, I'm sure I will bawl my eyes out."
Hanrahan, along with Svensson and Ciminelli, will keep the left side of the lane busy as the three lefties will be forced to deal with the transition on the dual patterns. This week the 45-foot Dragon is on the left lane and the 32-foot Wolf is on the right lane.
Rash, who finished fifth with a 10-6 record and 6,458 total, flirted with the cut line for much of the tournament. He held on to make the cut from qualifying into match play on Thursday and then held off Dom Barrett for the final TV spot on Friday night.
A 14-time PBA Tour champion, Rash missed the cut by a wide margin last week at the PBA Hall of Fame Classic but rebounded this week to make his first show as a member of 900 Global's staff.
Last year, Rash teamed up with Matt Ogle to win the PBA Doubles Championship at FireLake Bowling Center for his 13th career title. He went on to win his most recent title at the PBA Wolf Open over the summer.