Unlock this article, live events, and more with a subscription!
Get Started
Already a subscriber? Log In
FAIRLAWN, Ohio – Kris Prather got as far left as he could, threw the ball slow, hooked the lane and his look was unbeatable.
That game plan worked to perfection for Prather on Sunday night as he never trailed in any match and climbed the ladder to win his first major title at the 2020 PBA Tournament of Champions at AMF Riviera Lanes.
While several of his opponents tried to play the lanes straighter, Prather plugged away playing a deep inside line and worked his way up to the championship match, where he defeated Bill O'Neill, 280-205, to win his third career title.
"I'm just so happy," Prather said. "It's always been the dream of mine to just bowl the Tournament of Champions. For it to be my first major, $100,000, it's incredible."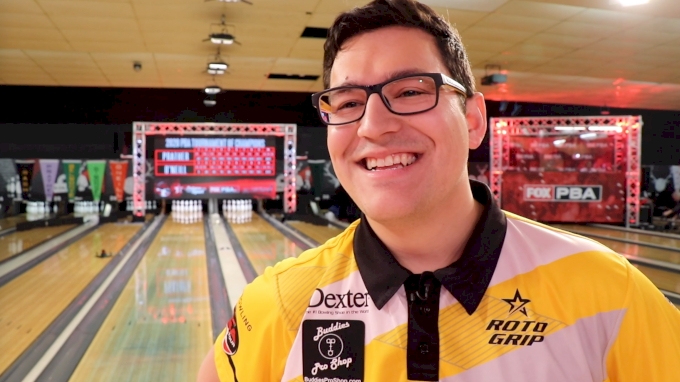 Unlock this video, live events, and more with a subscription!
Get Started
Already a subscriber? Log In
Prather, who also won $100,000 last year at the PBA Playoffs, survived a tough opening match against Sean Rash and then knocked off Jason Belmonte and Anthony Simonsen in his next two matches.
Belmonte was the only one who tried to get left and hook it but poor execution kept him from challenging Prather. Rash, Simonsen and O'Neill all tried to play the lanes straighter, and Prather wasn't unhappy about it.
"My swing got really loose because I knew that they were hard over there," Prather said. "I know we didn't spend a whole lot of time on the right side of the lane trying to break them down.
"I felt like if I missed a little right playing straighter, I didn't have any kind of recovery. And if I missed left, it went through the face, and we saw that with Rash, Simonsen and Bill when they were playing straighter. I just tried to get as far left as I could, throw it as slow as I could and just try to control the pocket."
Prather's only non-strike in the championship match came in the second frame when he left and converted a 10 pin.
His 280 game was actually the lowest winning score in a championship match this season. Tommy Jones won with 300 to start the season, Rash shot 289 to win the second week and Kyle Troup won with 290 last week. Adding in Prather's score, the winning average so far this season is 289.75.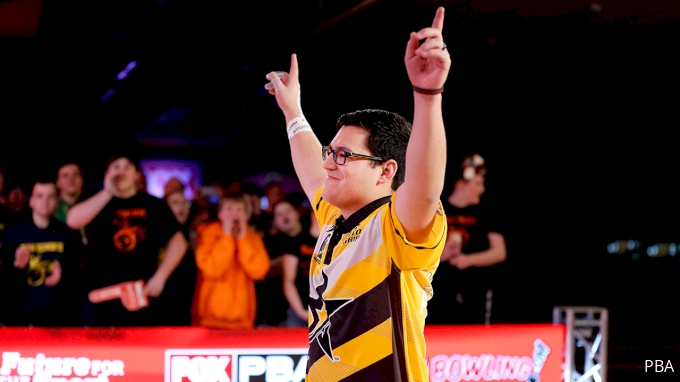 As for O'Neill, he was never really in the match against Prather after opening the match by leaving the Big Four for an open. He'd go high on three of his first six shots to fall behind big.
In the semifinal, Simonsen decided to try to take the lane out of play and throw urethane hard and straight. The move didn't work, though, as Prather advanced with a 226-203 win.
Prather struck, stuffed a four pin, and then rattled off four strikes in a row to build a 23-pin lead heading into the commercial break. A blower seven pin in the eighth frame followed by a 6-7 split in the ninth frame for an open that sealed Simonsen's fate.
Prather was able to roll past defending champion Belmonte, 252-179, in the second match of the stepladder finals.
Prather started the match with four strikes in a row before a 10 pin ended his run. Belmonte looked lost early on, missing the head pin right several times and even tossed a Brooklyn. He didn't toss a double until after the match was out of the wood and finished fourth..
Despite trailing by 26 pins after six and a half frames, Rash had an opportunity in the final frame to knock out Prather. Instead, Prather survived, 187-164.
Prather was in control until he left and missed the 1-2-7 in the seventh frame. He went on to leave a 4-9 split for an open in the ninth. A clutch double in the 10th frame, however, put maximum pressure on Rash.
Needing a double to win, Rash was distracted when he overheard FOX play-by-play man Rob Stone setup the final frame. He backed off but when he tossed his first shot in the 10th, he went wide right and left the 1-2-8 to lose.
The PBA Tour heads to Columbus, Ohio, for the second major of the season, the PBA Players Championship, which begins Tuesday live on FloBowling.