Unlock this article, live events, and more with a subscription!
Get Started
Already a subscriber? Log In
LINCOLN, Neb. – It's still early at the U.S. Open but combined with his performance at the past two majors, it appears Kris Prather is hitting his stride at the perfect time this season.
Prather, who won the PBA Tournament of Champions two weeks ago and finished fourth at the PBA Players Championship last week, took the lead after two rounds of qualifying Wednesday at the U.S. Open.
He leads the 108-player field with a 16-game total of 3,772 (+572), a 235.75 average, at Sun Valley Lanes. All players return Thursday for the final round of qualifying live on FloBowling.
RESULTS: U.S. Open Qualifying Round 2
"With three majors in a row, my main focus was to be ready for this time of the year, so I'm primed, focused and at the top of my game at the right time," Prather said. "This makes or breaks a season. I'm fortunate enough to be peaking at the right time right now. We'll just see how long it goes."
A day after shooting 1,878 in the first round and firing 300, Prather followed it up with 1,894 in Round 2 along with a 299 game. His total could have been even higher if he hadn't finished with 195, his lowest game of the day Wednesday.
"Once I get into a little bit of a groove, I just keep on going," Prather said. "I'm seeing the lane really well, throwing it really well and it makes making decisions a lot easier on these tougher oil conditions."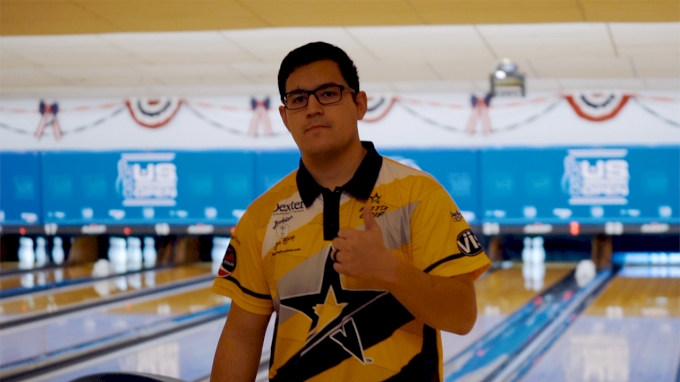 Unlock this video, live events, and more with a subscription!
Get Started
Already a subscriber? Log In
After shooting 1,817 in the opening round, Jason Belmonte followed it up with 1,880 in the second round to move up to second place with 3,697 (+497). The back half of Belmonte's second round helped propel him up the leaderboard as he closed with games of 280, 234, 245 and 259.
Zach Wilkins had the most impressive performance of the day Wednesday, shooting a massive 1,996 despite closing with a 190 game. He sits in third place with 3,695 (+495).
Anthony Simonsen is fourth with 3,652 (+452), while Jesper Svensson is the high lefty in fifth place with 3,644 (+433).
After 24 games of qualifying, the top 36 players will advance for an additional eight games of cashers qualifying on Friday morning. The top 24 players after 32 games will bowl 24 games of round robin match play with the top five advancing to Sunday's stepladder.