Unlock this article, live events, and more with a subscription!
Get Started
Already a subscriber? Log In
LINCOLN, Neb. – On a day when the bowlers described the pattern as "impossible" and "miserable," Zach Wilkins found a way to make it to the top of the leaderboard at the U.S. Open.
Wilkins resorted to using a plastic ball midway through the third round and was able to use that strategy to lead the field as the first cut was made.
The two-hander from Canada has a 24-game total of 5,331 (+531), a 222.13 average, at Sun Valley Lanes. He was one of just a handful of players to put up a plus score in the third round on the 37-foot flat pattern as the top 36 players advanced.
RESULTS: U.S. Open Qualifying Round 3
On a day when strikes were hard to come by, Wilkins managed to put together an eight-game block of 1,636. After starting with games of 203, 199 and 159, Wilkins made the move to plastic toward the end of Game 4 and shot 193. He then finished with 276, 224, 186 and 196.
"I basically went to my bread and butter and that is throwing plastic," Wilkins said. "I have a lot of success back home doing that in practice. The fronts hook a lot in my bowling center, so I just went with it. Thankfully, it worked."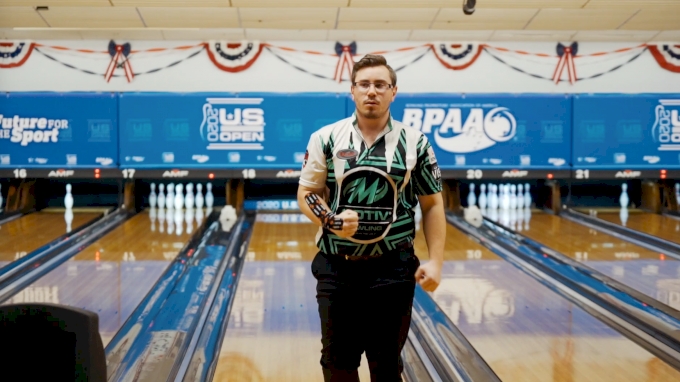 Unlock this video, live events, and more with a subscription!
Get Started
Already a subscriber? Log In
Second-round leader Kris Prather and Jason Belmonte, who is seeking his first U.S. Open title, are tied for second after three rounds with 5,255 (+455).
Prather entered the day as the man to beat but that quickly changed as he started with games of 138 and 147. The rest of the block was much better, however, as he closed with 204, 189, 197, 203, 194 and 211.
Anthony Simonsen sits in fourth place overall with 5,244 (+444), while PBA Hall of Famer Norm Duke moved up to fifth after posting the biggest score of the day on the flat pattern.
Duke, who has a total of 5,220 (+420), was one of the only players to crack the 1,700 barrier on Thursday, finishing with 1,701. He had games of 179, 197, 214, 183, 276, 191, 243 and 218.
After starting the day at +265, the cut number dropped throughout the day on the toughest pattern yet. By the end of the night, the cut had fallen all the way to 5,003 (+203) and resulted in a rolloff between Walter Ray Williams Jr. and Perry Crowell IV for the last advancing spot.
Crowell was able to defeat Williams in the rolloff, 184-151, to advance.
The advancing players will bowl eight games of cashers qualifying with the top 24 after 32 games moving on to compete in match play Friday night and Saturday.