Unlock this article, live events, and more with a subscription!
Get Started
Already a subscriber? Log In
LAS VEGAS – With his family watching him compete for a title for the first time, Jason Belmonte was able to overcome an awkward spectator-free stepladder Sunday to win the 2020 PBA World Championship.
Belmonte defeated Anthony Simonsen, 213-190, as only family and officials were watching in person at South Point Bowling Plaza due to coronavirus concerns.
The show was the final event of the 2020 PBA World Series of Bowling, which saw three events postponed until a to-be-determined date. The upcoming USBC Masters has also been postponed.
"For pretty much my whole bowling career, I've had to make a phone call at the end of it," Belmonte said. "So to have them sitting 20 feet away… it was a very, very special moment. I actually barely remember the 10th frame. All I remember was I wanted to get back there and give them a hug."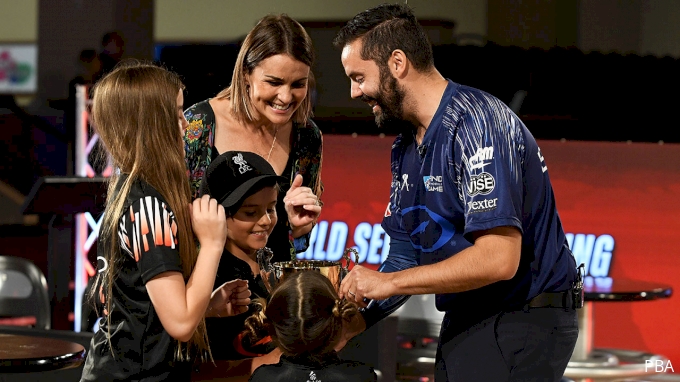 While his wife and three children were able to watch him win, spectators were greeted at the door with a sign that said "bowling plaza closed to the general public," creating a unique playing environment.
"It was really different; it was weird," Belmonte said. "You almost were even more cautious to let out any emotion or any vocal just because I felt it would be even weirder yelling to an empty arena. Everything felt very internal."
Belmonte now has two major title victories this season and has taken the lead in the 2020 PBA Player of the Year race. He has 13 career major titles, three more than anyone else in history.
The championship match was a bit anticlimactic after Simonsen started with back-to-back opens. He left the 2-10 split in the first frame and followed it up with a 3-4-6-7-10 split in the second frame to fall behind by 24 pins, a deficit from which he would never recover.
Simonsen advanced with relative ease in the semifinal after EJ Tackett got off to a brutal start to the match. In the end, Simonsen moved on with a 215-177 victory.
Tackett left back-to-back 2-4-8-10 splits for opens in the second and third frames. Then in the fifth frame, he left and missed the 1-2-4-7 combination to fall behind by 47 pins.
Simonsen was cruising until he left a pocket 7-10 split in the seventh frame. On the spare attempt, he bounced the 10 pin out and it nearly took down the seven pin. He went on to strike in the eighth and ninth frames to lock up the match.
In a match that was within 10 pins most of the way, Simonsen came away with a 224-204 victory over Francois Lavoie in the second match of the stepladder.
With the match even, Simonsen struck in the seventh and eighth frames to go up by 20. In the ninth frame, Lavoie left a 2-8-10 split, a devasting leave that all but ended his day.
Despite trailing by as much as 20 pins late in the match, Lavoie was able to pull off a final-frame victory over Chris Via, 269-258.
Lavoie never led in the match until the final frame when he struck out to put maximum pressure on Via. Needing a double and one pin for the win, Via left a flat 10 pin on his first shot in the 10th to be eliminated.
Now that the PBA World Championship is over, what's next for the PBA Tour is still a bit up in the air. The next event, the USBC Masters, has been officially postponed. The PBA Playoffs are supposed to begin April 6 and there has been no announcement yet as to the event's status.