Create a free account to unlock this article!
Get Started
Already a subscriber? Log In
The PBA returned this month with a pair of non-title special events, but in July, for the first time since the coronavirus pandemic began, a PBA Tour title will be on the line.
The 2020 PBA Tour Finals will return July 18-19 with eight players competing at Bowlero Jupiter in Florida live on CBS Sports Network (United States) and FloBowling (international).
The players competing in the event include defending champion EJ Tackett, Anthony Simonsen, Bill O'Neill, Sean Rash, Jakob Butturff, Kris Prather, Kyle Troup and Norm Duke.
Players were selected for the event based on points over the past two seasons, concluding with the last event to award a PBA Tour title, the PBA World Championship on March 15.
Jason Belmonte, who leads the points list, is unable to attend the event due to travel restrictions because of the pandemic. That allowed Duke, who was ninth in points, to earn a spot in the event.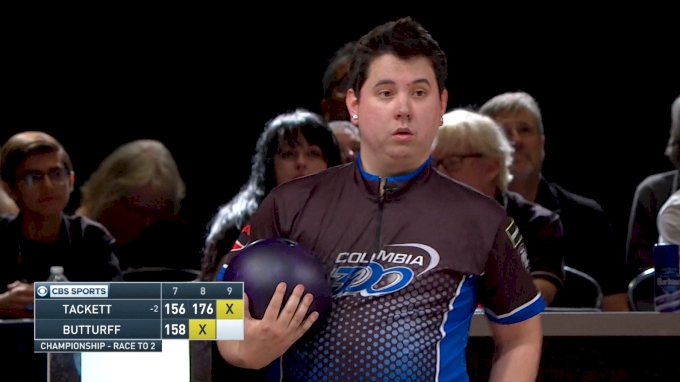 Unlock this video, live events, and more with a subscription!
Get Started
Already a subscriber? Log In
The PBA Tour Finals will consist of nine hours of live coverage. Two qualifying rounds, each lasting two hours, will be broadcast on July 18. On July 19, two two-hour group stepladders will be followed by a one-hour championship match.
According to the PBA's news release put out Monday, the PBA Tour Finals will incorporate the same format as the past two years, with the eight-player field divided into two four-player groups. The field will bowl four games of qualifying in their respective groups. The four-game pinfall totals for each player will be used to determine the seeding for a separate stepladder finals in each group. The final match of each group's stepladder will be a Race to Two Points match with each game worth one point and, if the two games are split, the final point is awarded via a 9th and 10th frame roll off. The two group winners will then meet in another Race to Two Points championship match that will also use a 9th and 10th frame roll-off should there be a tie after two games.
The four total pinfall seeding rounds will air Saturday, July 18, at noon and 2 p.m. ET and will determine the order for the Group 1 stepladder matches at noon ET on Sunday, July 19, and the Group 2 stepladder at 2 p.m. ET. The winners of each group stepladder will the face off in the championship match Sunday, July 19, at 4 p.m. ET.
PBA Tour Finals
TV: CBS Sports Network (United States), FloBowling (international)
Where: Bowlero Jupiter, Florida
When:
Saturday, July 18
Noon (ET) – Group 1 total pinfall round (four games)
2 p.m. (ET) – Group 2 total pinfall round (four games)
Sunday, July 19
Noon (ET) – Group 1 Stepladder Finals
2 p.m. (ET) – Group 2 Stepladder Finals
4 p.m. (ET) – Championship Match
Qualifiers
(Top 8 in PBA Tour points for 2019 and 2020 seasons combined, through March 15)
*Jason Belmonte, Australia 61,485.00 (unable to attend)
Anthony Simonsen, Little Elm, Texas 47,085.00
EJ Tackett, Bluffton, Ind. 44,950.00
Bill O'Neill, Langhorne, Pa. 42,507.50
Sean Rash, Montgomery, Ill. 41,360.00
Jakob Butturff, Tempe, Ariz. 38,175.00
Kristopher Prather, Plainfield, Ill. 37,280.00
Kyle Troup, Taylorsville, N.C. 31,755.00
Norm Duke, Clermont, Fla. 31,132.50 (moves up to take 8th position with Belmonte unable to attend)