Unlock this article, live events, and more with a subscription!
Get Started
Already a subscriber? Log In
A night after the lanes broke down in disastrous fashion, the opposite happened at the 2020 PBA King of the Lanes and Sean Rash was there to take advantage of it.
Rash knocked off reigning king Norm Duke and then successfully defended his crown against Clara Guerrero on Tuesday night in Jupiter, Florida.
With four righthanders who played the lanes straighter along with a lefty, the lanes broke down perfectly on both shows and Rash made the most of it.
On the first show, Rash started off his night by defeating Bill O'Neill, 256-227, as he used some good fortunate in the ninth frame to all but put the match away.
Working on six in a row, Rash got the ball way wide and barely clipped the headpin but it was enough to trip out the 2-8-10 for a strike.
O'Neill started the match with the front six but left a 3-4-6-7 split in the seventh for an open. A blower seven pin in the ninth frame doomed him.
Rash faced his toughest challenge of the night against Duke, who was not eager to give up his crown. But in the end Rash survived with a 262-255 victory.
Finishing the match first, Duke had a chance to strike on his first shot in the 10th to win the match but a rolling messenger failed to take out the 10 pin.
Needing a double and four pins, Rash struck out to secure the win and snatch the crown.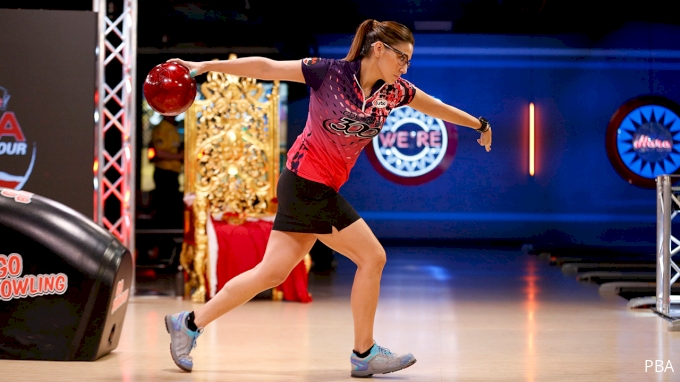 On the second show of the night, Guerrero, the first of two women competing in the King of the Lanes, picked up a big win over lefty Jakob Butturff, 204-195.
Guerrero led the entire match and just needed a mark in the final frame to lock up the win. She left a 10 pin but converted it perfectly to advance.
While that match was going on, Rash was sitting on his throne licking his chops at the way Guerrero had broken down the lanes. The stage was set for Rash to have a big game and that's exactly what happened.
Rash said he was able to throw some practice shots right on top of where Guerrero was bowling to create more area. He then moved a little left and tossed strike after strike.
In the end, Rash had a shot at a perfect game in the final frame but on his 11th shot stuffed a four pin to end his run. He won the match easily, 289-237.
The final night of the three-night King of the Lanes event will take place Wednesday from 8-10 p.m. Eastern live on FS1 (United States) and FloBowling (international).
In the opening contenders match, Kris Prather takes on Gazmine Mason, while the second contenders match of the night features Kyle Troup against Pete Weber.