PBA
Jason Belmonte Earns Sixth Career PBA Player Of The Year Honor
Jason Belmonte Earns Sixth Career PBA Player Of The Year Honor
Australia's Jason Belmonte was voted the 2020 Chris Schenkel PBA Player of the Year.
Dec 18, 2020
by Jill Laufer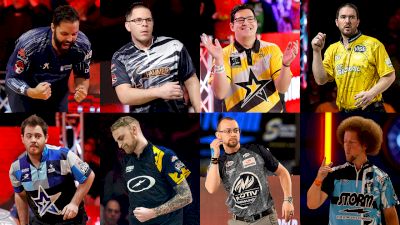 Australia's Jason Belmonte was voted the 2020 Chris Schenkel PBA Player of the Year, announced today by PBA CEO Colie Edison and PBA Commissioner Tom Clark on FloBowling.
Belmonte received the vast majority of votes from PBA membership and veteran bowling writers, with Bill O'Neill coming in a distant second and Kris Prather third.
This is the second consecutive and sixth career Player of the Year Award for Belmonte, tying PBA Hall of Famer Earl Anthony for the second-most all-time POY awards. Only Walter Ray Williams Jr., with seven, has more.
"Being the Player of the Year is the highest honor a PBA player can have and I'm proud to own that title again," said Belmonte. "It's the ultimate reward for a year of dedication and travel and leaving loved ones. To equal the great Earl Anthony with six is amazing and something special to me."
Belmonte, 37, won two major championships in 2020 to extend his PBA record to 13 career major victories. His win in the U.S. Open made him the second player in history, after Mike Aulby, to complete the Super Slam of all five major titles. In the final event before the COVID-19 pandemic forced a pause to the season, Belmonte won his third consecutive PBA World Championship.
With another groundbreaking year complete, Belmonte has set his goals even higher.
"I have my eyes firmly set on Walter Ray's record of seven Player of the Year Awards and to continue to build my resume with major and national title wins," said Belmonte. "More specifically the U.S. Open. Winning that event, a second time will see me holding the Super Slam twice. That would be amazing."
After nearly seven months at home, Belmonte returned to the United States and won his third PBA Chameleon Championship for his 25th overall career title. Belmonte is now tied for 10th all-time with Hall of Famer Brian Voss. His three titles in 2020 were more than any other player aside from Kyle Troup, who also had three wins.
In the 13 events he entered, Belmonte finished in the top five eight times and led all players in both competition points, average (225.31) and earnings (a career-best $292,800). By qualifying for all four major championship finals telecasts, Belmonte became the first player in PBA history to advance to the championship finals in four majors in a single season for the third time, matching his accomplishments in 2019 and 2013. No other player has done so more than once.
Belmonte was chosen among seven other finalists: Bill O'Neill of Langhorne, Pa.; Kris Prather of Plainfield, Ill.; Sean Rash of Montgomery, Ill.; Mo.; Anthony Simonsen of Little Elm, Texas, Sweden's Jesper Svensson, EJ Tackett of Bluffton, Ind., and Kyle Troup of Taylorsville, N.C.