2021 PBA Players Championship
Bill O'Neill's Bond With His Father Has Led To PBA Tour Success
Bill O'Neill's Bond With His Father Has Led To PBA Tour Success
Bill O'Neill gives a lot of credit to his father for the success he has had on the PBA Tour.
Jan 6, 2021
by Jill Winters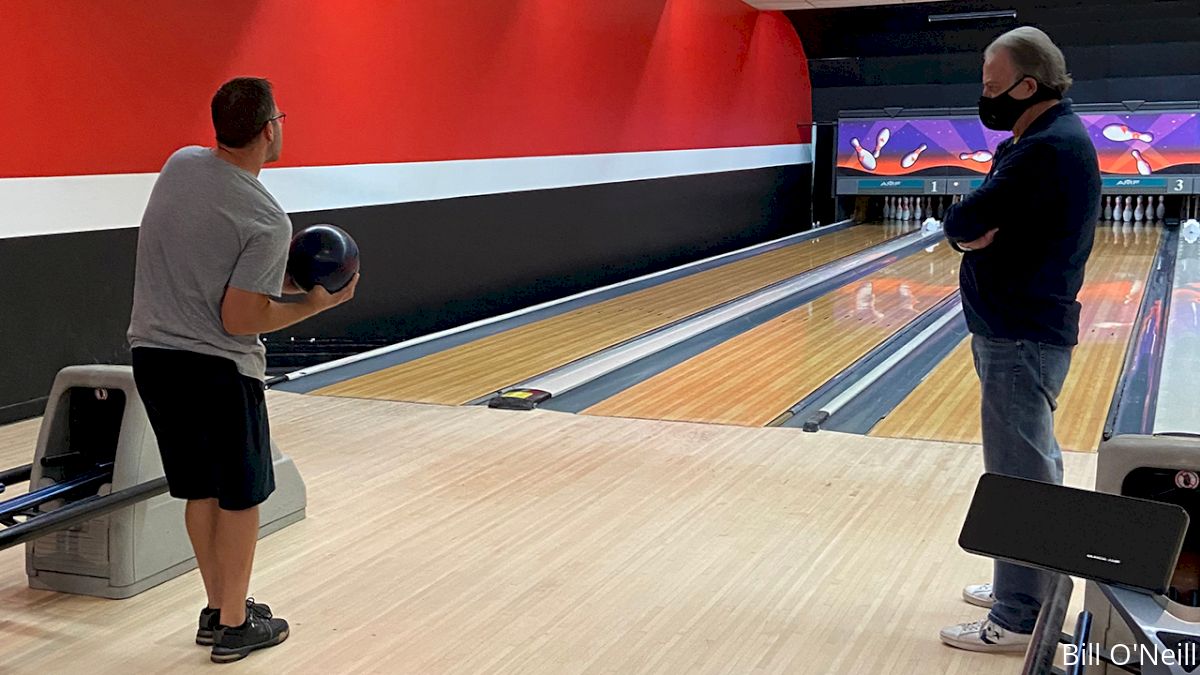 When it comes to Bill O'Neill's bowling game there is a lot to appreciate.
It's simple, consistent and balanced.
To achieve that perfect position at the foul line and flawless delivery he gives a lot of the recognition to his long-time coach and his dad, Bill O'Neill Sr.
"He deserves a lot of credit for a lot of the accomplishments that I have," the 13-time PBA Tour winner said of his father. "Without him just doing some fine tuning to my game – which is really when you get to the level that we are at on tour – it is little things here or there."
The coaching began when O'Neill was about 5 years old. He spent a lot of time inside a bowling center watching his dad and grandfather bowl while also being active in junior leagues.
As soon as O'Neill thought he could make a living bowling professionally, his dad started learning how to coach, and he has now been teaching bowling for more than 30 years.
"I was studying videos of guys that I watched growing up like Norm Duke, Brian Voss or David Ozio," O'Neill Sr. said. "I studied their timing, how they developed it and how they developed their release. So, we kind of built Bill's game around what he wanted and what I thought was best. Start out with the philosophy of keeping his game simple and his timing simple."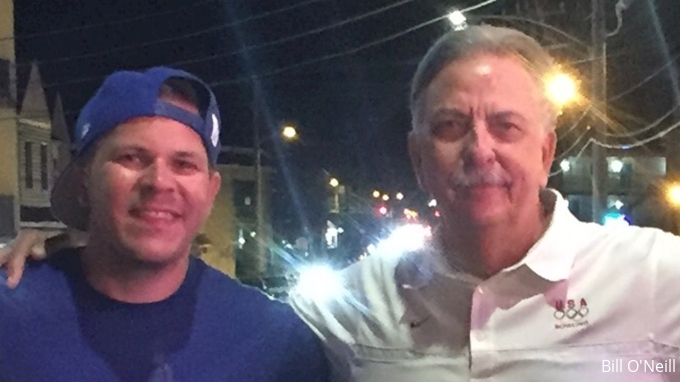 When the coronavirus pandemic forced the stoppage of the 2020 PBA Tour season, O'Neill found himself at home more than ever with his wife, Christi, and their kids, Gavin and Avery. During the down time, he was able to work with his dad on some little things that didn't quite feel right in his game.
"There is nothing in his game that I don't know or that I can't see, and after a couple of shots, I realized where his elbow was in the wrong position in the set-up position," O'Neill Sr. said. "We fixed that and he said the timing felt better. He thought he was tugging the ball a little bit at the bottom of the swing so once I got down lane I could see the ball was getting to the bottom of the swing a little too late in his timing. So, I backed him up a few inches on his set-up position that gave him more room to have a longer slide and he wasn't getting up on the ball quick. I can watch two shots and know something is wrong."
O'Neill Sr. is a FloBowling subscriber, which has allowed him to be able to coach his son from wherever he is. As a bowling instructor, he plans his lessons around when O'Neill's squad is on the lanes, so that way he doesn't miss a shot.
"I will text him between squads and say, 'Hey listen, I can't see the ball from behind so you are holding it too far in front of you which is creating an arc in your swing. That is why you are missing right and the ball is not picking up early enough,'" O'Neill Sr. said. "With FloBowling, it really has been a big help for me. In my world, 95 percent of what you do right and wrong is in your setup and first step. Everything else is an effect not a cause. I look for the cause. What is causing certain things to go wrong."
O'Neill Sr., who has never watched his son win a PBA Tour title in person, was looking forward to the 2020 season before it got derailed.
"It was supposed to be the best summer of my life and it turned into one of the worst," he said. "I babysit my grandchildren during the winter and the spring, so I was going to make it to more tournaments this summer."
When the 2020 season got back on track, O'Neill used what he and his dad worked on to help him win the 2020 PBA Playoffs.
He defeated Anthony Simonsen, 235-203 and 249-195 in the race to two points in Centreville, Virginia, to win the $100,000 first-place prize and a WWE championship belt. O'Neill earned the win in convincing fashion, rolling eight consecutive strikes to end the second game.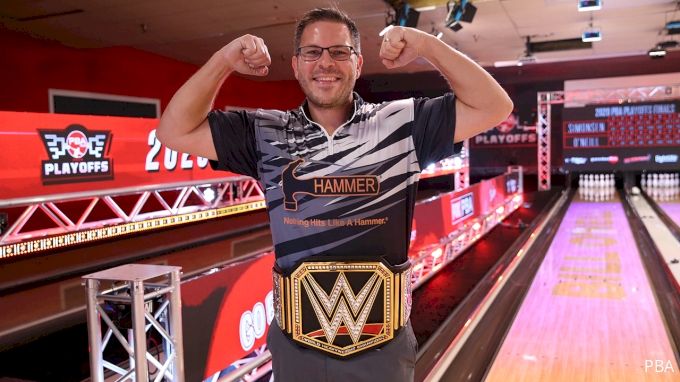 "That was some of the best bowling I've done in a long time," said O'Neill, who was quick to give credit to his dad on the nationally televised FS1 broadcast.
After earning his 13th career PBA title, O'Neill sent his dad a text saying, this one is for you dad, along with a picture of him holding up the WWE belt. The win came after finishing second in the 2019 PBA Playoffs.
"That was probably my most special moment of him thanking me," O'Neill Sr. said. "I have replayed the last five frames of that match with Simonsen at least 50 times just to see him throw the last eight and then hold up the trophy and thank me for it."
O'Neill's recent success included a bit more redemption in early 2020. After losing to Kris Prather in the title match of the 2019 PBA Players Championship, he knocked out Prather, 215-194, then he beat Jason Belmonte, 236-185, and EJ Tackett, 233-232 to win the 2020 Players Championship in February. It took O'Neill a decade to earn his second major title.
"The Players Championship was really special," O'Neill said. "I had never really won a tournament quite like that where I had bowled a good game but it appeared that it just wasn't good enough because the guy I was bowling was bowling a better game. I caught a bad break in the eighth, and he caught a bad break in the 10th. It gave me a chance. For some weird reason, I just had this calm come over me in that moment. I was able to finish it out and double in the 10th to win.
"I think it kind of goes back to a lot of the work that my dad and I put in and some of the things he has told me over the years about how to approach certain situations like that. Just thinking back to those times that we practiced. He would say, alright you have got to take a deep breath, go through your routine and try to do everything the same as we normally do it. Kind of really helped me prepare for that."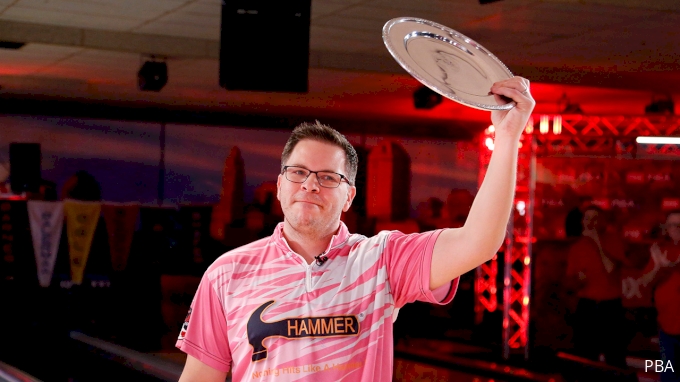 O'Neill finished the 2020 season as a finalist for PBA Player of the Year and the second overall in PBA Tour earnings with $272,285.
The 2021 season will begin with the PBA Players Championship beginning live at 9 a.m. Eastern on Jan. 16 exclusively on FloBowling. The event, which features a $1 million prize fund with $250,000 going to the champion, starts with five regional qualifying sites.
"It's going to be different to start the tour season this way but I am looking forward to getting back to bowling a real tournament," said O'Neill, who will compete in the East Region. "We really haven't bowled a real event since March. We have so many great players (in the east region) that are amateur players that are just bowling regionals. We have a much stronger group of guys in that class than any other region so that is going to make it really competitive."
O'Neill loves to compete going all the way back to his youth beginnings in Levittown, Pennsylvania, when he gained valuable experience in junior bowling tournaments (JBTs) against bowlers like Mike Fagan and during his successful collegiate career at Saginaw Valley State.
"No matter what amount of practice that you do, nothing can replicate needing a strike to do anything," O'Neill said. "Whether that is make a cut or make a stepladder or win a tournament. You can't practice enough to prepare for that type of moment, so you have to bowl a lot of things. I think having to do that in juniors and in college and Team USA, all prepared me for the big moments I have had on tour."
His dad agrees the experience O'Neill got from the junior events prepared him for the next level.
"If it wasn't for the JBTs, Bill would not be a professional bowler," O'Neill Sr. said. "His senior year in high school he won 18 – still the record today as far as I know – 18 scratch titles in one year bowling against that type of competition. That is when it really hit him he could go somewhere in this sport. Once he got to college and winning collegiate bowler of the year as a freshman that is when he said, 'I wonder if I could make a living at this?'"
While at Saginaw Valley State, O'Neill was the anchor bowler all four years, along with being a four-time first-team All-American and three-time Collegiate Bowler of the Year. He is also a seven-time member of Team USA.
O'Neill, who was named PBA Rookie of the Year in 2005-06, won his first title at the 2009 Chameleon Championships in Allen Park, Michigan. He got his first major at the 2010 U.S. Open in Indianapolis and later became PBA Hall of Fame eligible after winning the 2019 PBA Hall of Fame Classic during an emotional time for he and his family.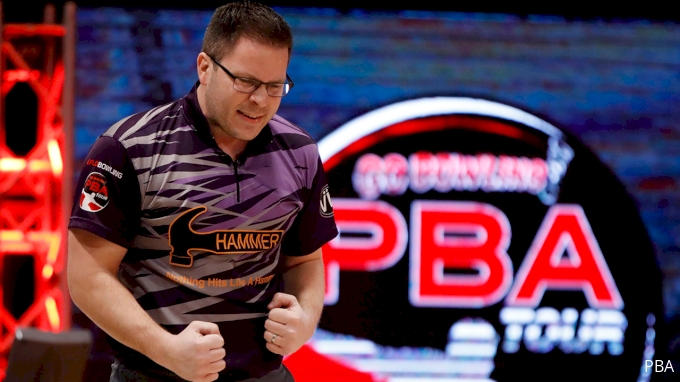 "My mom had passed in August," O'Neill said. "To be able to do that right out of the gate was really special and really cool. To have my 10th title which is generally the number you need to get to the Hall of Fame, to do that at the Hall of Fame Classic; all of those things were really special. To be able to do it so my dad and the rest of my family could watch the event when it is happening live that was really cool. Definitely one of the coolest moments of my career. Something I will never forget."
Reflecting on that win, O'Neill Sr. said, "I really lost it because I know what he was thinking. And the fact it was his 10th title and Hall of Fame eligible, that meant a lot to me. Knowing how he was feeling about his mom, that was emotional for the whole family."
O'Neill is entering his 16th year on tour and he continues to rely on the fundamentals that he and his dad have worked on to be one of the best players on tour.
"I drive into his head that he has got to do the pre-shot routine," O'Neill Sr. said. "You will see him standing there, it looks like he is rocking the ball with no ball in his hand. What he is doing there is he is visualizing his target like he is actually throwing the ball. What you are telling the body is here is the angle I want you to take, here is the target I want you to hit. Then it is pre-shot routine, which is hands, feet, deep breath, focus target, walk. Those are the five things you only think about on the approach.
"Bill will take a deep breath when he picks up his ball. You will see him set his feet. He will look down and set both feet. He will set his hand. You will hear him take his deep breath. Focus on his target and then you just walk."
"When Mark Baker did his thing (Breakdown With Bakes on FloBowling) on Bill he was commenting on Bill's spine tilt that is all created by the first step. Bill will lift his ball. Having somebody of Mark's level see it and comment on it that really gave me a good feeling. He is one of the best in the world and for him to see what I see and comment on how good that was, it made me feel really good. It validated what I was seeing."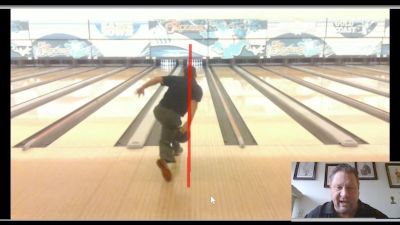 Unlock this video, live events, and more with a subscription!
Get Started
Already a subscriber? Log In
Ultimately, the connection and bond this father-son duo share is special.
"Knowing that when I am struggling that he is there and that he is going to fix me, whatever it is," O'Neill said. "I was naturally good to a certain point then my dad helped me go further. If he just says anything to me, like, 'we have got to do this particular thing,' it helps because you have this reassured feeling that 'oh yeah, that's right. I know what I am doing now.'"
For O'Neill Sr. it hasn't just been about his son's on-lane success.
"I am a thousand times prouder of the man that he has become than the bowler he has become," he said. "Because I know a lot of good bowlers. I do not know nearly as many good people."