JUPITER, Fla. – In what he called one of the best television performances in his career, Dick Allen ran the ladder to win the South Region at the 2021 PBA Players Championship.
Allen, a seven-time PBA Tour champion, put up a four-game total of 1,082, a 270.5 average, as he won the South from the fifth seed at Bowlero Jupiter. In the final match, he knocked off top seed Jesper Svensson, 277-255.
With the airing of Sunday's show, the five finalists for the PBA Players Championship are now set as Allen is joined by Anthony Simonsen, Francois Lavoie, Tom Smallwood and Kyle Troup.
The five players will bowl a three-game seeding round live exclusively on FloBowling on Saturday at 4 p.m. Eastern. The winner of that seeding round will be guaranteed a slot in the championship match and a minimum of a $130,000 payday.
Once the seeds are set, the five players will battle in the final stepladder finals on Sunday at 12:30 p.m. Eastern live on FOX (U.S.) and FloBowling (international). First place is $250,000.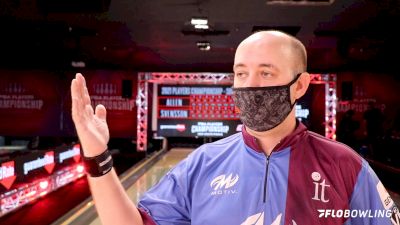 Create a free account to unlock this video!
Get Started
Already a subscriber? Log In
With his victory on Sunday's show, Allen became the only player in the finals field who was not a top seed in their region.
Allen, who is looking to win his first career major title, looked dialed in throughout the show and survived tight match after tight match to advance.
"I've never run the ladder before," Allen said. "I'm usually not the guy who wins in a higher-scoring environment. So, yes, this is probably one of the best performances on TV that I've had. It's far from over but this first leg, it was an incredible run and a lot of fun."
Although Allen's 1,082 on the show was not record breaking, it was one of the most impressive performances on TV in recent memory. Bob Learn Jr. holds the four-game record on TV with 1,129 (300, 270, 280, 279) in 1996.
On the high-scoring 39-foot Don Carter pattern where any open meant a near-certain loss, Svensson paid the maximum penalty for an astonishing pocket 7-9 split in the sixth frame against Allen.
That open allowed Allen to go from down a mark in the match to up a mark and he never gave Svensson an opportunity to get back in the match. Allen kept striking and needing a mark to secure the win, tossed a double in the 10th frame.
Allen controlled his own destiny in the final frame of every match and was up to the task every time.
In the opening match of the show against Tom Daugherty, Allen won 269-268 after getting the necessary strike, nine, spare in the 10th frame.
Allen defeated Ryan Ciminelli, 258-253, in Match 2 after he doubled and got count in the final frame. In a 278-258 semifinal win over Cristian Azcona, Allen needed a strike and six pins and struck out to move on.