JUPITER, Fla. – The ascension of Kyle Troup has reached new heights.
Known more for his colorful outfits and hair in the past, Troup put to bed any questions of his ability to be a dominating player on the PBA Tour on Sunday as he captured his first career major title.
Troup defeated Dick Allen, 257-212, at Bowlero Jupiter to win the $250,000 first-place prize and secured a major trophy for the first time. He now has seven career titles, just one shy of his father Guppy Troup.
"I've put in a ton of work for a long time now, and I just told myself let's go to work for one more day," Troup said. "For the hard work to pay off, it's an unbelievable feeling. I'm on cloud nine, and I feel like I'm up in heaven with my mother right now. It's a blessing."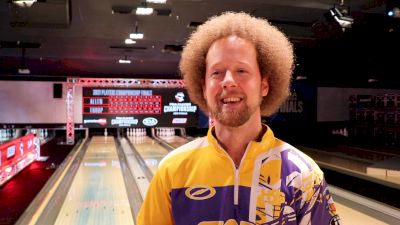 Create a free account to unlock this video!
Get Started
Already a subscriber? Log In
During the shortened 2020 campaign, Troup had the best season of his career, winning three titles to double his career title number in a short span.
He's now started off 2021 reaching the next level by capturing a major title, making him the leader in the clubhouse in the 2021 PBA Player of the Year race, an award he has made clear is another goal of his.
Although the margin of victory may seem high in his win over Allen, the path was a bit more challenging. Troup started the match playing a tighter line but opened the lane up a little bit in the back half of the game to pull away.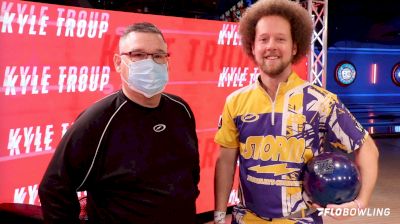 Unlock this video, live events, and more with a subscription!
Get Started
Already a subscriber? Log In
Allen actually held a 19-pin lead after seven frames but things fell apart down the stretch. In the eighth frame, Allen got the ball to the hook spot too quick and it went high leaving the 4-7.
In the ninth frame, Allen left what can only be described as a devastating pocket 7-10 split to all but end his chances of winning his first career major.
Troup, meanwhile, left a pair of 10 pins in the fourth and fifth frames. After opening up the lane, he wouldn't miss again until an insignificant fill ball.
Making it to the final match was an adventure for Allen, who defeated Francois Lavoie, 244-227, in the semifinal. The drama happened in the second match of the show, however.
Coming out of the commercial break, Allen stepped up and tossed a key double to pull to within 10 pins against his Motiv teammate Tom Smallwood.
That's when Allen accidentally dropped his water bottle. Somehow the lid came unscrewed and when he picked up the bottle, the bottom fell off spilling water everywhere.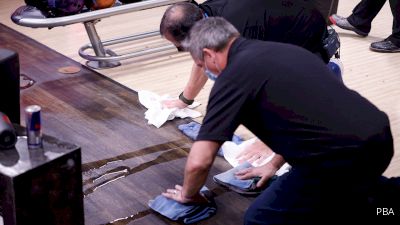 Unlock this video, live events, and more with a subscription!
Get Started
Already a subscriber? Log In
After a lengthy delay that resulted in another commercial break, Smallwood left a 10 pin on his next shot and never really looked as sharp the rest of the way.
Smallwood went on to miss wide right and leave the 1-2-5-7 in the ninth frame, which he missed, and the 4-10 split in the 10th frame, which he also missed.
Allen needed just nine on two shots to win, which he was able to accomplish easily and take a 216-195 victory.
In the opening match of the show, Smallwood started out with the front nine and settled for a 278-225 victory over Anthony Simonsen.
Smallwood left a high nine pin on his first offering in the final frame, ending his run at a televised perfect game.
The attention now shifts to the 2021 PBA Tournament of Champions, which gets underway live on FloBowling with qualifying on Tuesday.