2021 USBC Masters
Thomas Larsen Thought About Quitting And Now He's A Major Champion
Thomas Larsen Thought About Quitting And Now He's A Major Champion
Thomas Larsen said there was a time when he almost gave up chasing his dream of winning a PBA Tour title on U.S. soil. It's a good thing he didn't.
Apr 4, 2021
by Lucas Wiseman
RENO, Nev. – Thomas Larsen said there was a time when he almost gave up chasing his dream of winning a PBA Tour title on U.S. soil. It's a good thing he didn't.
Larsen not only won his first title in the U.S., he won a major as he claimed the 2021 USBC Masters on Sunday by defeating top seed Jesper Svensson, 194-176, at the National Bowling Stadium.
"I'm just incredibly happy, this is just a dream come true," said Larsen, whose previous two PBA titles came in overseas events. "With the last couple years in mind, I was starting to doubt that it would ever happen."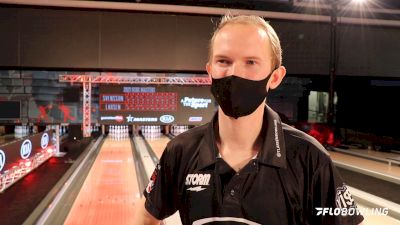 During the coronavirus pandemic, with bowling shut down and international travel difficult, Larsen said he started thinking more seriously about giving up his dream.
"At some point you have to make a living," Larsen said. "During COVID when we couldn't bowl, I started doing a couple part-time jobs and was thinking about going out and having to find something more. So, this comes at the perfect time basically. It's just a great confidence boost and some money for a new house."
Larsen, who said the part-time work he picked up was at a local pro shop and also as a salesman on the weekends in the garden department of a home improvement store, had a tough battle with Svensson to win the title.
Both players opened the championship match with a double but it was all downhill after that as both players struggled on the tough 40-foot USBC Masters pattern.
Larsen actually blinked first, leaving the Big Four in the third frame for an open and falling behind by 16 pins. Svensson, however, missed the pocket in four consecutive frames starting in the fifth as he saw his lead evaporate.
Finishing the match first, Larsen had a chance for the shutout with a double and one pin. He threw a perfect strike on his first shot but yanked the ball badly on his second shot, leaving a three pin.
Svensson could have won the title with three strikes in the final frame. Instead, he left a seven pin on his first shot to hand the title to Larsen.
Larsen made it through the semifinal with a 213-200 win over 18-year-old amateur Spencer Robarge, who was looking to become the youngest player to win a national PBA Tour event.
After a bit of a shaky start, Larsen hit his stride in the fourth frame, tossing four consecutive strikes to go up by 22 pins. Robarge struggled down the stretch, allowing Larsen the opportunity to close out the match with just eight pins in the final frame.
On the tough pattern, that wasn't a given, however, as Larsen came up light and left the 2-8-10 split on his first shot. He barely clipped the eight pin to shut Robarge out by a pin.
In the second match of the show, Robarge cruised to an easy victory against Jason Sterner, winning by a margin of 224-166.
Robarge never trailed in the match and Sterner never really looked comfortable as he didn't throw a double until the match was out of the wood in the final frame.
Robarge made it through the opening match of the show with a 213-194 win over Chris Via.
After starting with the front four, Robarge opened up a 36-pin lead, thanks in part to Via leaving and missing the 2-4-10 split in the fourth frame.
Both players struggled out of the commercial break and Robarge's 4-6 split in the fourth frame shrunk his lead to 12 pins but that was as close as Via would get.
Via could have forced Robarge to mark in the final frame had he struck out. He got the first one but pulled the second shot high for a 3-6-10. Robarge needed just five pins on his first shot for the win and did so easily.
The attention now shifts to the U.S. Open, which begins Sunday evening with the PTQ where 53 players will bowl for 43 spots in the main field. Qualifying at the U.S. Open begins Tuesday live on FloBowling.