2021 PBA Playoffs
Kyle Troup, Sam Cooley To Battle In 2021 PBA Playoffs Finals
Kyle Troup, Sam Cooley To Battle In 2021 PBA Playoffs Finals
Top seed Kyle Troup and No. 11 seed Sam Cooley will face off for the 2021 Kia PBA Playoffs title on Sunday.
May 15, 2021
by Jef Goodger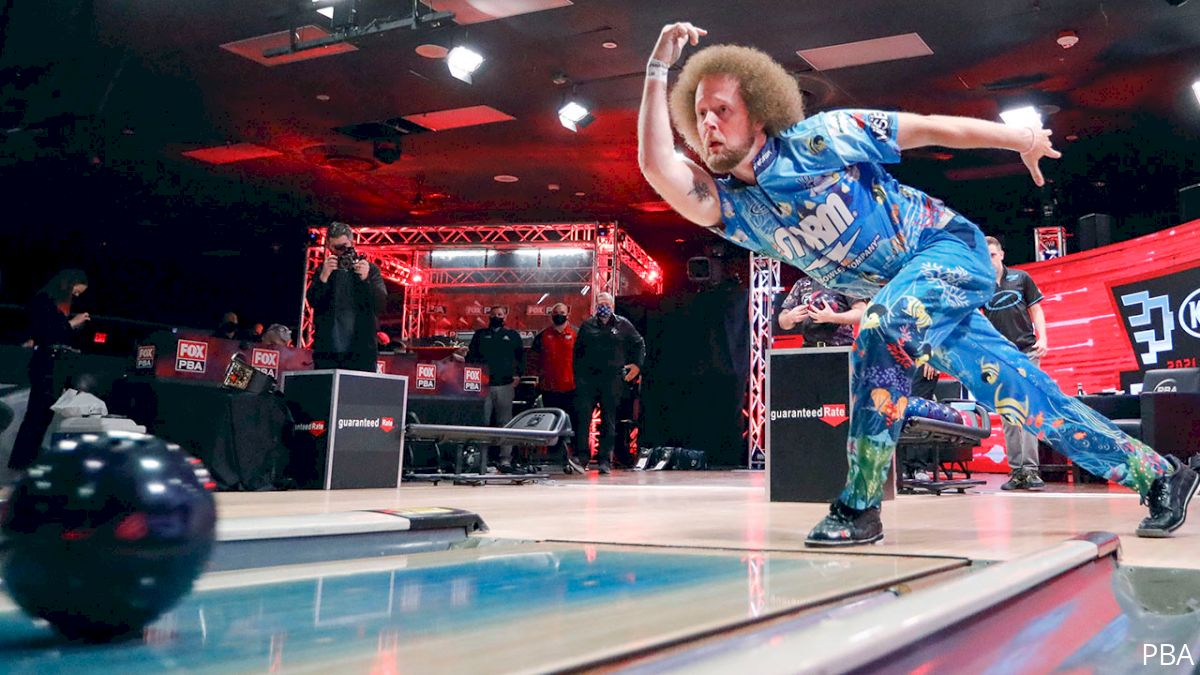 Top seed Kyle Troup and No. 11 seed Sam Cooley will face off for the 2021 Kia PBA Playoffs title on Sunday, live at 2 p.m. ET on FOX Broadcast Channel (U.S.) and FloBowling (international). Both players swept their opponents, 2-0, in a race-to-two-points format in which each game is worth one point. Troup defeated No. 4 seed François Lavoie and Cooley eliminated No. 15 seed Cristian Azcona.
Lavoie, who defeated Troup in the final match of the Guaranteed Rate PBA Super Slam in April, built an early lead in the first game with the front six, but an open in the ninth frame gave Troup a chance.
"I definitely wanted to get a little revenge on him," said Troup of avenging his loss in the Super Slam. "When he gave me that chance in the first game, I had to commit to the ball change in the 10th. It worked out well and I felt very confident moving forward. It's very nice knowing I have the Rubicon and the UC2 that work well every time we bowl on this pair. That gives me a lot of confidence."
With the win over Lavoie, Troup will eclipse Walter Ray Williams Jr.'s single-season earnings record of $419,700, accomplished during the 2002-03 season. Troup currently sits at $369,200 this season and will add either $100,000 for a Kia PBA Playoffs win or $60,000 for a runner-up finish.
"I'm pretty speechless as far as that goes," said Troup. "To beat another major champion in the round of four and then to beat a record holder, the greatest of all time, is an honor."
Cooley, who eliminated Jesper Svensson in the Round of 16 and Tom Daugherty in the quarterfinals, both via tie-breaking roll-offs, didn't need a roll-off in the semifinals, winning both games over Azcona. After a 264-243 win in game one, the lanes appeared to get tricky for both players in game two.
"In the third frame when I six-pinned, I hit up on it a little bit too much and it instantly hooked," said Cooley. "I made a move the next time I got there and the ball never hooked. It never hit the strip where we'd broken it down. I moved back to where I was and threw it a little bit firmer."
Cooley clinched his trip to the championship match with a strike in the 10th frame.
"I was able to get away with one the next time I was on the right lane," said Cooley. "I tripped the 7-9 back, but then I pured it in the 10th to seal it. It's a pretty good feeling going into tomorrow."
Troup will face Cooley in a best-of-five series to determine the 2021 Kia PBA Playoffs champion. If the players are tied after four games, a ninth-and-10th-frame roll-off will decide the winner. The champion will receive a PBA Tour title, $100,000 and an official WWE championship title belt.