2021 PBA Tour Finals
Like Father, Like Son: Guppy And Kyle Troup Are Showmen Through And Through
Like Father, Like Son: Guppy And Kyle Troup Are Showmen Through And Through
Kyle Troup says he "always wanted to be a showman" like his father Guppy Troup on the PBA Tour.
Jun 17, 2021
by Jill Winters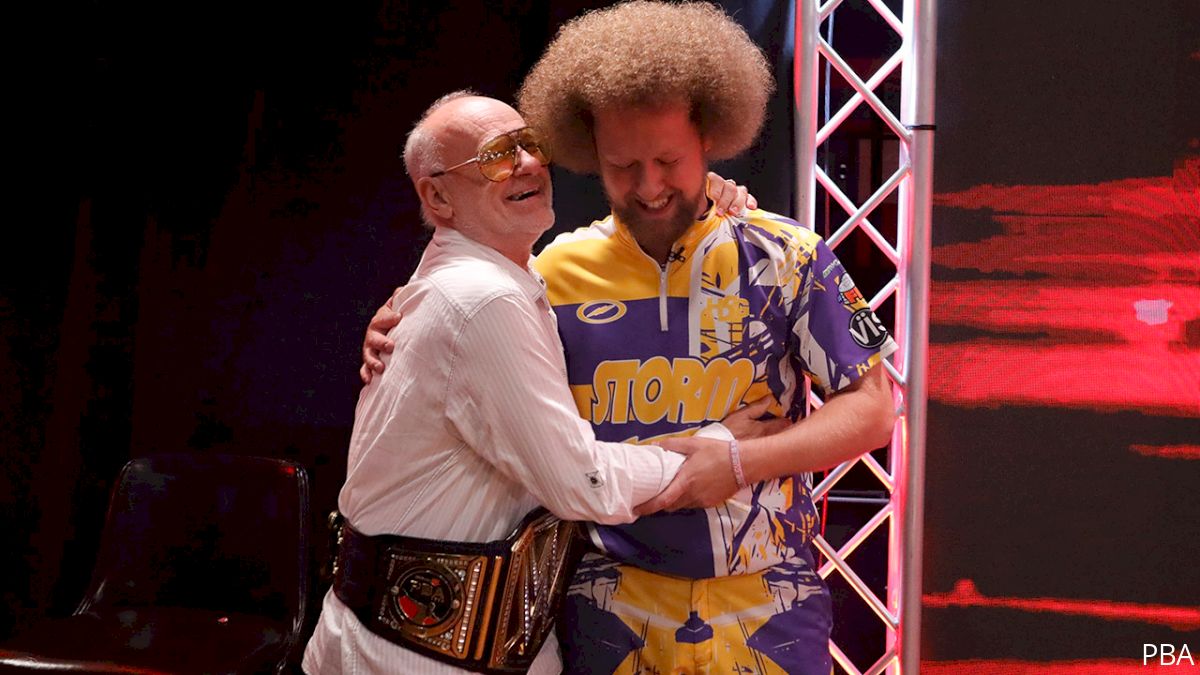 A month before Father's Day Kyle Troup gave his dad, Guppy, a gift he will always treasure – at least until Kyle gets a trophy case.
Troup's reward for winning the 2021 PBA Playoffs was $250,000 and for the time being, Guppy got the WWE championship belt. For now, it's a prized possession inside the family home and all of Kyle's trophies and one of Guppy's are piling up on an entertainment center in the living room.
"Once I buy a house that belt is definitely going to be the highlight of the trophy case," Troup said, so Guppy better enjoy it while he still can. "For him to get his belt, that was the highlight of the weekend."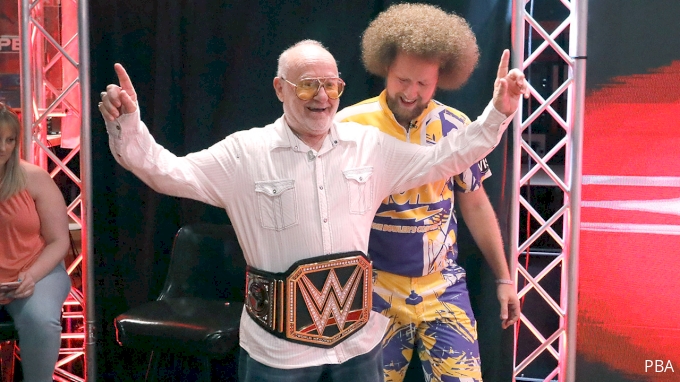 Throughout the PBA Playoffs, Guppy was there to watch every shot his son threw. When the camera panned over to him, he smiled and waved, clearly enjoying being in the spotlight he used to thrive in while also watching Kyle pick up yet another big paycheck in 2021.
Troup is now the PBA record-holder for single-season earnings at $469,200 taking that title from Walter Ray Williams Jr. that was established in 2002-2003. He'll look to add to those earnings at the PBA Tour Finals, which takes place June 26-27.
"I never thought I would be a PBA record holder so that was something that caught me off guard," the 30-year-old said. "I want to stretch this record out a little bit but hopefully it gets beat which means we will be bowling for even more money."
He credits the PBA, Bowlero and the tour's sponsors for the money the players are getting the chance to compete for. Some may say he is bowling good at the right time, but he has just carried on his success from 2020 into another impressive PBA Player of the Year contender season.
As for Guppy, he enjoys seeing the bowlers rewarded with incredible pay days.
"The way they have just made the PBA grow and keep finding ways for guys to make money nowadays, I love it," Guppy said. "We bowled for $20,000 or $30,000 for first every week but now you have tournaments where Kyle won $200,000 in a weekend, which I was able to see that."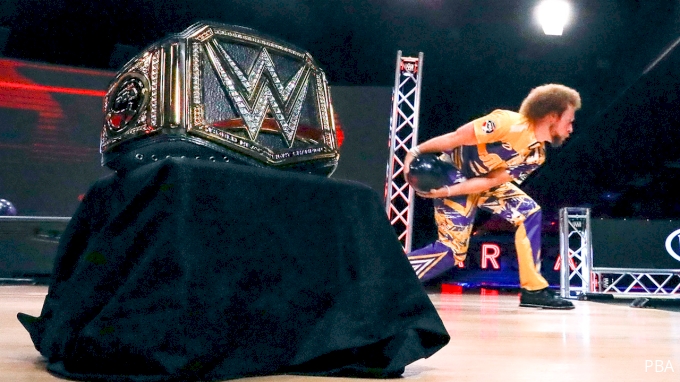 Guppy has seen the game evolve since he joined the PBA Tour in 1976. He went on to win eight PBA Tour titles and more than 40 regional titles. His best seasons total more than $80,000 in earnings. With his game, straighter was always greater, while Kyle uses his rev rate and versality to dominate a variety of short and long oil patterns.
"I would never go past the fourth arrow," Guppy admitted about his approach. "I didn't care if they told me all you have to do is throw it left of the fourth arrow and it strikes. I won one tournament in Valdosta, Georgia, playing the fourth arrow. The ball never hooked. At least I can say I won one of 42 regional titles playing the fourth arrow."
When asked if Kyle ever gets advice from his dad while bowling there was no hesitation from the father-son duo.
"I ain't no dummy," Guppy laughed.
"It is just a whole different day and age, and I think that is what makes it good for us," Kyle said. "He is there as a comforting voice, a familiar face while I am bowling on TV, especially during the PBA Playoffs. It was nice to be able to come back and chat for a minute during the TV breaks. Kind of step away from the bowling atmosphere for two minutes."
Guppy was well known in his days for his unique clothing style, which included sunglasses, jewelry and colorful pants. And it's still his style today. So, it's no wonder where Kyle picked up several of his traits from.
"His style and his actions on the lanes, I think I just bleed him with that," Kyle said proudly. "I have always wanted to be a showman like him because he always had a lot of fun it seemed like when I was a kid watching him."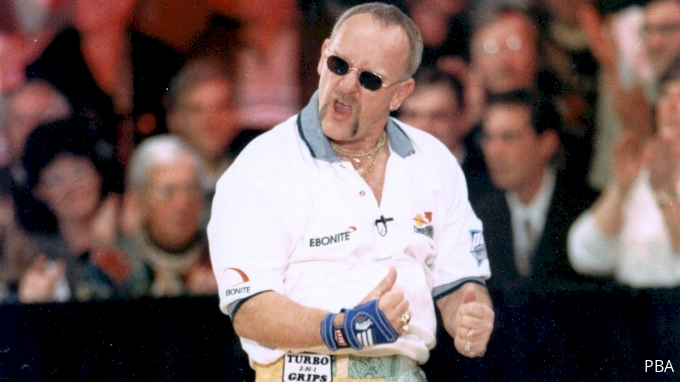 As soon as Kyle was old enough to travel with his dad to various tour stops, he played a lot of video games in the arcades of bowling centers, but he also got the opportunity to learn valuable lessons from the best. He saw how professionals interacted and treat fans in the pro-ams and how to have a good time, regardless of the outcome.
PBA Hall of Famers like Tommy Jones, Norm Duke and Jason Couch occasionally babysat young Kyle and then he found himself competing against them.
"Yeah, I had the pressure of being Guppy's son but at least I was already comfortable around some of the guys and maybe not as starstruck," the two-hander said. "I got to watch a lot of the greats back then, and I think that was the best thing just being able to get to know some of the pros at a young age."
Besides the drastic difference in their one-handed versus two-handed styles and Kyle's rev rate, Guppy is proud to see a lot of himself in Kyle. They both hate to lose but at the end of a tournament, they handle it the same way.
"One thing Kyle has done is he followed me up 110 percent," Guppy said. "When I won tournaments, that was great. When I lost tournaments, I took my second-place money and went home or met people in the bar later and we would sit down and have a drink. He has got that same attitude. You have got to get over it and get ready for next week."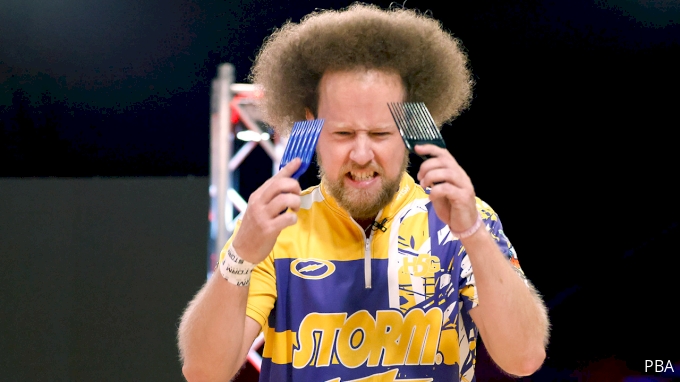 Troup is more than ready for the 2021 PBA Tour Finals on June 26 and 27 on CBS Sports. It will be available on FloBowling for international fans only. The top-eight leaders in competition points over a two-year-span earned their way to compete at Thunderbowl Lanes in Allen Park, Michigan.
Troup comes in as the defending champion. He will be in group 1 which also features Bill O'Neill, EJ Tackett and Chris Via. Their position round will begin at Noon Eastern on June 26. Group 2 stars Francois Lavoie, Kris Prather, Anthony Simonsen and Jesper Svensson, Kyle's best friend. Their position round starts at 2 p.m. June 26. Via is replacing Jason Belmonte.
His first impression of his group was it features a ton of rev rate, and it will be interesting to see how the lanes will transition with such a strong pairing. He admitted he would rather be in group 2 because it's a lower rev rate pairing. But when he thinks about the way the groupings are he realized this could be an opportunity for him and Svensson to accomplish something together.
"We have wanted to bowl each other on TV for a while and this might be the best chance that we get," he said. "If we bowl each other for the title that would be the best outcome for us, and we will be ready to go once we get to Thunderbowl."
"I feel that my game is top level right now and I am going to be the guy that they are gunning for," he said.
It's time to get back to work, get under the TV lights again and get striking, especially for the fans and Guppy, he said. Plus, he is looking to pass his dad in PBA titles before the end of the season.
"I learned a lot from him growing up and he molded me into the bowler that I am today," he said. "I enjoy putting on a show for him and being able to bring home the trophies together, that is a pretty awesome feeling. We are going to stick to my style with his charisma."
"I remember things I did on tour for 20 or 30 years and I just get to live it all over again except he is bowling, and I am just sitting back there," Guppy said. "I can't ask for anything more."