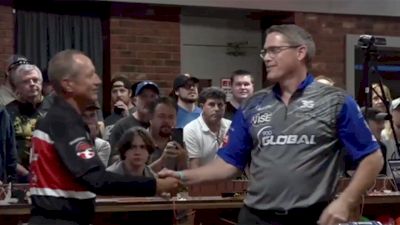 Unlock this video, live events, and more with a subscription!
Get Started
Already a subscriber? Log In
Chris Barnes had a few extra coaches in his corner along with a comfort level on the lanes Wednesday evening that helped him wins his first PBA50 Tour title at the 2021 PBA50 Cup, presented by South Plains Lanes & Lubbock Sports Authority.
The Texas native has bowled a lot of tournaments at this bowling center making it feel almost like a home game for him, so he relied on his previous experiences and his notes to figure out the lanes as the No. 2 seed in the stepladder finals.
"I am a data gatherer who keep notes on the pairs," he said. "Having some of that inside knowledge pays off. That saves you 10-pins here or 20-pins there."
That valuable information made him feel relaxed on the lanes while also bowling in front of his wife, Lynda and son, Ryan. Plus, his Storm Axiom Pearl allowed him to take advantage of his rev rate while blending out the wet-dry pattern.
Barnes faced No. 5 seed Bob Learn Jr. in the third match. Learn, who defeated Steven Smith 192-152 in the first match and beat John Marsala 226-216 in the second match, rolled his best game as he was climbing the stepladder. But his 248 wasn't enough as Barnes started with the front nine then left a 7-pin on his way to a 279 game.
In the championship match, Barnes faced Pete Weber who dominated the field in match play earlier in the day. Weber opened with a split in the first frame followed by five-in-a-row, before leaving a costly 7-10 in the seventh frame. Barnes had just one strike in his first five frames while staying clean and was down by 30-pins.
That's when an important coaching moment changed Barnes' fate. Ryan noticed his dad was getting a little bit forward in his second step. Once he relayed that information to his dad, Barnes went through his process on the next shot and realized Ryan was right.
"Dang, I am going to hate telling him that," he jokes. "He coached me up in the middle and that was right before that string of seven strikes there at the end. So, there is no doubt he had a little impact on the outcome today."
Barnes did have a little bit of a hiccup during that string of strikes in the ninth frame. He took a step off the approach and had to refocus. He was planning to make a move based of his shot in the seventh frame, but he hadn't fully committed to the adjustment, plus he didn't get his thumb all the way in the ball the way he wanted to.
"It was too important of a spot to throw a bad one or an undecided one, so I just reset, committed to what I was doing and just got my hand in the ball the right way," he said. "Then things went pretty well."
He went on to defeat Weber 247-224 to get his first PBA50 Title in just his fourth event of the year.
"Winning never gets old," he said. "It felt like I bowled better as the tournament went on so hopefully, we carry this forward."
Next up is the PBA50 Odessa Open, presented by Diamond Lanes, which begins 9 a.m. Central on Saturday. All qualifying rounds can be seen live on FloBowling.com.