PBA50
Tom Hess Wins Senior Masters, Locks Up PBA50 Honors
Tom Hess Wins Senior Masters, Locks Up PBA50 Honors
Tom Hess has had an unbelievable rookie season on the PBA50 Tour, and he ended the year with a trifecta.
Sep 20, 2021
by Jill Winters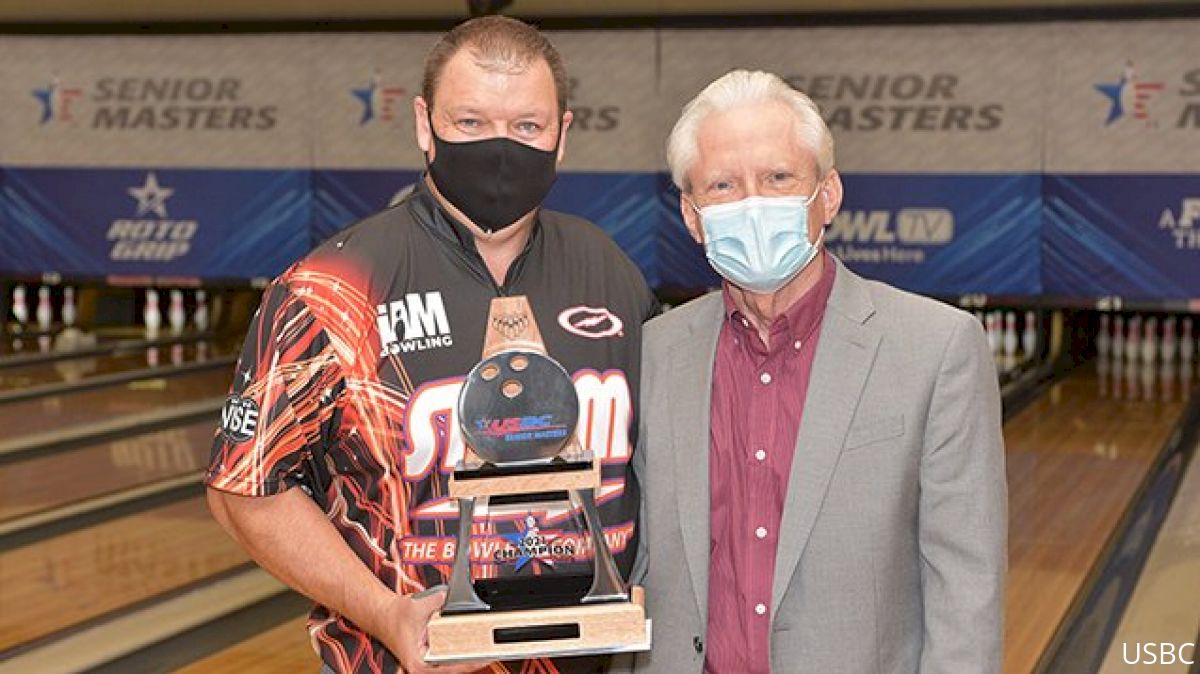 Tom Hess has had an unbelievable rookie season on the PBA50 Tour, and he ended the year with a trifecta.
After leading 15 games of qualifying at the 2021 USBC Senior Masters, Hess looked destined to win it all. He only lost one match during double-elimination match play and that was against fellow PBA50 rookie Chris Barnes, 731-647. From that point on, Hess was challenged in matches with close friends Tim Mack and Dan Knowlton, and he willed his way to victories.
"This week, with all of the emotions of this event and the rollercoaster of matches," the 51-year-old paused, "I can't do what I do without the support I get at home. They believe in me, and I believe in me. I do now, and it's paying off in spades."
Hess came into Sunday's stepladder finals as the No. 4 seed. He defeated Donnie Hogue, 247-212 in the first match then battled some transition on the championship pair in match two against PBA Hall of Famer Pete Weber. Weber struggled to carry, and Hess was able to put together two sets of doubles using a 900 Global Zen Master on the left lane and a Roto Grip RST X-2 on the right lane. Those ball selections turned out to be the winning combination.
In the third match, Hess started out strike, spare then threw eight straight strikes on his way to a 269-216 win over Kent. This led Hess to face the only opponent who had been able to defeat him throughout the six-day major tournament. Hess would have to beat Barnes twice to win and he did just that.
Hess began the match strike, spare and followed with nine consecutive strikes finishing with 278. Barnes struggled to carry throughout the match leaving four 10-pins and three 4-pins. He started with his Storm Axiom and switched to his Roto Grip UFO Alert in the 9th frame to finish with 226.
Barnes elected Hess to start and finish the match and the strong look Hess had on the lanes continued. Hess started with a double then a spare. He then reeled off four strikes and stayed clean the rest of the way for 237. Barnes got off to a rough start leaving the 3-6-7-10 split in the first frame and only covered the 3-6-10. He followed that up with two spares and changed balls in the fourth frame which resulted in a turkey. But Barnes struggled to carry leaving two more 10-pins and a 4-pin in the seventh through ninth frames to finish with a 203.
With the win, Hess earned the $20,000 first place check, his second straight PBA50 major title and third career major title. Along with that, Hess also locked up the title of 2021 PBA50 Rookie of the Year and PBA50 Player of the Year.
"What a season," the emotional Iowa native said. "I'm a dream chaser. I got the opportunity to be out here and now I'm trying to take advantage of it the best I can."
All week long, Hess knew this event had the potential to determine the winner of the PBA50 Rookie of the Year and PBA50 Player of the Year, but he remained focus on the task at hand, the USBC Senior Masters was "the only one that matters." He credits a text he received from friend and PBA player Sean Rash telling him to "trust the process" and that helped Hess in trying to control his focus and his emotions.
Now Hess will partner with Rash at the PBA/PBA50 Tony Reyes/Terry Leon Memorial Jr./Sr. Doubles on Sept. 24. Hess also hopes that he will get the call that his performance this season on the PBA50 Tour will lead to an invite to bowl for his country.
"To represent Team USA would be a dream come true for a kid from Iowa," Hess said.
With this victory, Hess is now one of only four players to ever win the USBC Masters and the USBC Senior Masters.