2022 U.S. Open
Chris Via Reflects On Memorable 2021 Season, U.S. Open Victory
Chris Via Reflects On Memorable 2021 Season, U.S. Open Victory
Via, who won the 2021 U.S. Open, aims to become a repeat champion at this year's tournament.
Jan 25, 2022
by Jill Winters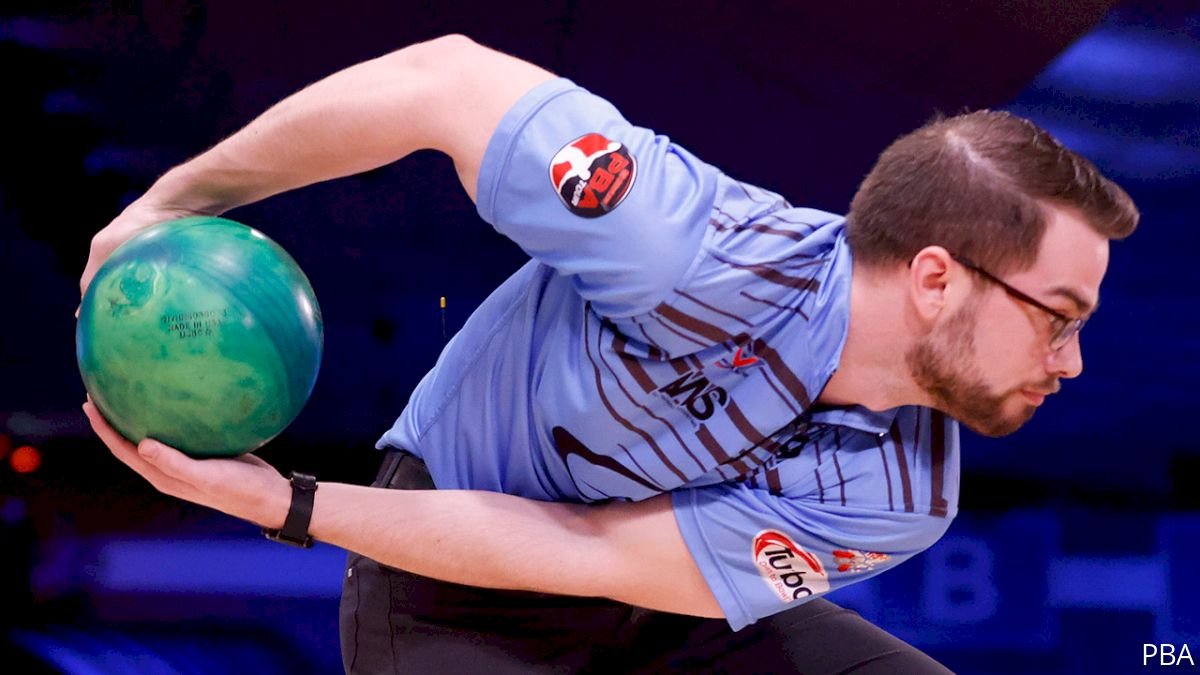 The U.S. Open is a tournament every bowler dreams of winning. Last year, Chris Via added his name to the historic list of winners.
Via's journey to repeat at the 2022 U.S. Open begins Feb. 1, 9 a.m. EST on FloBowling.
Via stands out, the two-handed righty is one of the smoothest players on the PBA Tour, from his even-keeled demeanor on the lanes to his slick jersey style.
The Ohio native is always focused on how he presents himself and the impact he aims to make on the next generation. Of course, that's in addition to competing against the best bowlers in the world.
At the 2021 U.S. Open held at the National Bowling Stadium, he was the No. 1 seed and decided to finish first in the title match against Jakob Butturff. In a close match, Via rolled a 2-8 sleeper, picked it up and followed it with a shot he dreamt of as a kid. A strike for the chance to win one of the most prestigious tournaments in bowling.
Butturff stepped up with the opportunity to strike out and force a roll-off. Based on Butturff's track record, Via began to prepare himself for his next shot, because he resigned himself to the fact the lefty was going to throw three-in-a-row.
"When he missed, it was more of a shock," Via said, recalling when Butturff pulled his shot right, leaving the 2-pin. "Once that happened, it was just a big sigh of relief. When I got that trophy in my hand and got the jacket put around me, it was a surreal moment."
Via's U.S. Open trophy, with the eagle on top, now resides in his living room allowing him to see it whenever he's home. He says it reminds him that his dreams have come true, and that he is forever part of PBA history.
"It proves I can compete against the best in the world at any time," the 29-year-old said. "It is obviously so hard to win out there but at the same time you just have got to believe in yourself. Go out there and give yourself your best shot and see what happens."
Beginnings
Via joined the PBA Tour in 2017, three years after graduating from Notre Dame College. He was a three-time collegiate first-team All-American and a member of Team USA from 2016-2018. Based on his resume, the National Election Committee selected him for Team USA 2022.
Coming from a bowling family, Via first began pushing a ball down the lane at just 18 months old. After college, he was saving up money and told his parents he wanted to see if he could compete. So he entered regular tournaments every weekend and was having success.
"I was bowling for a living, I just wasn't bowling on tour," he said. "I had a really good eight-month stretch. I didn't want to look back when I was 40 or 50 years old and say, 'Wow, that was kind of my prime.' I just wanted to take the chance and go for it."
He bowled half of 2017 and admits the following two years were really tough. He keeps track of his bowling statistics, and prior to the COVID-19 shutdown, he had cashed in less than half of the events he entered. The learning curve was a serious challenge, but he knew if he kept doing the right things, it would get better eventually.
"There is no other place in the world that the lanes break down the way they do on tour," he said. "You give the best in the world a couple of frames, you are already digging yourself a hole. A bad game is a whole other level."
Over the past couple of seasons, Via has had a constant presence in televised title matches. Of the last nine PBA majors, Via has competed for a title in seven. Last year alone, he made five championship round appearances in a breakout season.
The First Title
After finishing fifth at the 2021 USBC Masters, Via was still searching for his first title.
"It was getting a little frustrating, where I felt like I was doing the right things when I made TV, but I just wasn't really winning any games," he says, recalling his 213-194 loss in the opening match to Spencer Robarge.
"I talked with my ball reps, and they said, 'You have just got to keep giving yourself the chance and eventually what you are doing is going to pay-off. I did not know it would be the following week."
He took those words to heart, just days later earning his first major title at the 2021 U.S. Open.
"You look back at the past champions and you have got Pete with five, Belmo who got the career grand slam finally with winning," he said. "All of the greatest bowlers in the world have won the U.S. Open. To have my name tied in with those bowlers is really something special. I hope I can have half of the career that some of those guys have."
🚨Chris Via wins the 2021 U.S. Open by 1 pin! pic.twitter.com/awaG3OiUA9

— PBA Tour (@PBATour) April 11, 2021
The talented righty made even more PBA history last season, becoming the first to ever roll two televised perfect games in the season. He joined Francois Lavoie and Sean Rash as the only three bowlers to roll televised 300 games in title events. His first one came at the PBA Players Championship East Region Finals followed by his second at the PBA Tour Finals at Thunderbowl Lanes.
"The young me would be so excited to be on TV, but to actually shoot 300 is something crazy," he said. "With the fans being behind me in Detroit at Thunderbowl; everyone going nuts. That is one of those moments I will never forget for sure."
Looking Ahead
Coming off his 10th place finish in the East Region at the 2022 PBA Players Championship, he feels he needs to see the lane a little better and make some better ball choices to limit any damage when he misses. As Via prepares to defend his U.S. Open title at Woodland Bowl in Indianapolis, he knows that will play a big role.
"The nine spare versus the seven and two can make all of the difference in the world when scores are low," he said. "I definitely have to make sure I am on top of my game there and making all of my spares."
Before being on tour, Via competed in the 2016 USBC Masters, which was held at Woodland Bowl. That is the tournament where Anthony Simonsen made PBA history becoming the youngest player to win a major title at 19 years, 39 days old. Via qualified sixth, won a couple of matches and finished in 17th.
"The format of the tournament I feel suits my eye," he said. "Those grueling patterns where spares matter, keeping it in play and strike when given the opportunity. It has been nice to have those long format tournaments and to have some success in them."
The 108-player field will bowl 56 games of round-robin match play, so being physically and mentally prepared will be key for the bowlers.
The winner will take home the coveted green jacket, the eagle trophy, a major title, and the $100,000 top prize.
While Via looks to win again and show consistency this season, he is also aiming to leave a bigger impact on those who dream of bowling professionally. He does this through clinics and making appearances. He also co-owns TV Bowling Supply in Whitehall, Ohio with fellow PBA player, Michael Tang.
"I think being able to learn as much as I have about the sport and being able to pass it along is the most exciting thing for me," he said. "To give kids a head-start that we didn't have is cool to see, and hopefully, we can build the next generation to be even better than we are."