2018 PBA Gene Carter's Pro Shop Classic
Anthony Simonsen Breaks Down His Decision To Throw A Back-up Ball
Anthony Simonsen Breaks Down His Decision To Throw A Back-up Ball
Anthony Simonsen has been the talk of the bowling world since he dramatically switched to a two-handed back-up ball to win his fourth PBA title.
Aug 21, 2018
by Lucas Wiseman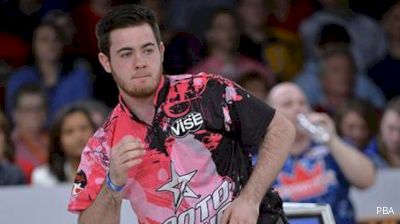 Young PBA star Anthony Simonsen has been the talk of the bowling world since he dramatically switched to a two-handed back-up ball over the weekend to win the PBA Gene Carter's Pro Shop Classic.
Simonsen, who typically throws the ball with a hook from the right side, saw his ball reaction deteriorate late in the tournament and decided to make the drastic switch to hook the ball from the left side of the lane.
The move paid off and Simonsen defeated left-hander Matt Sanders, 216-194, to win his fourth career PBA title.
FloBowling caught up with Simonsen for a Q&A in the aftermath of his incredible victory:
At what point did you decide to throw a back-up ball and why?
"It was in the ninth frame of Game 10 of match play. I left a 2-8-10 split the game before and I threw it back-up at the spare and I really thought the ball was going to go in the gutter. It read the front part of the lane really fast. It's something I've been messing around with at a couple other events and the lanes on the right side were really, really gross all the way across the house. I thought it was something I could at least control the pocket with and not split. I knew I just had to commit to it and see what happens."
When you shot the 2-8-10 split with a back-up ball, did that turn a lightbulb on over your head?
"It turned a light on in my head. I practiced it a couple times this week, but I'm not really practicing it too much. I was just throwing some shots back-up because it's something I want to work on. When I did that, I said I wonder what would happen if I got a little closer to it. The idea was in my head for a whole game. I was struggling the whole game and I was on an open, and I said I'm just going to try it here and see what happens because I have a couple frames before the next game to decide. The first shot didn't really hook, so I made a move and I threw an eight-bagger after that between two different pairs."
How much time do you put into practicing your back-up ball?
"For a couple weeks, I've been taking it seriously. I have a good friend of mine, Jordan Hornes from Michigan, he's really, really impressive doing it. Just messing around at the beginning of the year, I realized I could at least get it off my hand, and it's really just been the last three weeks where I've put the practice into it. I actually had Jordan down at my house on Wednesday and we were practicing throwing back-up. I told him I don't know when it's going to happen, but I'm going to win some kind of an event throwing a back-up. I just wasn't expecting it to be a few days later."
Tell me about the ball you threw, how it's drilled and what impact that had?
"I used my Pitch Black (drilled for the right side) and it seems like my ball tracks fairly close to how it tracks if I were throwing it normal. Now, I'm going to try a couple different things and experiment to find something I'm even more comfortable with."
Did you feel you were taking a big risk changing with two games left?
"No, not really. As bad as my ball reaction was, it seemed like every miss was a split. It was kind of one of those things where I was falling out of the show, and I didn't think I could get there with the ball reaction I had. So, it was one of those things worth taking a chance and if it doesn't work, it doesn't work, but fortunately it did."
Did the fact that you were bowling Matt Sanders, a left-hander, for the title play any role in deciding to throw a back-up ball?
"No, but honestly, because of where I was playing, I think it caused a little bit of trouble for Matt. I think he had almost a confused moment when I bowled him (in the position round). I shot 260 throwing it back-up, and now he has to bowl me for the title. That's probably something that got to him mentally also."
Have you ever thrown back-up before in a PBA event?
"Two weeks prior, I bowled the regional in York, Pa. I got a bye into the Round of 8, and I bowled my match back-up then. Then, I bowled a doubles regional last weekend in San Jose, and in 12 games of match play, I bowled the last six or seven back-up. I think, honestly, my high game in a tournament before this weekend was 220 or something."
Do you expect we will see you doing this more in the future?
"I guess it depends on the situation. It's definitely going to be an option, but it won't be the first thing I try every week. But I will have it in the back of my mind when things get a little tricky."