2019 PBA Playoffs
Malott Looks To Keep Luck Alive At PBA Playoffs
Malott Looks To Keep Luck Alive At PBA Playoffs
So far in the 2019 PBA Playoffs luck has been on Wes Malott's side. But will that lucky carry over into the quarterfinals?
May 27, 2019
by Lucas Wiseman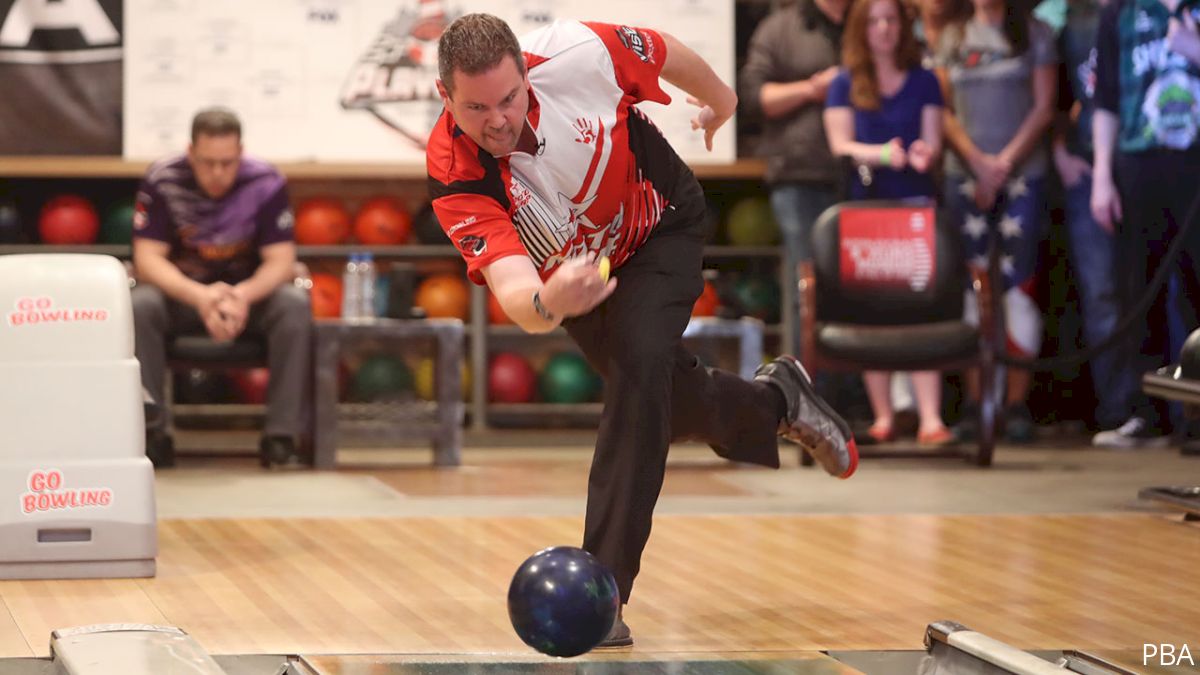 PORTLAND, Maine – So far in the 2019 PBA Playoffs luck has been on Wes Malott's side. But will that lucky carry over into the quarterfinals?
Malott will take on Bill O'Neill, while Sean Rash battles Dom Barrett in the final quarterfinals show of the PBA Playoffs tonight. The winners will advance to the live semifinals on June 1.
Tonight's show airs at 9 p.m. Eastern and will be broadcast for U.S. audiences on FS1, while international fans can watch on FloBowling.
Here are the two matches for tonight's PBA Playoffs show:
No. 7 Bill O'Neill vs. No. 15 Wes Malott
Malott has survived two matches thus far by winning sitting on the bench.
In the opening round, he defeated Josh Blanchard, 212-211, as he watched Blanchard get seven pins on his final shot to lose. Blanchard needed a double and nine in the final frame to win. He got the double but then pitched the ball way right, leaving the 1-2-4 combination to be eliminated.
Malott's good fortune continued in the Round of 16 as he pulled off one of the biggest upsets of the Playoffs with a 2-1 victory over second seed Jakob Butturff.
With the match tied 1-1, Malott finished the ninth and 10th frame tiebreaker first, posting a score of 40. Butturff needed a strike on his first shot in the final frame to win but left a six pin. He made it and needed a strike to tie. Instead, he stuffed a 7 pin to lose, handing Malott another win.
O'Neill, meanwhile, also had a little luck on his side in his Round of 16 matchup with Jesper Svensson when he rolled the 2-8 combination out for a strike and then struck again to shut out Svensson in the tiebreaker and win the match 2-1.
One thing is for certain. Someone's luck will come to an end in this match.
No. 6 Sean Rash vs. No. 14 Dom Barrett
Rash, who teamed with Matt Ogle to win the Mark Roth-Marshall Holman PBA Doubles Championship earlier this year and then had a dramatic second-place finish in Lubbock, advanced into the quarterfinals with ease.
In the previous round, Rash blasted past Kyle Sherman, 2-0, after a 227-175 win in the first game and a 237-214 win in the second game.
Barrett, who had to bowl the previous two rounds, had a bit of a tougher path to the quarterfinals. After routing Bard Miller, 237-189, Barrett had the tough task of facing Norm Duke.
With the match tied at 1-1, Duke and Barrett tied at 40-40 in the roll-off. That setup a one-ball, sudden-death overtime to decide the winner.
Duke went first and left a six pin, while Barrett stepped up and carried a light hit for a strike to win and advance.