Create a free account to unlock this article!
Get Started
Already a subscriber? Log In
After last year's U.S. Open, some might expect Pete Weber to have some pointed words entering this year's event. Indeed, Weber has some biting words, but they are directed squarely at himself.
"My competing on the PBA Tour the last couple years has absolutely sucked," said Weber, a five-time U.S. Open champion. "I'm not real happy about that, so I'm trying to get myself into a little better shape."
During last year's U.S. Open, Weber withdrew early in qualifying and had several choice words for the United States Bowling Congress, specifically citing the practice schedules prior to competition.
Don't expect more of that this year. Weber brushed off the question about practice, as his only focus is on competing for the title when the event begins Oct. 25 live on FloBowling.
"I can't do anything about the practice schedule," Weber said. "It's just something we have to deal with. I'm going to show up ready to bowl and ready to compete."
The U.S. Open is unsurprisingly of great importance to the most prolific champion in the history of the event. Weber wants to reassert himself as a threat on the PBA Tour in the event for which he's best known.
"I've always liked the longer format," Weber said of the 56 games required just to make the stepladder finals. "You have to make shots. You can't just throw it anywhere and watch it come back. Spares come into play and I consider myself one of the better spare shooters on Tour."
Just about every player who's ever done well at the U.S. Open shares similar sentiments about the length and difficulty of the tournament. Still, it means a little more to hear it from the man who's had more success in the event than anyone in history.
"Having success at the U.S. Open definitely gives me confidence," Weber said. "And yes, every time I go to the U.S. Open, I feel like I can win it. It's about keeping my mental game in focus, trying to keep myself under control and not get too mad at myself. Fill frames."
Weber hopes his renewed focus on fitness will prepare him for the brutality of the format.
"Since March, I've been feeling good about myself," he said. "I'm taking care of myself a little bit more, eating a little healthier, and trying to get into better shape. I'm not trying to bulk up, but I want to tone and get to where I feel like I'm throwing the ball hard. I know I'm throwing it well, but I need more speed behind it.
"I'm working out three or four times a week, like I used to, all the way up until the U.S. Open. I should be a little stronger and able to compete a little bit better."
Weber last won the U.S. Open in 2012 in perhaps the most iconic moment in bowling history. He finished third in 2013 and 2015 (the event was not held in 2014) and missed the cut each of the past three years.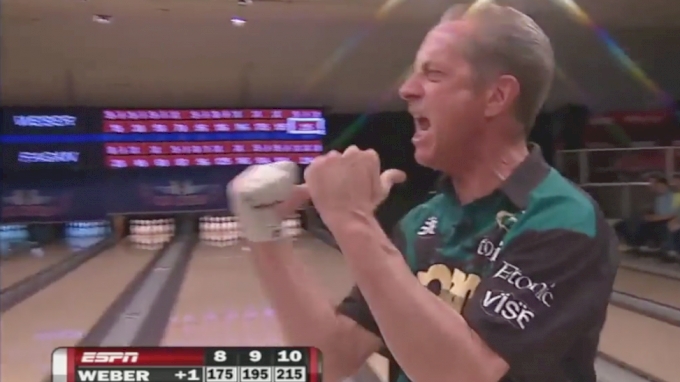 Create a free account to unlock this video!
Get Started
Already a subscriber? Log In
"I feel a lot better going into this U.S. Open than in the last couple years," he said. "I've had the hip and back problems, but I haven't had any of those since March. I've completed every tournament I've bowled in, and I'm feeling better about myself. It's just a matter of it clicking together."
While Weber stays committed to his workout regimen, he's been on the lanes as well, competing on the PBA Regional tour, in local tournaments, and in his weekly league.
"I bowl league, which is no big deal," he said. "I know the lanes are easy and there's more mistake area, but I feel good about the way I'm throwing the ball. I'm shooting 740 every week, so that's not too bad. Plus, there are local tournaments, and I'm making the top five every time I bowl, so it's a matter of getting myself in shape."
This year's U.S. Open will be held at Victory Lanes in Mooresville, North Carolina, where Weber won the 2016 PBA50 Mooresville Ford Open and where he's come close to winning several other times.
"I like the house, I know that," Weber said. "I've won there, I've finished second, third, fourth. I like Mooresville, I like Victory Lanes and the fans are great."
Shunning all thoughts of last year's controversy and embracing a dedication to fitness and competition, Weber feels poised for his best U.S. Open performance in years.
"I would love to make the show," he said. "I'm not going to guarantee anything. But I'm ready to go. I'm ready to compete, I like the house and I'm ready to do it."