Unlock this article, live events, and more with a subscription!
Get Started
Already a subscriber? Log In
The words color analyst Billy Welu urgently spoke carried some serious weight before that fateful ball on April 4, 1970.
"Chris, $25,000 in his pocket, $10,000 on this ball."
The most famous photograph in bowling history and the accompanying stark split screen television image resulted from the most famous solid 10 pin in bowling history.
Voted as the top event in the first 60 years of the Professional Bowlers Association two years ago, the solid 10 pin Don Johnson left 50 years ago to end the title match of the 1970 PBA Firestone Tournament of Champions reverberates to this day.
"He absolutely thought he nutted the shot, that's why he reacted the way he did, just like after the 11th strike," son Jimmy Johnson said.
With Firestone Tire and Rubber as sponsor, the prize fund and first place check in the 1960's and most of the 1970's was two to five times greater than other tour stops. Making the television finals was a big deal, winning it was a career peak. Winning it in dramatic fashion cemented one's bowling legacy.
As time has unfolded, here's one conclusion you could draw about the pro with ingenious methods to get to the winner's circle 26 times. Not only was finally winning the "Firestone," as it was known as then, in his fourth of five straight ToC television finals a benchmark moment in his career, it was the beginning of not only his presence as a premier player of his day, but also as one of the best of all time.
From June 1969 to August 1973, Johnson won 16 of those 26 titles, including the 1970 ToC, the 1971 Brunswick Memorial World Open and 1972 U.S. Open, as well as 1971 and 1972 PBA Player of the Year. But there's that 299-268 match with fellow PBA Hall of Famer Dick Ritger that's still unmatched after all these years.
After Johnson's untimely passing in 2003, Jimmy, a PBA titlist himself, became the keeper of his dad's legacy.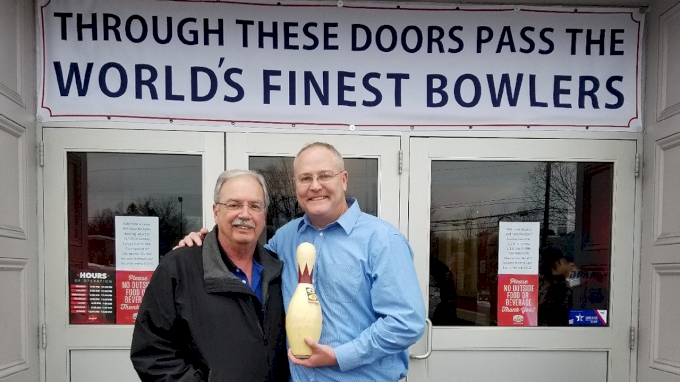 Jimmy Johnson poses for a photo with the famous pin along with PBA Hall of Famer Johnny Petraglia in front of AMF Riviera Lanes. Photo credit Jimmy Johnson.
"He often said the solid 10 pin was a blessing in disguise," Johnson said. "Dad felt more people asked him about it than if he had shot 300."
Johnson was invited by PBA Commissioner Tom Clark to AMF Riviera in 2018 to celebrate the return of the ToC to its home from 1966 to 1994, even attending the television finals. He brought along a special souvenir and was surprised by the attention it attracted from dozens of older people who hadn't seen it since that Saturday afternoon, at a time when some pro bowlers garnered rock star status.
"I had the pin, the very 10 pin everyone saw," he said. "I couldn't believe how many older people came up and told me their memories not only of the game but of my dad. It was really heartwarming."
Another one of a kind moment happened after Johnson spoke with Kimberly Pressler on the 2018 ESPN telecast while holding that pin.
"After the show with everyone milling around, my young son and daughter stood on the approach on lane 27. My 15-year-old son Garrett then laid face down on the approach on the very spot where his grandfather did. It kinda took my breath away."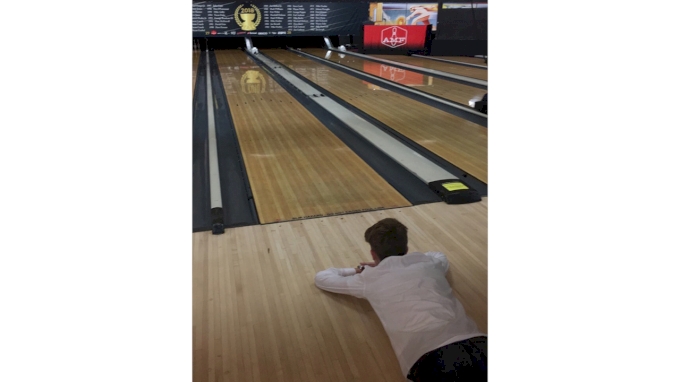 Don Johnson's grandson Garrett Johnson laying on the lane 27 approach reliving the famous moment. Photo credit Jimmy Johnson.
Another young viewer watched from his childhood home, one of the tens of millions of us watching ABC on television, even mentioning it on the 2018 ToC telecast.
"There are certain sports moments that will always be with me, and that's one of them," ESPN's bowling play-by-play announcer Dave Lamont explained.
"As for Don Johnson, I was a faithful viewer in my youth of the Saturday telecasts. Almost never missed one. The funny thing about it is I maintain the game would not be remembered if he threw a 300. His reaction, perhaps the greatest photo op in pro bowling history, is what I remember most about that game.
"As for being in Riviera, I view it as the Yankee Stadium, Montreal Forum, Madison Square Garden, etc., of pro bowling. It was wonderful to be there and if I ever get another shot at it, I'll leap at the opportunity. I admit I did take a long, slow look around the center the day of our telecast and tried to bring myself back to that telecast."
On the fateful fill ball, USBC Gold Level Coach, USBC Hall of Famer and contemporary pro of Johnson, Bill Spigner has watched that last frame a time or two and offered this opinion.
"After looking at the video Don did start the ball and tilt very slightly before moving the feet which got the ball to pass the right leg before it started moving forward on step two. Timing wise back the position of the ball past the right leg on two was called the "Pro Zone" for timing by Don, which has always been my basis of measuring timing. I learned a lot from him. He along with (Fred) Borden and Ritger were very instrumental in the development of teaching, arguably one of the best teachers of the day.
"As for the 10 pin, he was playing a pretty straight angle – normal for the day. The 10th strike the ball finished the hardest, almost a solid seven hit. The second had a little less finish, but perfect, nearly leaving an eight pin. The fill ball leaving the 10 pin was a little straighter and didn't get into a good roll, still sliding when it contacted the head pin. The ball defected too much, catching too much of the three pin which in turn it caught too little of the six sending it around the 10. A tad more roll and the deflection would have been less."
Welu's somber analysis afterward said it all.
"Solid 10, Chris. Unbelievable."
Rarely does one single task, literally taking seconds, change a personal history and stamp a collective memory authored by one of the greatest of all time. This one sure did.