2020 U.S. Open
Belmo's Legend Grows As He Wins U.S. Open, Completes Super Slam
Belmo's Legend Grows As He Wins U.S. Open, Completes Super Slam
Jason Belmonte, won the U.S. Open, the only major he had yet to win, on Sunday to etch his name even deeper into the PBA's history books.
Feb 23, 2020
by Lucas Wiseman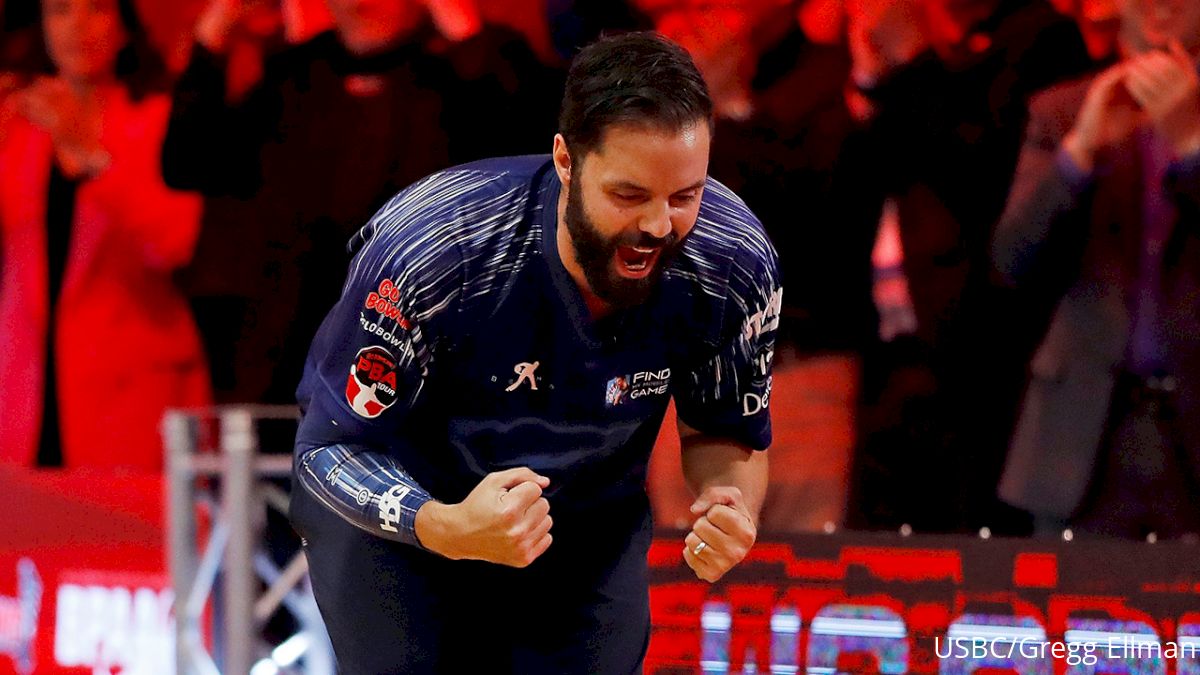 Unlock this article, live events, and more with a subscription!
Get Started
Already a subscriber? Log In
LINCOLN, Neb. – He was deliberate. He was focused. He was in the moment. And now, he's won them all.
The PBA's all-time major champion, Jason Belmonte, won the U.S. Open, the only major he had yet to win, on Sunday to etch his name even deeper into the PBA's history books.
After weeks of struggling on television, Belmonte took a different approach at Sun Valley Lanes and the result was a 226-201 win over Anthony Simonsen to earn his first green jacket.
Belmonte finished off the PBA's most difficult achievement with the win as he completed the PBA Super Slam by winning the PBA Tournament of Champions, PBA Players Championship, PBA World Championship, USBC Masters and U.S. Open at least once. Only Mike Aulby had done it before.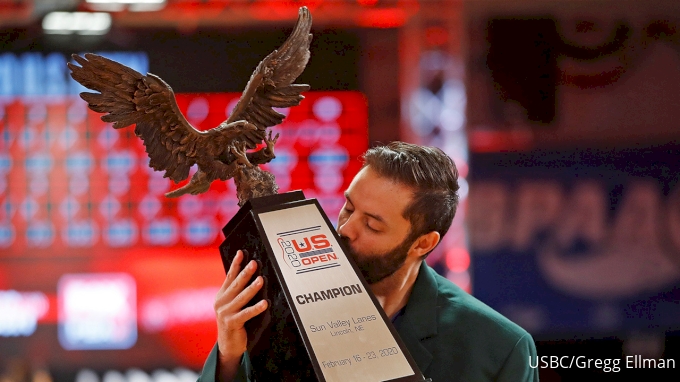 In a drama-filled final frame, Belmonte needed a strike and any spare to shut out Simonsen. He tossed a perfect strike but then left the difficult 3-6-9-10 combination on his second shot.
Needing to convert the spare, Belmonte went straight at it, hoping if he missed it he would at least get three and be guaranteed a tie. He converted it and celebrated.
"I knew the chance of sparing it with a reactive ball were higher but my chances of also getting two were higher," said Belmonte, who has now won 12 majors in his career. "Knowing the score, if I took three, it's a tie. I decided to throw straight at it and hit it heavy on the three pin, and I couldn't have thrown it any better."
In an interview with FloBowling after his loss at the PBA Players Championship last week, Belmonte opened up about his struggles recently on television, saying he was mentally "vacant" during those matches.
It was clear he took a different approach during Sunday's U.S. Open show. Belmonte said he focused on his breathing techniques and also used a couple of critical reracks early in matches on the show to keep his composure.
He looked more focused and determined than he had in his previous three television appearances and with the stakes so high, he got the job done.
"This is a huge achievement for me mentally as well as physically on the lanes," Belmonte said. "There were still some shots in there where I got in my own way. That's the things you have to work on and understand why. This is a far better performance than the first three shows that I've been on this year."
For Simonsen, it was a difficult loss as he missed out on an opportunity to win his third career major title despite leading the field by more than 350 pins after 56 games.
He never led in the match but had a chance to cut the deficit to one pin in the ninth frame with a strike. He left a devastating 10 pin, giving Belmonte the opportunity to shut him out.
In the semifinal, Dick Allen was able to build a lead halfway through the match against Belmonte but wasn't able to hold on as Belmonte took the win 215-187.
Leading by seven pins at the commercial break, Allen came out and converted a pair of spares as his lead slowly dwindled. When Belmonte struck in the seventh frame, he took the lead and never it let it go.
Needing a mark in the final frame to secure the win, Belmonte tossed a perfect strike to advance.
Allen made it into the semifinal by taking down amateur Perry Crowell IV, 205-181, in the second match of the stepladder.
Crowell, who was attempting to become the first amateur to win the U.S. Open, left two 2-8-10 splits for opens and that was the difference in the match. Both players struggled to strike but Allen was able to toss a clean game and get the victory.
In a matchup of players making their PBA TV debuts, Crowell defeated Chris Via, 241-203, to advance as both players overcame an early audio issue.
After two frames, the match was briefly stopped and went to commercial break because of feedback coming through the audio system. The issue was quickly fixed and the match resumed.
Crowell continued to pile on the strikes even after the early break and built up a 56-pin lead after seven frames. Despite starting with a double, Via was unable to throw another strike until the eighth frame as he made an early exit.
The PBA Tour heads to Indianapolis next week for the PBA Indianapolis Open and the Mark Roth-Marshall Holman PBA Doubles Championship. Live coverage on FloBowling begins Tuesday.