2021 CP3 PBA Celebrity Invitational
Chris Paul, PBA Join Forces Again For Charity Event This Sunday
Chris Paul, PBA Join Forces Again For Charity Event This Sunday
The 11th edition of the Chris Paul (CP3) PBA Celebrity Invitational will return on Sunday.
Oct 12, 2021
by Jef Goodger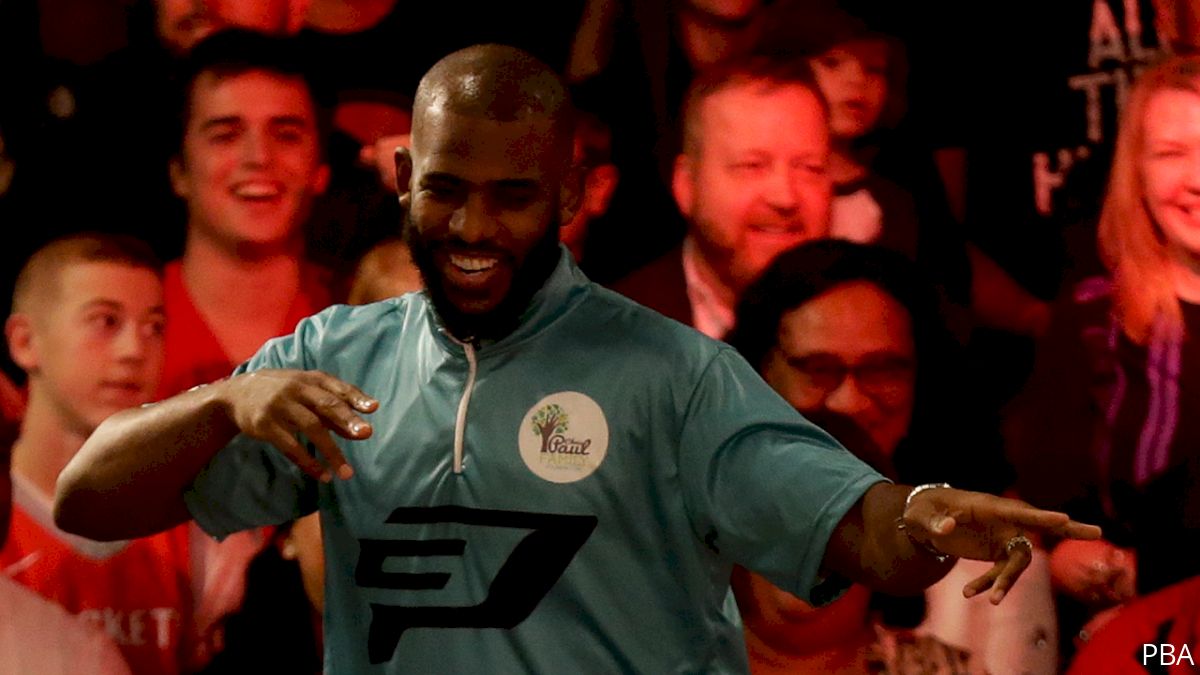 The 11th edition of the Chris Paul (CP3) PBA Celebrity Invitational features athletes, entertainers and professional bowlers competing on the lanes at Bowlero Gilbert to benefit the Chris Paul Family Foundation. The CP3 PBA Celebrity Invitational will air Sunday at 2 p.m. ET or 4:30 p.m. ET on FOX Broadcast Channel, varying per market, before or after local NFL games. International fans will be able to watch on FloBowling on Sunday at 2 p.m. ET.
Returning celebrities include host and Phoenix Suns star Chris Paul, who has won the CP3 PBA Celebrity Invitational four times, and Pro Football Hall of Famer Terrell Owens, who is looking to reclaim the title he won in 2016. New to the event and filling out the celebrity field are comedian and actor Hannibal Buress, EXTRA host and former Bachelorette star Rachel Lindsay and, stepping onto the lanes for the first time, Chris Paul's father, Charles Paul Sr.
The celebrities will be competing alongside PBA Tour stars Sean Rash, Bill O'Neill, AJ Johnson, Darren Tang and Andrew Anderson as well as PWBA Tour star Gazmine "GG" Mason.
"I'm so grateful for everyone who has given up their time over the years," said Paul. "All of them always want the trophy, but I think (Rash and I) are going to win this year. It's always good to get out here and throw the ball a little bit."
The telecast will feature three events in a two-hour window starting with all five celebrity/pro doubles teams competing in a speed-striking round to determine seeding for the stepladder finals. The finals, at the end of the telecast, will feature a fast-paced five-frame games, with the pros bowling odd-numbered frames and the celebrities bowling the even frames.
In addition to the main tournament for the coveted CP3 trophy, the event will feature a Celebrity Super Clash, in which each celebrity rolls one shot and the low score is eliminated each round until only one celebrity remains as the victor. Paul won the Celebrity Super Clash in 2015 and Owens won it in 2018.
Rounding out the telecast, reigning PBA Strike Derby champion Andrew Anderson will attempt to bowl as many strikes as he can in two minutes to raise money for the Chris Paul Family Foundation. For each strike Anderson throws, Bowlero Corp, parent company to the PBA, will donate $1,000.
CP3 PBA Celebrity Invitational
Bowlero Gilbert – Phoenix, Ariz.
Sunday, October 17 – 2 p.m. ET or 4:30 p.m. ET (check local listings)
CP3 PBA Celebrity Invitational Teams
Chris Paul and Sean Rash
Terrell Owens and AJ Johnson
Hannibal Buress and Bill O'Neill
Rachel Lindsay and Gazmine Mason
Charles Paul Sr. and Darren Tang
Previous CP3 PBA Celebrity Invitational Winners (host city)
2008 – LeBron James and Jason Couch (Winston-Salem, N.C.)
2010 – Chris Paul and Jason Belmonte (New Orleans)
2011 – Chris Paul and Jason Belmonte (New Orleans)
2012 – Blake Griffin, Jerry Ferrara, Pete Weber (Los Angeles)
2013 – Chris Hardwick and Chris Barnes (Los Angeles)
2015 – French Montana and Ronnie Russell (Los Angeles)
2016 – Terrell Owens and Pete Weber (Los Angeles)
2017 – Chris Paul and Chris Barnes (Los Angeles)
2018 – Chris Paul and Norm Duke (Houston)
2019 – Mookie Betts and Tommy Jones (Houston)
Previous CP3 Celebrity Clash Winners
2011 – Nelly
2012 – Jesse Williams
2013 – Quinton Aaron
2015 – Chris Paul
2016 – John Burkett
2017 – Mookie Betts
2018 – Terrell Owens
2019 – Tyler Crispen