2022 World Series of Bowling
Prather, Anderson Will Lean On Experience In Defending Doubles Title
Prather, Anderson Will Lean On Experience In Defending Doubles Title
Andrew Anderson and Kris Prather enter this weekend's PBA Doubles Championship as the defending champions.
Feb 28, 2022
by Jill Winters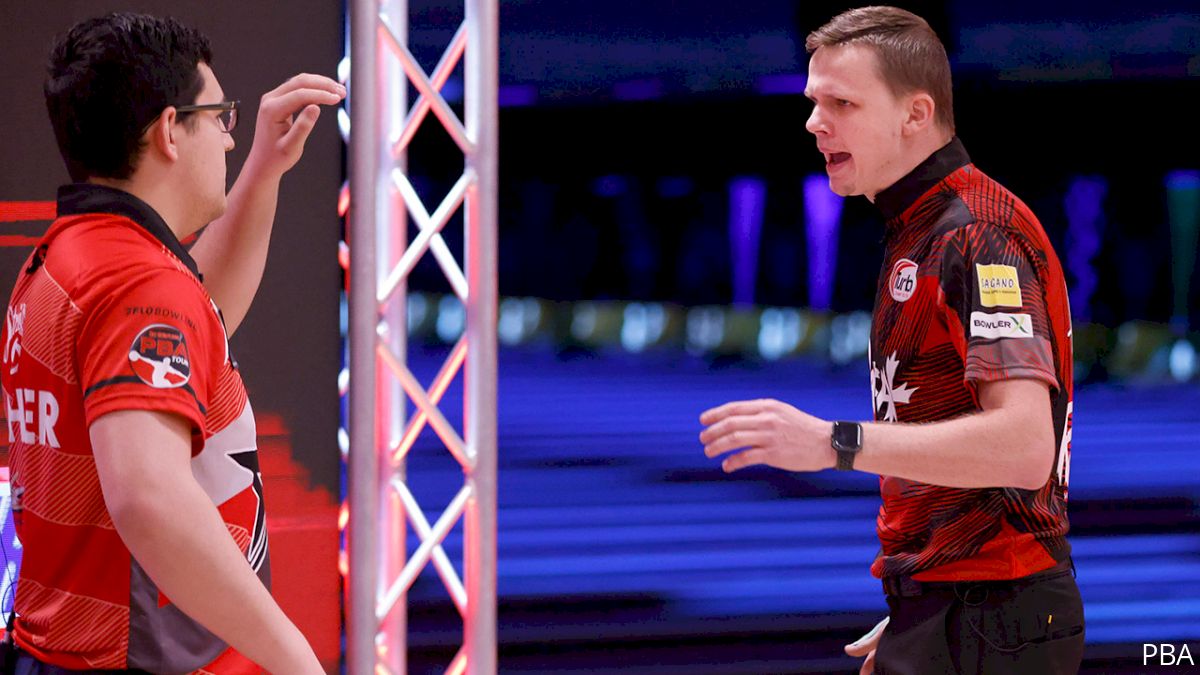 Most people would agree the keys to a good relationship are communication and trust. Knowing that your partner has your back, and they want the best for you. That can elevate any relationship to new heights. When it comes to the PBA Mark Roth/Marshall Holman Doubles those intangibles can also lead teammates to tournament titles.
The popular and entertaining event, which kicks off the 2022 World Series of Bowling, will get underway at Noon Eastern on Friday with the first six games of qualifying live on FloBowling.
Andrew Anderson and Kris Prather are ready to defend their title as they head to Bowlero Wauwatosa in suburban Milwaukee. They both bowled at the Wisconsin center during last year's PBA Players Championship Central Region qualifier. Anderson qualified as the No. 2 seed after rolling his highest three-game PBA series ever an 858, so his confidence is high.
"We have some experience there together already, so I think that understanding will help," Anderson said. "Look at what (Tom) Daugherty did last year when we went to his home center (AMF University Lanes in Tampa). It just shows you how much experience matters."
Prather agrees that having competed in various tournaments at the center before and knowing the topography of the lanes will benefit them.
"We have a really good idea as to which pairs in the building are not that great and which ones are a little bit more scoreable," Prather said. "There is a whole set of probably 10 lanes or 20 lanes that are right in front of the desk that are just not great. They can play really tough, so being able to communicate that and have that mindset going in will be important."
This duo partnered up after each admits they had bowled with numerous players to find out who they could mesh with. During the 2018 season, Anderson won the USBC Masters en route to Player of the Year. That's when conversations about bowling together began.
"It was a running joke between us that one of these years we will bowl together," Anderson said. "When I started winning, I was like, 'am I good enough to be your partner yet?' I told him it was going to be worth it and thankfully so far so good."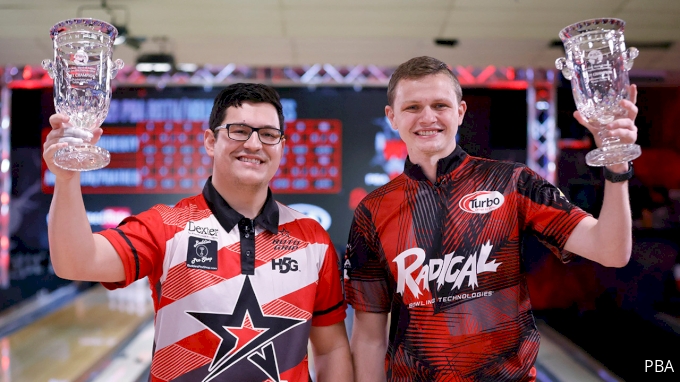 At the 2021 tournament, they qualified third drawing a first-game match against reigning champions Kyle Troup and Jesper Svensson. Prather and Svensson bowled on the left lane which featured the Roth 42-feet oil pattern while Anderson and Troup had the Holman 38-feet pattern on the right lane. The left lane had been a struggle and Prather immediately had the team in trouble after missing the headpin to the right on his first shot followed by a split in the third frame.
"Whenever we get into those situations where one of us is going well and one of us is not," Prather said, "we kind of joke at each other like, 'hey man, you are getting kind of heavy don't let me carry you this whole time.' Little things like that lighten the mood while also acknowledging we have got to focus up a little bit here and throw some good shots."
Anderson knew Prather was lost during practice and when the TV lights came on his partner was still unsure about what to do. But Anderson feels "there is nobody better in my opinion at being a shot maker especially from the left gutter," which is Prather's wheelhouse.
Prather made a ball change in the fifth frame to a Rubicon UC2. He finally saw his ball go through the pins the right way leaving his signature nine pin and immediately felt more comfortable with his look on the lane. Anderson reiterated to Prather whatever he decided to do he had to commit to it.
Troup and Svennson looked in control of the match before Troup failed to convert the 2-4-5 in the 9th frame. Svensson needed a double and 3-pins for the shut out, but the lefty failed to strike on his first shot to open the door for their opponents, who had been hanging their heads just a few frames before. Anderson needed to get a double and nine pins to advance.
"We were down bad," Anderson said about their 33-pin deficit in the eighth frame. "I was literally sitting there like, 'is this really happening right now?' Like we have a chance. I threw the second one (strike) in the 10th and I really truly felt like I was going to be able to get Kris going if I got us by that match and that is exactly what happened."
They snuck passed Troup and Svensson 203-202 and Anderson yelled, 'It's our time, baby.' Prather was lined up after that and they rolled past Marshall Kent and EJ Tackett 235-214 then BJ Moore and Tom Daugherty 245-203 to win the Roth/Holman Doubles trophy.
"The kid just doesn't give up," Prather said about Anderson. "He has this never say die type of attitude. If I am bowling poorly, he has a good way of getting me back into the zone and not letting me just give up."
They know each other's games so well and how to work together toward the same goal which helps them balance each other out. Anderson admits he is an aggressive person, and his close friend knows how to pump him up to make this a winning combination.
They are both fierce competitors with no egos who are confident in their ability to win every time they hit the lanes together. When they are both bowling good at the same time everyone else should be worried.
"Kris and I just feed off of each other really well," Anderson said. "I get fired up and he gets fired up. If he throws a good shot, I definitely want to throw the next one better."
"In any kind of relationship whether it is doubles, team or life relationships, you have got to be able to say something to the other person without the ego getting in the way," Prather said. "Knowing that the person is only wanting the best for you. I definitely think that is what Andrew and I have in this situation here and it works."
After 12 games of qualifying on Friday, the top 16 teams will advance to Baker match play starting at Noon on Saturday. The teams will bowl 16 total Baker games to determine the top five. The championship stepladder finals for the PBA Roth/Holman Doubles will be televised at Noon Eastern on Sunday live on FS1 (U.S.) and FloBowling (international).
"We are two-for-two on making the show together," Anderson said. "We are going for three-for-three. We won last year unexpectedly I would say and now that I think our confidence is high from winning, we know that we can do it again."