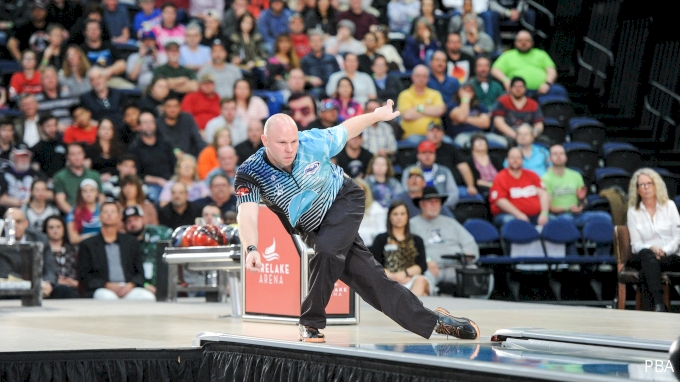 The 2018 Parkside Lanes Open will be live on FloBowling beginning June 30!
Hotel Booking
Book your stay with the PBA's Official Hotel Booking Partner: http://pba.hotelplanner.com
Event Dates
From: Friday, June 29, 2018
To: Monday, July 02, 2018
Format
Friday, June 29
Golf: 8 a.m.-1 p.m.
Practice Session: 3:30-5:30 p.m.
Orientation meeting: 5:30 p.m.
Pro-am: 6 p.m.
Saturday, June 30
Roll call is 30 minutes prior to all squads.
A different pattern will be put down for each round.
10 pins bonus will be awarded for each bowler you beat on your pair each game for each of the 3 rounds.
Chameleon 39 Feet.
A Squad: 10 a.m. – (eight games).
BBQ/Band: 3-10 p.m.
Sunday, July 1
A Squad: 10 a.m. - (eight games)
Don Carter 39 Feet.
Free Youth Clinic: 3-6 p.m.
Top 1/4 of the field advance to semi's.
Monday, July 2
Semi's Round: 10 a.m. (8 games)
Bear 39 Feet.
Top 5: 3-5 p.m.
Champions Dinner: 6-8 p.m.
Host Center
Parkside Lanes
34w185 Montgomery Road
Aurora, IL 605048758
(630) 898-5678
Oil Pattern Schedule
Tournament Schedule / Notes
This Tournament will award a PBA Tour National title.

Eligibility
Participant must be a USBC Member in good standing. Non members must meet PBA average requirements.

Maximum Field Size 108 Entries

ENTRY PRIORITY: This tournament is open to both PBA Members and non-members. Entry priority will be based on the combined 2017-18 National/International Tour Money List updated after the 2018 USBC Masters (April 15, 2018). The top 75 on the money list will receive priority entry through June 11, 2018. Beginning June 12, 2018, entry requests for available tournament spots will be confirmed for other PBA members, on a first come first served basis. Entry for non-members will be confirmed 7 days prior to the event.

PBA Tour Product Registration rules for all equipment including footwear will be enforced during this tournament.

***PLEASE READ:
PBA Tour Product Registered Companies
Full Registration Balls and Accessories:
(AMF300 Grassroots Not allowed this event)
Approved Equipment:
900 Global
Brunswick
Columbia300
DV8
Ebonite
Hammer
MOTIV
PBA
Radical
Roto Grip
Storm
Track
Footwear: Tour Footwear includes:
Approved:
3G
Dexter
Brunswick
Storm
Hammer
(Accessories Not Allowed K.R. Strikeforce Grassroots)
Full Accessories Approved
Master
High 5 Gear
Robby's Powerhouse
Turbo 2-n-1
Mongoose
Vise
Genesis
Ultimate
Apparel: (dye sublimated jerseys)
Approved
High Five Jerseys (all levels of PBA competition)

Payout Ratio: 1:4
Entry Fee
PBA and PWBA Members: $300
Non-Members: $350 (money order, cashiers check or credit card only)
Please enter this event through the Midwest Region.

Note
PWBA members who are not also PBA members must enter events through the Regional Manager in order to receive the $300 member entry fee rate. Any PWBA member who is inadvertently charged the non-member entry fee should contact the regional manager immediately.
Entry Deadline
Online entries for members and non-members close at midnight on Monday, June 25.
After the deadline, entries must be made directly with the PBA Midwest Region Manager.
Prize Fund
1st Place is projected to pay $10,000
Final cash spot is guaranteed to pay a minimum of $.1,000

Hotel Info:
Holiday Inn Aurora North
2424 W, Sullivan Road
Aurora, IL 60506
630-806-7400

King Room $109 plus 9% Tax
Double Room $119 plus 9 %Tax
Includes Breakfast
Booking Link

Xtra Frame Parkside Lanes

Hotel Reservations
HotelPlanner.com, the official travel partner of the PBA, has announced a new sweepstakes program that will award $200 lodging gift certificates to a lucky winner every month in 2018. All you have to do is book a hotel room through HotelPlanner.com before the end of each month, and you will be automatically entered.

You must enter through any link on pba.com, or by using this link: http://pba.hotelplanner.com/. For each additional reservation you make through HotelPlanner.com, you'll receive another free entry into the sweepstakes.

Each drawing will take place on the last day of the month. To qualify, the user must book a reservation through HotelPlanner.com. The $200 gift certificates will be valid for hotel room and tax only. Any incidental charges will be the responsibility of the person using the certificate. To enter without making a purchase, send a letter to HotelPlanner, attn.: Carlos Diaz, 777 S. Flagler Drive, Suite 800 West Tower, West Palm Beach, FL 33401. Written entries must be received before each month's end-of-month drawing.