2020 Stormin' Blue & White Vegas Classic
O'Keefes Creating A Dynasty At McKendree
O'Keefes Creating A Dynasty At McKendree
Shannon and Bryan O'Keefe have made waves for the McKendree Bearcats since being hired in 2014 to oversee the program.
Jan 7, 2020
by Jill Winters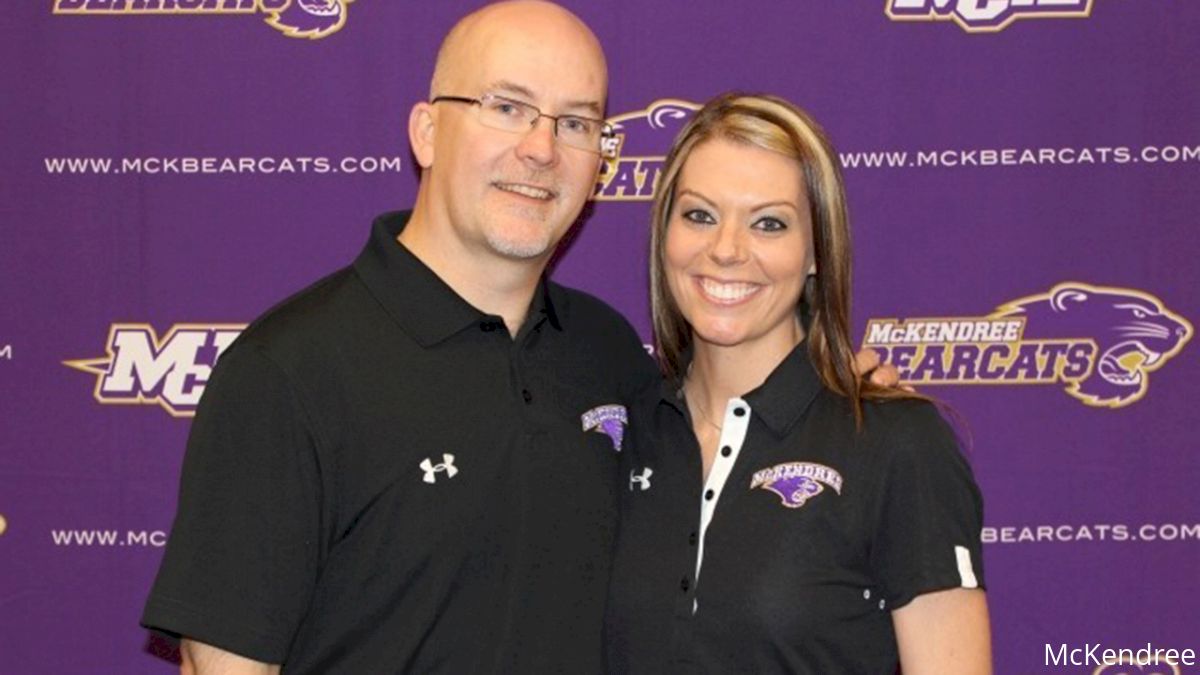 Shannon O'Keefe is a 13-time PWBA Tour winner, three-time major champion, back-to-back PWBA Player of the Year and 15-time member of Team USA. But the title she is most proud of is Mama Bearcat.
O'Keefe and her husband Bryan, who is also the head coach of Junior Team USA, have made waves for the McKendree Bearcats since being hired in 2014 to oversee the program.
The pair led the team to its first NCAA Women's Bowling national championship in 2017 and is currently ranked No. 1 in the country heading into this weekend's Stormin' Blue & White Vegas Classic, which will be broadcast live on FloBowling.
When Chuck Brueggemann, director of athletics at McKendree, was searching for a new head women's bowling coach in 2014, he ended up getting a powerful duo.
"What we knew in pursuing the O'Keefes is that they are a package; one makes the other better," Brueggemann said. "Together they are special for the sport, not only at the professional level but in particular at the collegiate level, where there are a lot of aspiring and impressionable bowlers."
The O'Keefes have been together for 20 years. Along the way, Bryan has been her coach and best friend. Her path to bowling, however, began as a way to have fun with her younger brother and quickly turned into motivation.
"My little brother was better than me and that was unacceptable," Shannon said. "Then my dad wouldn't buy me bowling shoes because he said, 'I'm not going to spend money on a sport you aren't good at. You are a softball player not a bowler."'
While in high school, she was one of 160 women vying for a spot on the 1996 Team USA softball team. She was always competitive growing up with five brothers, but a new internal drive kicked in as she aimed to prove something to her dad. She bought herself bowling shoes and soon bowling became her life.
If it weren't for her dad's words, the former collegiate softball player at Portland State University may not have achieved what she has today in the sport of bowling. When Shannon took over the McKendree women's program and Bryan was named the school's director of bowling, they told Brueggemann they could lead a team to a national championship within their first five years.
"We did it in three," Shannon said proudly. "McKendree gave us the foundation, and it's been a dream.
It just so happens they did it by sweeping five-time NCAA champion Nebraska to win the school's first NCAA championship. In 2017, the Bearcats became only the second team in the nation to win an NCAA and Intercollegiate Team Championship in the same year.
"When we hired Shannon and Bryan, we knew the traditional powerhouses would recognize we were in pursuit of excellence," Brueggemann said. "Anyone who knows the O'Keefes understands they will only be at a school that is in constant pursuit of championships."
During the couple's tenure, Shannon has been named National Tenpin Coaches Association Division II/III Coach of the Year for four consecutive years. They team has qualified for each of the past four NCAA Women's Bowling Championships. In three out of the past four years, a Bearcat student-athlete has been named NTCA Div. II/III Rookie of the Year. Plus, senior Breanna Clemmer has earned the title of Bowler of the Year three times.
"When I originally set goals coming to McKendree, I wanted to create a dynasty," Bryan said. "We've done a good job and have been fortunate to have incredibly talented players who want to become part of our family."
Bryan, who won a National Championship in 1996 while bowling for Nebraska, is also the head coach of Junior Team USA. So far, 11 student-athletes who have gone through the McKendree program under their leadership have become a member of either Team USA or Junior Team USA.
"It definitely helps in recruiting," Bryan said. "When we sit down in front of kids and ask them about their goals, if they say they want to be a member of Junior Team USA or adult Team USA, we tell them we've had kids come through our program who have made it."
"It's awesome to open the eyes of our youth to opportunities they did or maybe didn't know existed," Shannon said. "I want to raise them into PWBA superstars as well."
When thinking about the impact the coaching duo makes on its student-athletes and how the program has been so successful over just five years, their passion shines.
"We are trying to show them the pathway to greatness," Bryan said. "How to reach greatness and achieve their goals."
"This is the best thing I've ever done in my life and to do it with my husband, it's that much better," Shannon said.
At the start of the 2019-2020 season, the NTCA preseason poll had the McKendree women's program ranked No. 2. With a current record of 29-8, the Bearcats have moved up into the No. 1 spot.
Bryan strongly believes becoming a head coach has had a positive impact on Shannon's own bowling success.
"Undoubtedly, it has," he said. "She is entrenched in bowling as she is always preaching to the girls. She can't ask them to do things if she isn't willing to do it herself, so it also holds her accountable."
Shannon won five titles on the 2019 PWBA Tour, and now the couple is excited about helping McKendree win another national championship.
"We focus on the impact on our kids' lives and we hope that when they look back on their four years at McKendree they remember bowling here as being some of the best years of their lives," Shannon said. "We love these kids as if they were our own."