2022 USBC Masters
After Fulfilling Childhood Dream, Larsen Ready To Defend USBC Masters Title
After Fulfilling Childhood Dream, Larsen Ready To Defend USBC Masters Title
Thomas Larsen enters the USBC Masters as the defending champion as he looks to turn around his season.
Mar 26, 2022
by Jill Winters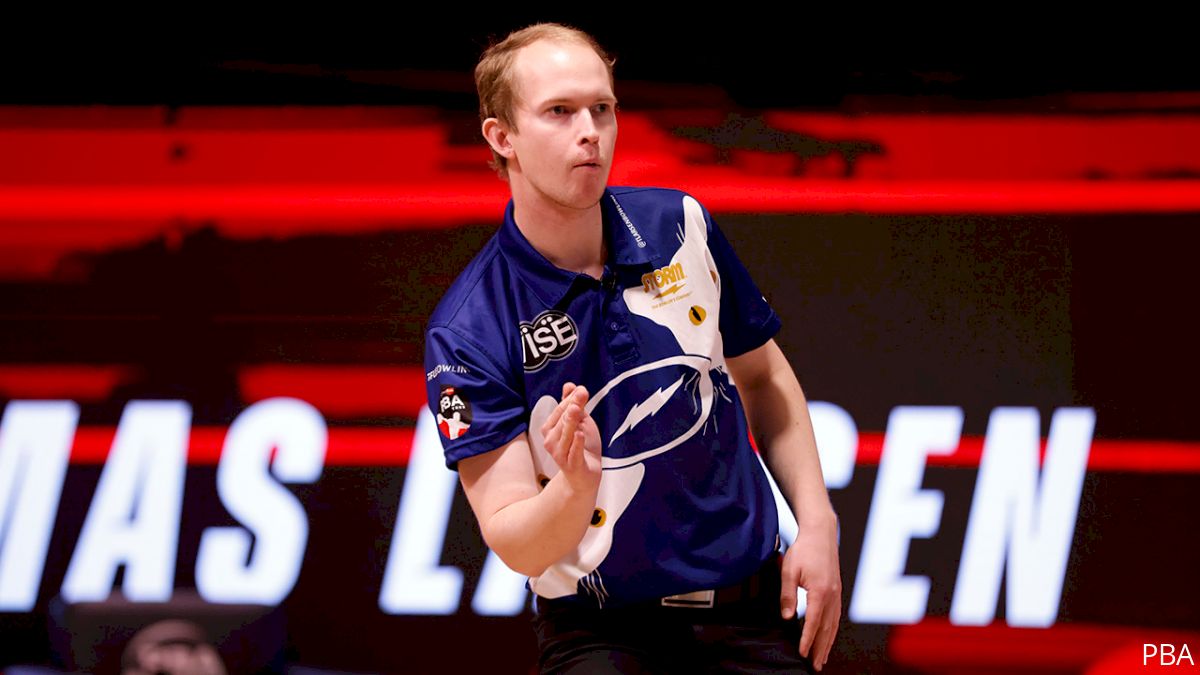 Over the past couple of years, when Thomas Larsen wasn't living up to his own expectations on the lanes, he contemplated stepping away from the PBA Tour full-time, instead picking out tournaments here and there he would compete in. But then in 2021, he won the USBC Masters in an all-international championship match against Jesper Svensson.
Both players struggled to execute as nerves and the added pressure of winning a major championship on U.S. soil was within their reach. It was an opportunity every bowler dreams of and for Larsen it was a moment he will never forget.
The defending champion is part of a field of 418 players who will bowl 15 games of qualifying between Tuesday and Thursday starting at 11 a.m. Eastern on FloBowling to determine the top 63. Those players and Larsen will advance to double-elimination match play beginning at 1 p.m. Eastern on Friday and continuing through April 2. The live stepladder finals will air at 1 p.m. Eastern on April 3 on FOX (U.S.) and FloBowling (international).
Larsen admits this year has been a struggle for him, but he knows anything can happen at the Masters, which is being held at Gold Coast Hotel & Casino in Las Vegas. He comes in after one of his best performances of the year at the PBA Colorado Springs Open finishing in 29th place.
"I think it is going to be very special seeing my name up on the banners there and hearing them announce me as one of the champions of the USBC Masters," he said. "It is something that I might never get to experience again, so I am really looking forward to bowling."
This year's tournament will feel a lot different than when Larsen won last year in front of just ball reps, some media and PBA staff. Larsen had a difficult time inside the National Bowling Stadium while a live audience watched at home, including his family that was more than 5,000 miles away in Denmark.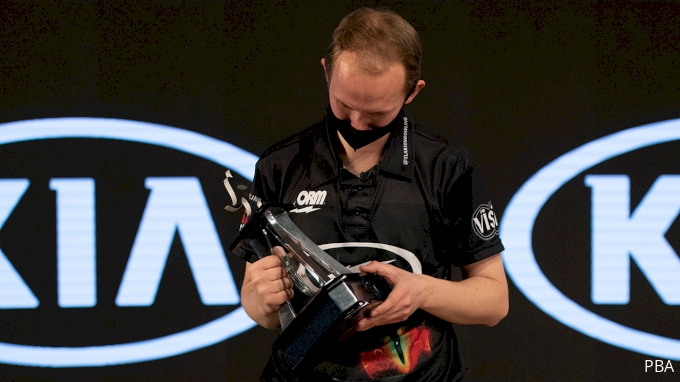 His hands were physically shaking at times and noticeable by his Storm ball reps. Those nerves resulted in "a couple of the shots got away from me."
"It had been a while since I was on TV and then all of a sudden having the chance to bowl for a major," he said. "I was a lot more nervous than I thought I was going to be."
He battled through his challenges. The "first one in the 10th was probably as good as I could possibly throw it and it struck." Looking back, he wishes he would have taken 10 more seconds or even a re-rack because he got up there and went before, he was completely ready to throw his second shot. Luckily, he got nine spare and took a seat as Svensson had the chance to double in the 10th for the win.
"My first thought was I wish I would have gotten the second (strike) and just gotten it done," he said. "But my second thought was I think I got this. Jesper threw a really good shot there, but I don't think he had very much room to work with at that point. I got the luck of the draw there, I think."
With the 191-176 win, Larsen earned his first PBA major to go along with two PBA career titles: 2013 Abu Dhabi and 2014 Kuwait.
Because of the COVID-19 pandemic, Larsen couldn't celebrate his monumental win with his family in person, but he was able to call his girlfriend, Hannah, immediately afterward.
"Just to hear how the experience had been for them watching, feeling the frustration when I threw a bad shot and feeling the excitement when I threw a good shot," he said. "It is not just us that sacrificed a lot bowling they also choose to sacrifice a lot. It is a big deal when something goes right because it also means so much to them."
While growing up in Denmark, Larsen recalls watching Walter Ray Williams Jr., Tommy Jones, Chris Barnes and Norm Duke bowling on TV every week. He fantasized about getting that same opportunity to compete for a major against the best in the world. To reach the pinnacle of the sport. But to do that, he would have to sacrifice time away from his homeland and his loved ones.
"You win on American TV in the U.S. and of course a major; it is that much bigger," he said. "There are not a lot of Europeans that have done it. It is childhood dream come true. Basically what I have been working on my entire career to get to that moment."
An international struggle
"This year has honestly been pretty awful," the 32-year-old admits. "The biggest issue is me not executing at a high enough level."
Larsen is struggling with creating the right ball motion, matching up his angles, and finding the right solutions to be a factor at the top of the standings. But he can't just fly home for a couple of days, workout his issues and fly back. He basically needs to account for three days of travel to make up for any time differences, then he must deal with jetlag when he gets home or after he arrives in the U.S.
"With the schedule the way it is you are either here for two to three months or you are missing a third or half of the tournaments," he said. "That is a tough decision to make because there aren't a lot of tournaments each year. It is hard being out here away from home for this long, especially when it is not going well."
He admits he has had these types of conversations with other international players. They have these thoughts when they are struggling, "should I say that's it for this year and go home to get ready for next year. I don't think it is an issue of not being good enough, but you don't want to be here if you are not living up to your own expectations."
"Obviously the Masters kind of changed that a little bit for me," he said. "Gave me a little more confidence. You are doing what you dreamed of doing when you were a kid, so how can you not do it if you still feel like you have a chance."
This year, he flew from Denmark to the U.S. in mid-January for the PBA Players Championship South Region Qualifier in Tampa, Florida. He cashed with a 10th place finish.
He plans to return home after the Masters, so he will have been away from home for about two and a half months. It's a choice he and so many others make to purse their childhood dreams.
"When I came over here, I wasn't as sharp physically, I wasn't as sharp mentally in seeing the right motions," he said. "That has been a struggle for me just not being tournament sharp coming out here bowling against the best in the world."
International success in 2022
A few international players that have experienced a lot of success so far this season are Australia's Jason Belmonte, England's Dom Barrett, and Sweden's Svensson. They were the top three in The Storm Cup points each earning a title during the four tournament cup series. And you will be seeing them in the PBA Playoffs after the Masters.
After missing most of the 2021 season, Belmonte has come back with a vengeance. He has already won four titles and $245,750. He is now looking to win the USBC Masters for the fifth time, which would give him the same number of major titles as non-major titles for his career, 15 each. If the two-hander does that, watch out when he brings the Belmo boom!
Just behind Belmonte in earnings and points is Barrett. He just won the PBA Colorado Springs Open and has earned $160,700 this season.
Last month, Barrett became the first European to win the PBA's Triple Crown after winning the Tournament of Champions. To complete the impressive trifecta, he also won the PBA World Championship in 2013 and the 2018 U.S. Open.
Immediately after he won, Barrett Facetimed his wife, Cassie on live TV to celebrate the win with her long distance. Unfortunately his son, Colby had already gone to bed. It was a touching and emotional moment.
"The sacrifices I've put in with my family have been worth it," he said. "I've been away from them as a husband and a dad six months a year. That's all for them, too."
And Svensson won the PBA David Small's Best of the Best Championship in February to go along with $45,600 in earnings so far. He now has 11 PBA Tour titles.
There is plenty to watch for at this year's USBC Masters beginning at 11 a.m. Eastern on Tuesday on FloBowling. There are 40 international players in the field.